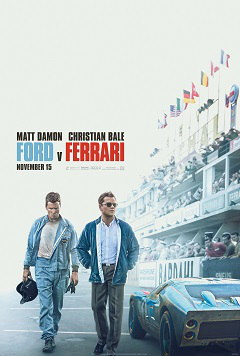 Release Date: November 15, 2019
Cast: Christian Bale, Matt Damon, Jon Bernthal
Director: James Mangold
Studio: TSG Entertainment, Turnpike Films, Chernin Entertainment
Distributor: 20th Century Fox
Spoilers: Low
IMDB| Rotten Tomatoes | Wikipedia

I was about to dive into a discussion on 'dad movies,' but wouldn't you know it, Miles Surrey over at The Ringer has it covered so instead let's just get right to the meat of the matter: James Mangold's Ford v Ferrari.
Mangold's latest is a sports biopic about one of the great upsets in 1960's racing: the feud between Ford Motor Company and Ferrari that would come to a head at the 1966 Le Mans, a 24 hour endurance race. Ford partnered with Caroll Shelby to create a race car that could whip Enzo Ferrari in the race, but who could drive the damn thing?
That's where Bale's Ken Miles comes in. A mechanic and regular driver for Shelby, but one with an uncouth attitude. The pair need to get their act together in order to deliver a car that's fast enough to win with drivers (Miles is one of a team of drivers) who can see it through. Really, the movie is all about these two guys, in fact, Ferrari disappears into the background throughout the progression of the film. But that's okay. Bale and Damon are better than that plot.
The movie seems to know it enough, that the real heroes are Shelby and Miles, the guys putting in the work hired by Ford and their ungodly deep pockets to beat up some Europeans and their own race. This isn't an underdog story in the traditional sense, instead it's about standing up to your superiors to do what you know can and should be done – anytime Shelby or Miles fails to do so they lose out.
It's interesting then, with that being the plot, that the title remains Ford v Ferrari. Ferrari are the rivals, but Ford is the rich boss that dicks everyone around. Perhaps it's just a more flashy title than Shelby & Miles — they wouldn't be wrong about that. In other territories the film is titled Le Mans '66 and that feels like a better representation of what this is. It's about the journey and the incredible race through the eyes of Shelby and Miles.
Damon and Bale have really great chemistry throughout the film whether they're laughing or lashing out at each other. We should all have friends who believe in us like Shelby and Miles believed in each other. Truly. That friendship and the determination that it is built around.
The racing scenes thrill, putting the audience in the passenger seat of these incredible machines revving their way to glory. You'll fast become enamored with the style, the cool, that the movie exudes. I myself want to find a zippy little car and listen to jazz as I take tight corners entirely too fast.
Ford v Ferrari is a real pleasure to sit through, even if you aren't into cars you'll leave the theater with a new, real appreciation for it.