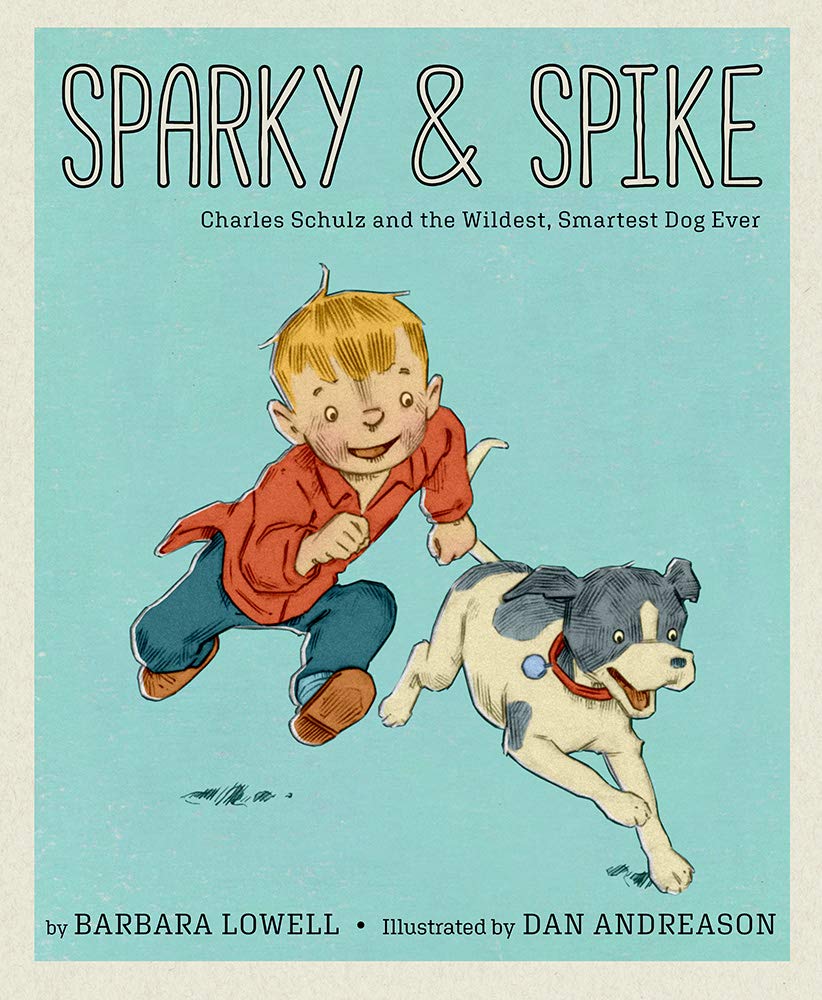 Title: Sparky & Spike
Author: Barbara Lowell
Illustrator: Dan Andreasen
Release Date: April 23, 2019
Publisher: Cameron Kids
Review Spoilers: Low
GoodReads | Amazon
Even close to seventy years after their initial debut, Charles Schulz's Peanuts, Charlie Brown, and Snoopy are charming readers around the world. What people may not know is that the inspiration for the comic and his many iconic characters came from Schulz's own childhood. With Snoopy as popular as ever, Sparky & Spike is a great biographical read for the elementary crowd.
The Sparky in the title is Charles Schulz himself. Sparky, a childhood nickname almost prophetically pulled from a comic book itself, dreams of being an artist and wants to draw cartoons himself one day. But he's a shy kid who struggles to make friends among classmates that only seem interested in him when he's drawing pictures for them.
Enter Spike.
Spike, as Sparky truly believes, is the world's 'wildest and smartest dog ever.' The black and white mutt would years later give inspiration to the beloved Snoopy who, despite being a beagle, shares the two-toned coloring with good ol' Spike. He's a great dog who inspires Sparky to draw and he's even the subject of Sparky's first published work!
Sparky & Spike is a very moving read. I also think that it may speak to a lot of kiddos in a way. A lot of kids out there love to draw but think they aren't good enough at it. Many will get discouraged and quit. It's a battle I have with my oldest who loves art and loves to draw but gets caught up in the need for everything to be perfect. Sparky & Spike shows that even the greatest artists in the world, those like Charles Schulz, can struggle with whether or not their work is good enough, too.
And, like Charles Schulz, hopefully those kids will feel inspired enough to keep working towards their dreams!
The book is drawn in a style that gives a nod to rough, hand-drawn sketches. While the images are complete the shading and details almost look like half-erased line work. The look and feel of the book, I think, add to that idea that hand-drawn sketches are where we all start and even the simplest of drawings can lead to a full-blown career in art or cartoons.
Sparky & Spike is a great pick for kids of all ages – especially in the elementary age groups. Younger kiddos will enjoy any story about a dog and will love the comic panel-styled pages while older kiddos will enjoy learning more about Charles Schulz, the origins of Snoopy, and the message. It would be a fun choice for a biographical read-aloud as well as a great book for the budding artists in your life!