Marvel: The Amazing
1000 Dot-to-Dot Book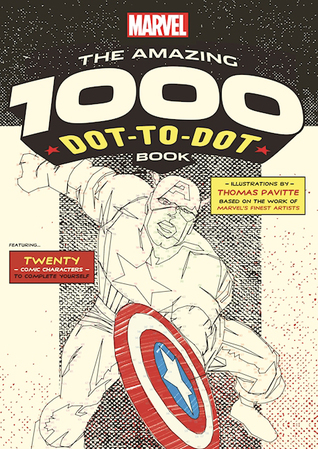 Author: Thomas Pavitte
Release Date: October 11, 2016
Publisher: Thunder Bay Press
Genre(s): Activity Book
Review Spoilers: N/A
GoodReads | Amazon

Ever since adult coloring books became a big hit, I've been asking for other classic activity book puzzles to get the grown-up treatment. While adult coloring books are now incredibly ubiquitous, the other activities still haven't quite caught on. However, with the publication of Thomas Pavitte's
1000 Dot-to-Dot
book series I'm hoping things change.
While there have been a few entries in this series out for a little while now, they didn't really hit my radar until they broke into the nerd game. Marvel: The Amazing 1000 Dot-to-Dot Book features twenty different intricate dot-to-dot puzzles featuring various Marvel comics characters. These aren't your old school, childhood dot-to-dot puzzles. Oh, no. This are way more complicated than that. And they don't come with any helpful, pre-drawn lines either!
Every section of 100 dots is broken down into different colors to make them easier to keep track of but beyond that you are on your own. One of the puzzles that I recently started features the Incredible Hulk. But it took a while for me to realize that. I mean, the first fifty dots were used solely to finish up his eyes and eyebrows!
It can take a while to figure out what you're actually drawing but that's part of the fun. The puzzles are very challenging but also really rewarding. They can take quite a bit of time – especially the oversized 1700 dot puzzle that folds out of the middle of the book (I'm still working on it, to be honest). But when you're done it's really cool to see what you've ended up drawing.
I had a blast sitting through the various puzzles and at times I found the experience even more enjoyable than coloring in coloring books. I always question whether or not my color choices match or look that great. But with the dot-to-dot book all I needed to draw was a straight line from one point to the other. And if I messed up all I had to do was erase it!
My only problem with this book is the size which, admittedly, is an unavoidable complication. It's a very, very large book. That said, it can't really get any smaller. The dots are already pretty small and at times very close together. It's just hard to find a place to keep the book since it doesn't fit on my bookshelves!
I highly recommend this book as we enter the holiday season. It's a really great alternative gift for coloring book fans as well as nerdy, comic book fans. Marvel: The Amazing 1000 Dot-to-Dot Book offers a unique, new challenge to people who may have gotten tired of the same old coloring books. And it's something cool that comic book fans might not expect to get under the tree. It's also a gift that provides a sense of accomplishment once it's been thoroughly used which is always great!
Mostly, though, I recommend checking this out if for no other reason than to support the development of more, throw-back nostalgic puzzles for adults! I'm really happy to see dot-to-dots taking off. It'll only be a matter of time before we see more mazes, nerdy crosswords, and full-blown nerdy-themed adult activity books. Mark my words! And Marvel: The Amazing 1000 Dot-to-Dot Book is a great start. Plus, if you like this one there is a Spider-Man book coming out next year as well as a Guardians of the Galaxy book in the near future!

A REVIEW COPY OF Marvel: The Amazing 1000 Dot-to-Dot Book WAS PROVIDED BY THE PUBLISHER IN EXCHANGE FOR A FAIR AND HONEST REVIEW. NERDOPHILES WAS IN NO WAY COMPENSATED FOR THIS REVIEW. OUR OPINIONS ARE OURS AND OURS ALONE.