Pete's Dragon (2016)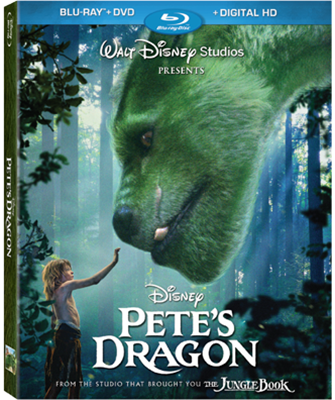 Release Date: November 29, 2016
Cast: Bryce Dallas Howard, Oakes Fegley, Wes Bentley, Karl Urban, Oona Laurence, Robert Redford
Director: David Lowery
Studio: Walty Disney Pictures, Whitaker Entertainment
Extra Feature Rating: ★★★☆☆
Rating: ★★★☆☆
Format: Blu-Ray Combo Pack
Review Spoilers:
Amazon | IMDB | Wikipedia | RT
It's the holiday season and if your family is anything like mine, then your Christmas lists are probably packed full of movies. One movie that you may not know to include is Pete's Dragon. The latest in Disney's series of live-action remakes of their classic animated (or in this case, semi-animated) films, Pete's Dragon hit theaters back in June but to very little fanfare. The reviews were good but the movie admittedly wasn't summer blockbuster material. That doesn't mean you should skip it now, though.
Pete's Dragon is a great family film and it's just the sort of movie that's perfect for curling up on the couch on a cold winter night. In our initial review of the theatrical release, Therese says that Disney really manages to bring back the feel-good family film with Pete's Dragon and I'm inclined to agree.
The film has a very strong family theme and that is part of what makes it a perfect pick for a family movie night now that we're heading towards Christmas. Though the main character Pete looses his family early on in the film, he finds a new sort of family with Elliot, a mysterious dragon who finds the boy and takes care of him for years out in the deep woods. As the story progresses, he finds a new family in Natalie, a kind forest ranger, and starts to make a place for himself in the real world.
As you can probably tell, it's an emotional film as a lot of Disney movies are at some point or another. You may want to be prepared with tissues – particularly towards the end. But overall it's a pretty solid film about a boy who has been lost to the world finding a new family with timeless messages about family, love, and hope.
Oakes Fegley, the boy who plays Pete, does a fantastic job throughout the film. I was incredibly impressed and I thought he did a fantastic job of not only playing against a non-existent, CGI dragon but the cast as well.
To be fair, the cast is one of the best parts of this film. Everyone seems to fill their part perfectly. Robert Redford's narration during the film – at both the beginning and the end – make the film feel a bit dated like the classic 1980s/1990s family films a lot of us grew up with, which good considering the film's 1980s setting.
Over all, it's a decent movie but it's not by any means flashy. Elliot the giant green cat-dragon is adorable and the story itself is very cute and fulfilling. But it's not an action-packed film. It's slower, more deliberate in it's set up and pace.
Special Features
Pete's Dragon was obviously not Disney's most important release of the year but they still manage to do right by it as far as the home video release goes. They don't skimp on the special features. Pete's Dragon has the barebones you'd come to expect from any blu-ray special features section. It's go a couple behind-the-scenes featurettes, deleted scenes, a commentary featuring not just the director but the two kids from the film as well as a few other fun tidbits.
Notes To Self: A Director's Diary is a series of behind-the-scenes footage and voice overs by Director David Lowery from his own filmmaker's blog. But the featurette doesn't just focus on Lowery, but the whole cast as well. It's a really cool take on the usual behind-the-scenes featurettes you might expect to see.
In seven minutes they cover a lot of the basics. there are candid shots of everyone filming, one-on-one moments with the cast and crew, and a lot of very personal commentary by the director. It's really cool and I think it's a format that other films should steal for their own behind-the-scenes featurettes.
In contrast, Making Magic is a much more traditional behind-the-scenes featurette. It talks a lot about what went into bringing Elliot the dragon to life. The actors get a chance to offer their take on the character as well as discuss what it was like filming with a giant, non-existent co-star. They talk about the inspiration for this adaptation of Elliot and more. Definitely worth watching since it's only a couple minutes long and it comes with some really cool little facts.
"Disappearing" Moments is a sequence of clips from parts of the movie that didn't make it into the final cut. Instead of being presented as separated scenes, it's collected together in one on-going featurette. I like that they made that decision. As much as I like them, deleted scenes sections can sometimes get really drawn out. Not every cut scene needs an introduction or to be coded into the disc as it's own, separate video. This way you get to see everything and it feels like a quick revisiting of the film as a whole.
There's also a blooper reel as well as music videos for "Nobody Knows" by the Lumineers and "Something Wild" by Lindsey Stirling and Andrew McMahon, which were both featured prominently in the film. They're nice little additions and it's good to see a blooper reel.
Final Thoughts
As I said earlier, Pete's Dragon is a really good family film and it's a great choice for a quiet movie night in. It's a bit emotional so don't expect the sort of laughs you might get from sitting down to watch Finding Dory, but if you want something with a little more depth and emotion then you should certainly check out Pete's Dragon. (Of course, Finding Dory has plenty of depth and emotion, too.)
As always, I recommend the combo pack so you can get the digital HD copy to add to your Disney Movies Anywhere library! Download it to devices or stream it to endlessly entertain yourself or your kids on the go. It's such a great app – and the codes are free with the blu-ray combo packs so make sure you use them.

A REVIEW COPY OF PETE'S DRAGON ON BLU-RAY COMBO PACK WAS PROVIDED BY DISNEY AND FINGERPAINT MARKETING IN EXCHANGE FOR A FAIR AND HONEST REVIEW. NERDOPHILES WAS IN NO WAY COMPENSATED FOR THIS REVIEW. OUR OPINIONS ARE OURS AND OURS ALONE.