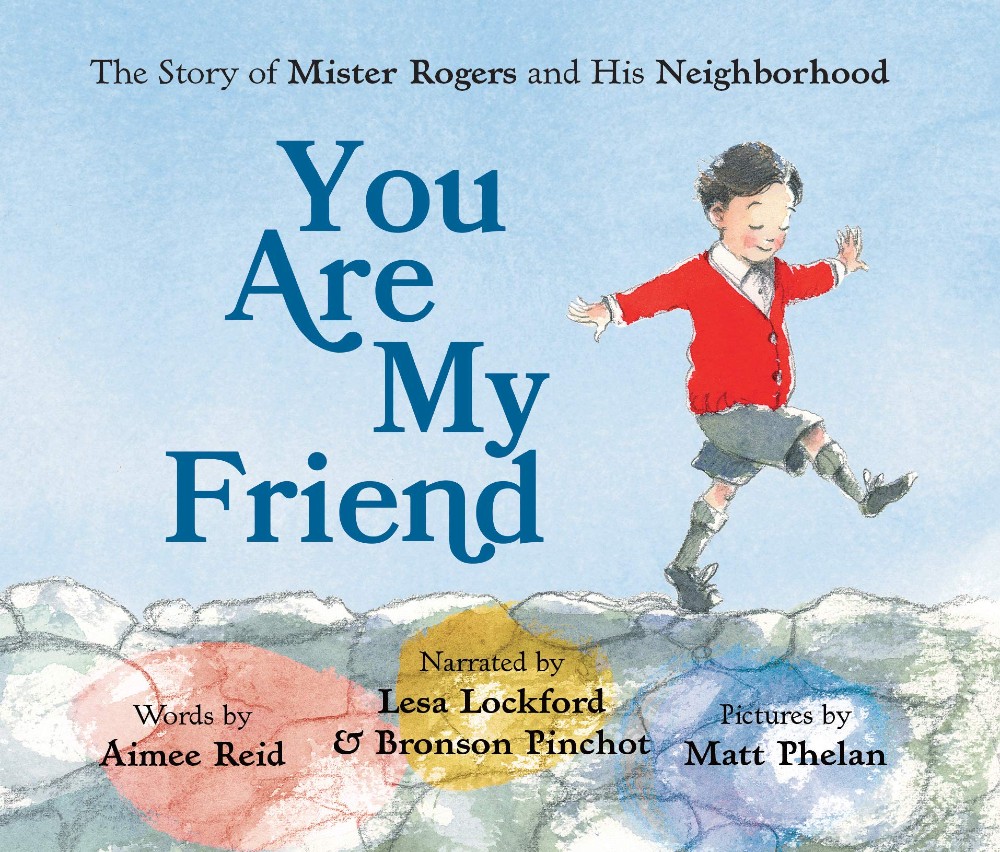 Title: You Are My Friend
Author: Aimee Reid
Illustrator: Matt Phelan
Release Date: August 6, 2019
Publisher: Harry N. Abrams
Review Spoilers: Low
GoodReads | Amazon
These days nostalgia for Mister Rogers seems to be at an all time high. He's been the subject of not just books and autobiographies but even a movie and documentary recently. While the majority of the interest in Mister Rogers has been focused on adult fans who remember their childhoods exploring his neighborhood, not much has been made available specifically for the children who may know Daniel Tiger better than the man who created him. Fortunately, Aimee Reid and Matt Phelan's You Are My Friend has stepped in to fill that void.
You Are My Friend tells the true story of Mister Rogers and introduces him to a new generation. When we first meet him, Freddie Rogers is just a boy. Sick and frequently confined to his own room, he learns to express his feelings through puppets. Bullied at school and misunderstood by many adults, he still looked for the good in people thanks to the good influences of his mother, granndfather, and other adults.
The book emphasizes Fred Rogers' belief in finding kinship amongst people from all walks in life. And it shows how he took advantage of the emerging new world of entertainment that was children's television programming. Children are shown how Rogers did his best to teach equality and self worth just as he introduced young viewers to new ideas, people, and things they may never have seen otherwise.
Throughout, Matt Phelan's illustrations somehow seem to capture the gentle, kind nature that Fred Rogers embodied. The watercolors are soft but impactful – much like the man himself. The penciled illustrations are similarly understated but still easily define Rogers' life. The pages are genuinely beautiful and I really appreciated the use of color especially when it came to bring Rogers himself to life.
By the end, children will have a good understanding of Fred Rogers' legacy. For older readers or teachers who want to learn more, there are more resources listed in the back. There are also notes by both the author and the illustrator about the influence Mister Rogers has had on their lives – something that a lot of parents reading this book with their kids will understand.
This is definitely a good book for a wide range of readers.
Young readers will find a kinship in young Freddie Rogers as many of them will understand how hard it can be to make friends and how hard it can be to deal with bullying at school. It may also encourage them to look for the helpers and inspiring adults in their own neighborhoods. Parents and teachers will find a lot of places throughout the story to jump in with their own questions and there are a lot of guided conversations that could be had.
Similarly, parents who grew up watching Mister Rogers' Neighborhood will enjoy this child-friendly reminder of their own childhoods. They may be inspired to share the original series with their kids or at the very least their own memories.
You Are My Friend is a great book for Mister Rogers fans and their children. It will also be a useful biography for older elementary school students and their teachers. All in all, it's a wonderful way to keep Fred Rogers' memory alive in a new generation.