Winter at Hogwarts: A Magical
Coloring Set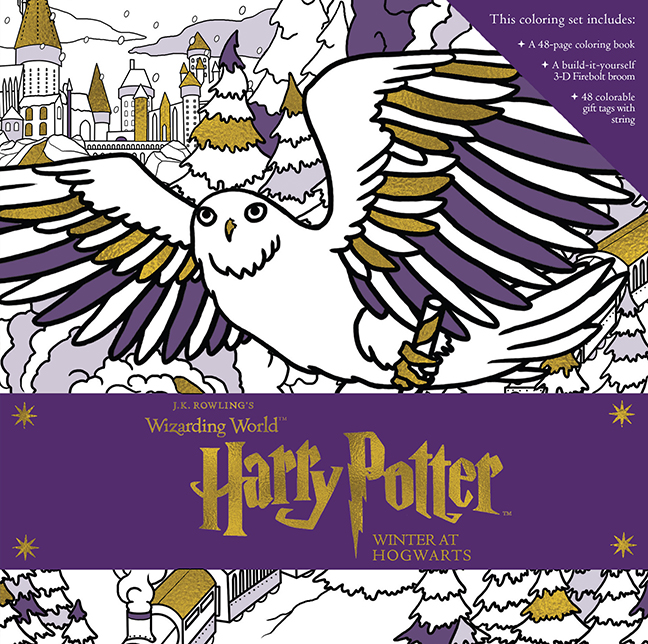 Release Date: October 18, 2016
Publisher: Candlewick Press
Genre(s): Coloring Book, Fantasy
Review Spoilers: N/A
GoodReads | Amazon

Coloring books are easily one of my favorite things both to receive as gifts and give as gifts. They're just a lot of fun and now that it's acceptable for adults to enjoy them publicly, they are a a cheap and easy gift to give. No matter what someone may enjoy there seems to be a coloring book to match their interests these days.
Harry Potter
is a fandom that is hardly left wanting in the coloring book area. There are tons of options out there for coloring book gift giving for the
Harry Potter
nerds out there. One of the most recent is the
Winter At Hogwarts: A Magical Coloring Set
.
As you can probably tell from the title, it's a gift set centered around Hogwarts in the wintertime. Christmas and winter at Hogwarts are always pretty important times during the series. Harry's first Christmas helps to solidify his relationship with Ron and he also receives his father's invisibility cloak.
During The Prisoner of Azkaban, he sneaks out to Hogsmeade with his friends around Christmastime and also gets his Firebolt. During The Goblet of Fire, Hogwarts hosts the Yule Ball. There's always something going on around Christmas and you see that throughout this gift set.
Included in the boxed set are gift tags featuring all kinds of Harry Potter-inspired patterns and the House crests, a miniature firebolt model that can be decorated and turned into an ornament, string to use with both of those items, as well as a small coloring book.
The coloring book features scenes from the movie as well as winter themed patterns. It's a square book and bound like a note pad or legal pad so the pages can be torn out. Each page actually has images to color on both sides which is really cool, though if you want to display a finished, colored page you'll have to choose which side you want to show off.
Retailing at $14.99 makes this a decently priced gift to give to someone else or to buy for yourself. It would also make a really nice stocking stuffer for any kids who love Harry Potter. The set does not include any sort of colored pencils or crayons so you'll need to provide those yourself.
If you're worried that this boxed set alone isn't enough of a present, pairing this set with some colored pencils and one of the illustrated editions of the books that have been released recently or even just a Yule Ball-themed Funko Pop! figure would be a real hit with any Harry Potter fans. There's a lot of options – whether you gift the set on it's own or with something else.
Basically, it's a super cute set and well worth the $14.99 or cheaper you can find it for online. It's a fun holiday-themed gift that's not too holiday themed if you know what I mean. The emphasis on Hogwarts, even during winter and at Christmas time, doesn't limit it's enjoyment solely to the December months. It's a gift that can be enjoyed until the pages are all colored – and the firebolt ornament can come out every Christmas for years of enjoyment!

A REVIEW COPY OF WINTER AT HOGWARTS: A MAGICAL COLORING SET WAS PROVIDED BY THE PUBLISHER IN EXCHANGE FOR A FAIR AND HONEST REVIEW. NERDOPHILES WAS IN NO WAY COMPENSATED FOR THIS REVIEW. OUR OPINIONS ARE OURS AND OURS ALONE.