Warner Bros. Home Entertainment provided Nerdophiles with a free copy of Batman: Return of the Caped Crusaders on blu-ray which is being reviewed in this blog post. The opinions we share are our own.

Batman: Return of the
Cape Crusaders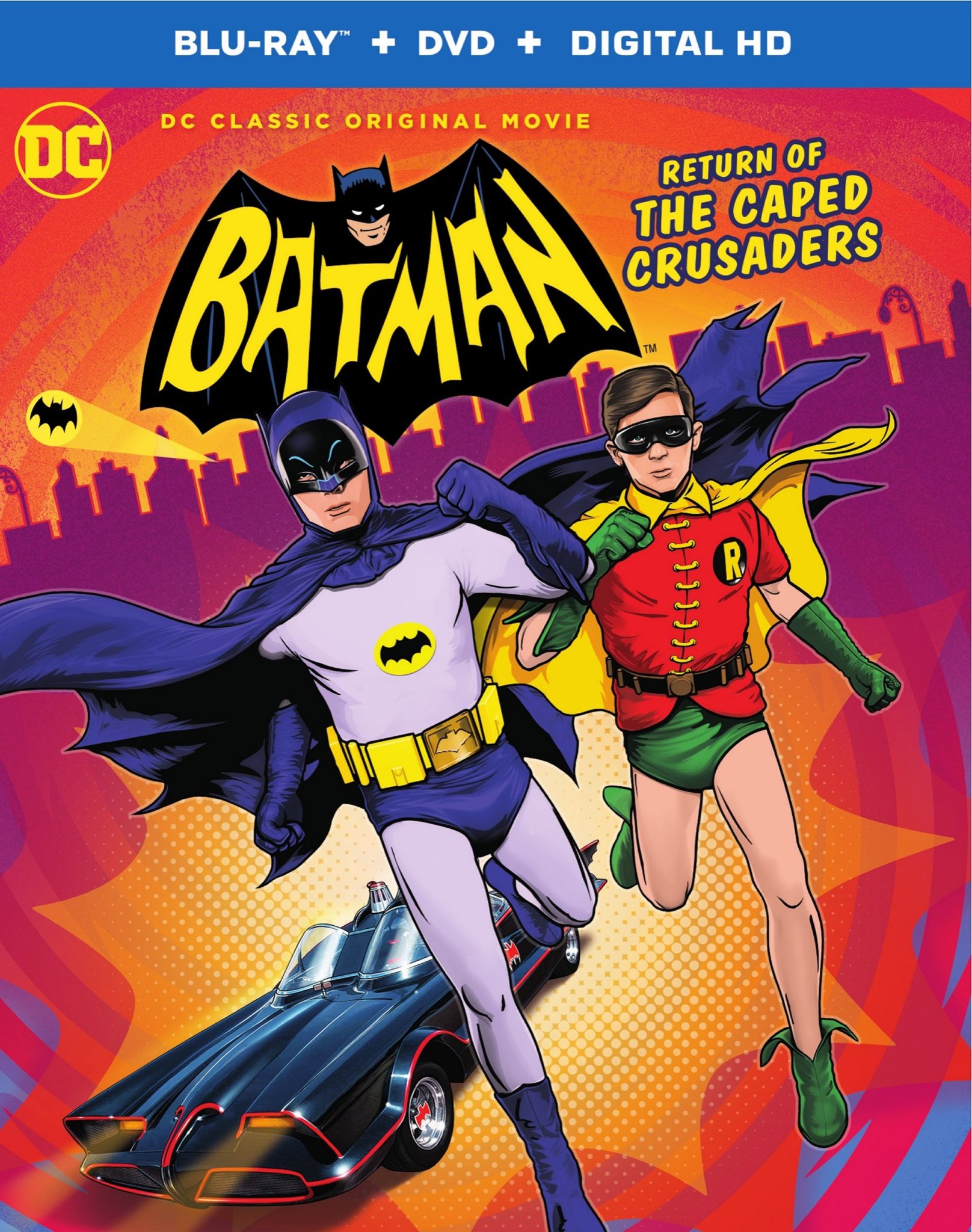 Release Date: November 1, 2016
Cast: Adam West, Burt Ward, Julie Newmar, Wally Wingert, William Salyers, Jeff Bergman
Director: Rick Morales
Studio: Warner Bros. Animation & DC Entertainment
Distributor: Warner Bros. Pictures
Extra Feature Rating:  ★★★☆☆
Rating: ★★★★☆
Review Spoilers: Low
Amazon | IMDB | Wikipedia
Just two years after the complete 1960s television series was released on DVD and blu-ray, the classic caped crusaders return for a brand-new, animated adventure in Batman: Return of the Caped Crusaders! All of the great Batman villains are back and working as a team to take down the dynamic duo. Return of the Caped Crusaders brings the original Batman cast back together with Adam West reprising his role as the dark knight alongside Burt Ward as Robin and Julie Newmar as Catwoman.
Growing up, I loved watching the old school Adam West series in syndication. As campy as it often was it was incredibly entertaining and paired with Batman: The Animated Series it helped lead me down a lifelong love of all things comic book related.
Return of the Caped Crusaders perfectly captures everything I loved about the series – the humor, the absurd Bat-gadgets, ridiculous exclamations from Robin, the silly riddles, and more. It's great to have Adam West and Burt Ward back in the roles. They're such iconic figures because of these roles and having them back together again on screen is a wonderful blast of nostalgia – even if they're back in voice-only. Having Julie Newmar back, too, is just icing on the cake and she sounds just as sultry and seducing as ever.
Complimented by a cast of new actors taking on the iconic roles of the old school villains, the voice cast brings to life the sort of story that would have felt right at home on television screens some fifty years ago.
In Return of the Caped Crusaders we see The Joker, The Riddler, Penguin, and Catwoman joining together to pull off some ridiculous, elaborate scheme to take over Gotham City. From game show sets to frozen TV dinner warehouses and even into outer space, Batman and Robin stay hot on their trail the whole time. Utilizing clues left behind by villains who think they are far more clever than the world's greatest detective, they manage to save the day – or do they?
It turns out that stopping the bad guys once isn't enough in this film and there's a lot more than meets the eye with the villains' evil plans. Mind control and an army of Batman clones are only some of the things that Robin and Catwoman end up dealing with as they ultimately try to save Batman, the city, and ultimately the world.
The plot is a little out there at times and there's certainly some really crazy stuff going on in this film. I mean, who could have ever imagined Batman and Robin fighting the Joker, Riddler, and Penguin in zero-G on some random space station? But the animated format let's the writers do a lot more with our characters than they probably ever could have on television.
Despite this film coming about some fifty years after the original series, the writers make it feel like we're still back in the 1960s. There's some obligatory references to democracy and communism and Batman gives us some rather patriotic, inspiring spiels about humanity's great potential and the future of mankind.
Plus there's some really great, very ridiculous gadgets that harken back to that series' dated origins. The best moments, though, are the ones where the writers throw in references to classic songs and other Batman films. There are tons of little Easter eggs to be found in the dialogue and throwing those in helps to really capture the fun feeling of the classic series while keeping this film new and fresh.
If I have to pick one thing I truly loved about this film, I think I would end up saying that my favorite part of this film was Julie Newmar's Catwoman. I've always loved the character but she really got to shine in this film. She becomes a pretty great ally for the dynamic duo in Return of the Caped Crusaders, continuing to walk that fine line between Batman's nemesis and lover. Her constant flirting and schemes to get Batman to come further into her enthrall is great. If only they were meant to be.
Catwoman actually gets one of the best lines in the whole film, one that pokes fun at the anti-climactic ending of The Dark Knight Rises.
Catwoman: I'll turn myself in on one condition.
Batman: What's that?
Catwoman: We run away to Europe together, sip tea in a cafe, and live happily every after.
Robin: Holy unsatisfying ending!
I love it. Absolutely love it.
The film as a whole is a lot of fun and I highly recommend it for fans of the old school Batman series. It's more than worth watching if just for the campy ridiculousness. Batman is so often this serious, dark figure in modern adaptations. But he doesn't always have to feel that way and Batman: Return of the Caped Crusaders reminds us that it's okay to sometimes just have some campy fun with your favorite superheroes and dastardly villains.
Now, if you enjoy special features on your home video releases, there aren't too many on the Batman: Return of the Caped Crusaders blu-ray. There are only two of them – Those Dastardly Desperadoes and A Classic Cadre of Voices. Both of them focus a lot on what went into adapting all the classic villains from the original television series and re-casting them with new voices actors.
Unfortunately, only Adam West, Burt Ward, and Julie Newmar were able to reprise their roles and the others needed to be re-cast with new voices. The folks behind the film took their job seriously and did their best to find the right people for all the roles – and that dedication and devotion to the project shows in these two featurettes. You get to hear the voice actors themselves talk about their roles and hear a bit more about what goes into making an animated film like this.
I wish they would have included a few other special features. It would have been nice to have had one that talked a bit more about the classic Batman television series and maybe another one that revealed all the references and Easter eggs like you find on a lot of Disney releases. But, hey! We can't get everything.
Definitely watch the special features after watching the movie since there are a lot of spoilers for the full film. You can also check out the two sneak peeks included on the disc for two other animated features, Son of Batman and it's sequel Batman vs. Robin.
If you want a darker, more modern Batman tale than these two films are totally worth it. And these two sneak peeks are pretty cool – they're not just short trailers but full-fledged featurettes in their own right. Though, if you do want to se some trailers for some other DC films and properties, the disc has some of those, too.
Speaking of other films, Batman: Return of the Caped Crusaders already has it's own sequel in the works. Batman vs. Two-Face was announced a few weeks ago at NYCC shortly before the world premiere of Return of the Caped Crusaders. There aren't a whole lot of details yet but William Shatner will be joining the cast as the titular villain. I can't wait.
You can check out Batman: Return of the Caped Crusaders on DVD, blu-ray or Digital HD now!