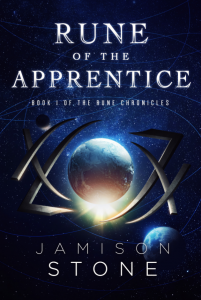 Author: Jamison Stone
Release Date: November 1, 2016
Publisher: Inkshares
Source: Publisher
Genre(s): fiction; epic fantasy; adventure
Review Spoilers: mild
Rune of the Apprentice
is an epic fantasy complete with its own mythology, deities, history, and politics. The story focuses on Aleksi, a young apprentice equipped with a mystical Rune on his hand. He's been training at an academy to harness the power of his Rune, but after his master indicates his life is in danger, Aleksi flees the academy, racing against time to master the magic of the Rune on his hand before it kills him.
For fans of Game of Thrones, Rune of the Apprentice provides the same epic-level detail reminiscent of George R. R. Martin's series. In particular, the book delves into the world's politics, with the events taking place during the middle of peace negotiations (and subsequent war) between nations.
However, even though the writing and ideas are good, I had a lot of difficulty following a handful of characters and their arcs simultaneously, and I often felt like I was struggling to keep up with all the foreign names and places. I always felt like I was missing something, and usually that something was Aleksi's story, which fell to the wayside during much of the first part of the book to set a political scene.
From the book's excerpt, I was expecting more of a magical-school adventure, a la Harry Potter  or The Vampire Academy, but none of the book's action takes place at the academy, and the circumstances surrounding Aleksi's training and escape were glossed over.
I came in expecting a quick YA read, but what the book delivered was less of a plot-driven YA series and more of a well-rounded, multi-perspective world filled with action, secondarily focused on plot.
Final Thoughts: Rune of the Apprentice throws its reader head first into a new world and expects them to swim. Unfortunately, as well constructed as that world is, the reader drowns in a ploddingly slow plot and myopic focus on the minutiae of political negotiations. If you're a fan of epic fantasies, jump in to the first of this new series – if not, stay in the shallows with other YA adventure picks.


A REVIEW COPY  OF RUNE OF THE APPRENTICE WAS PROVIDED BY THE PUBLICIST IN EXCHANGE FOR A FAIR AND HONEST REVIEW. NERDOPHILES WAS IN NO WAY COMPENSATED FOR THIS REVIEW. OUR OPINIONS ARE OURS AND OURS ALONE.