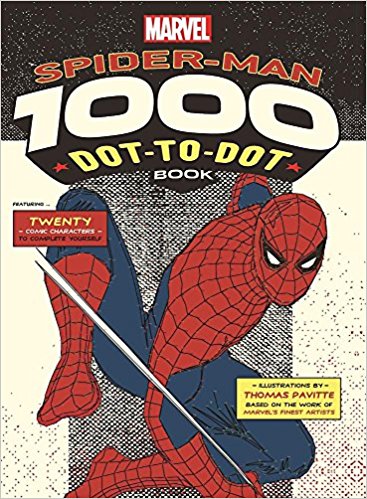 Author: Thomas Pavitte
Release Date: March 17, 2017
Publisher: Thunder Bay Press
Review Spoilers: —
Genre: Activity Books
Goodreads | Amazon

Adult coloring books have been all the rage for several years now, and they have only increased in popularity during this time. Comic books have even taken to making coloring books showcasing their more popular story lines, so it is only natural that dot-to-dots would be the next activity to make a come back.
Playing on the childhood nostalgia and the coloring book phenomenon, Marvel's Spider-Man 1000 Dot-To-Dot activity book includes twenty awesome Spider-Man characters and even includes a two-page poster.
I will be the first to admit, that I have no artistic talent beyond color coordination and coloring in the lines, so this dot-to-dot adventure fulfilled my desire to be an artist. However, this isn't your run of the mill, old-school dot-to-dots. These are far more complicated and other than the first page, do not come with any helpful pre-filled lines or images indicating what the image is supposed to be.
However, drawings are broken up into useful color-coordinated dots, to make the sections easier to see and coordinate. The only downside to this is the fact that colors and numbers were tough to see once you started connecting the dots. The other difficulty with some of the dot-to-dot images is the fact that the numbers are tiny and it does become frustrating when you are unable to find the corresponding numbers.
That being said, it does take awhile to complete some of the dot-to-dots and figure out the character that you are drawing. I haven't even begun to tackle the 1700 dot-to-dot poster, but I have completed several of the other pages with great satisfaction.The size of the book is also a bit daunting as it's cumbersome, which does make it difficult to maneuver when trying to get the best angle to draw the lines.
Overall, I highly recommend this book to comic fanatics or friends and family interested in coloring and drawing. It's fun to do, relaxing and a great way to ensure hours of fun. It's a great present for birthdays and Christmas. It also helps further fun puzzles for adults and fosters interest for aspiring artists everywhere.