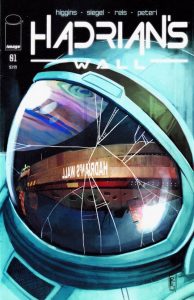 Author: Kyle Higgins & Alex Seigel
Artist: Rod Reis
Release Date: September 14, 2016
Publisher: Image Comics
Genre(s): Murder Mystery, Sci-Fi
Rating: ★★★★★
Review Spoilers:  Mild
In space, no one can hear you scream… But on Hadrian's Wall, enough people will notice your death that an investigation will be called.
That's the premise behind Image's latest offering, Hadrian's Wall, anyway. Framed around a death investigation is an alternate look at history that brought forth the sci-fi murder mystery. The Cold War happened, nuclear weapons detonated in Russia and New York, and a hundred years later, history is repeating itself with a second cold war between the entirety of Earth and one of its counterpart colonies in space. However, that info-dump is all revealed in the first few pages and hardly touched upon throughout the rest of the issue.
Instead, readers are asked to narrow their focus to the death investigation and the tangled web of relationships involved. Simon Moore, a troubled, pill-addicted investigator is hired by Marshall, a representative of the company that built Hadrian's Wall, to check out the "open and shut" case. It turns out that the victim is someone Simon knows intimately, having been shot by Edward at some point, and who married Simon's ex-wife. The personal relationships add a greater sense of intrigue to the investigation and Kyle Higgins and Alex Seigel do an amazing job of giving each character a unique personality and stakes in the game.
By the end of the first issue, it's easy to see the strain this may cause on everyone involved and how Simon will complete his report is anyone's guess at this point. A cliffhanger ending leaves readers with a sense of dread that Edward's possible murder may have just been the tipping point. There's a sterile coldness to the writing and the environment, helped along by artist Rod Reis, who gets the aspects of a spaceship murder mystery just right.
Between the stark and violent opener that showcases the crime, if there even is one, and the minimalist backgrounds that lend credence to what life on a space station might be like in the future Reis' art is perfect. The coloring also does well to show a warmth in flashbacks that is understandably absent in present times for our characters. The broad space backdrop gives Reis the opportunity to bring a dash of color into space and the close up emotions of characters give Reis the chance to really showcase details perfectly.
I will say the one thing I wasn't crazy about was the font used by letterer Troy Peteri. It is a little bit too rounded and energetic feeling for an otherwise cold series tackling dark subject matter and human weakness. With typeface being my biggest issue in this limited series, I'd say I don't have a lot to complain about. The issue as a whole was a strong opener and clearly set out the players in what's sure to be a wild ride.
If you enjoy noir-feeling murder mysteries, couched in a larger tumultuous political climate that may or may not become relevant in the future, and outer space, pick up the limited eight issue run of Hadrian's Wall at your local comics shop today!

A REVIEW COPY OF HADRIAN'S WALL WAS PROVIDED BY THE PUBLISHER IN EXCHANGE FOR A FAIR AND HONEST REVIEW. NERDOPHILES WAS IN NO WAY COMPENSATED FOR THIS REVIEW. OUR OPINIONS ARE OURS AND OURS ALONE.