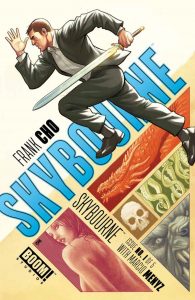 Author: Frank Cho
Artist: Frank Cho
Release Date: September 7, 2016
Publisher: BOOM! Studios
Genre(s): Thriller, Fantasy
Rating: ★★★☆☆
Review Spoilers:  Mild
What do you get when you mash together Indiana Jones, James Bond, and John Wick? Something incredibly awesome, what Skybourne strives to emulate, and ultimately a little bit of a letdown based on the build-up.
While it's difficult to tell from the first issue, Skybourne is meant to follow the immortal children of Lazarus who also have superpowers for some reason. The pitch claims it to be a thriller-meets-fantasy story, which to its credit writer and artist Frank Cho managed to touch upon throughout the issue, even if the exposition didn't go beyond cliched stylings of that premise. Opening on Thomas jumping from a plane, smashing into the ground, and surviving, that's… all we see of Thomas Skybourne.
Instead, we follow his sister Grace, as she attempts to collect on an already negotiated deal for Excalibur. When the inevitable double-cross occurs, it's refreshing to see a female protagonist kick ass and take names with abandon. Unfortunately, by issue's end, it's difficult to care about Grace when there is no character development beyond how hard she can punch. The first issue ended up feeling more like one long action sequence and the prologue to another character's journey for revenge.
Frank Cho serves double duty as the writer and artist of this series, which may have lent itself to the feeling that both the art and writing was done in half-measures. The writing is full of cringe-worthy, telescoping lines that bluntly inform readers of things that could just as easily be shown through the art, which also doesn't manage to pull its weight.
Light on background, the action sequences are actually very clean and showcase some interesting perspectives. Despite having as much depth as John Wick, I still found myself rooting for Grace through unabashedly graphic scenes. At one point, this may have been considered shocking or edgy, but it hardly gave me pause. More confusing, Grace wields Excalibur in a moving vehicle at one point – and while it makes for a neat effect to break out of the panel, it doesn't make sense when you really think about it.
The ideas touted in this book aren't clearly showcased in the first issue, but I can't help but hold out hope that the second one will be more accessible to what was promised just because of how neat it sounded. For me, this felt like a #0 issue that gave the background to the background of the driving force behind the main character given how it ended. I'll be interested to see if issue #2 is a better introduction to the series and gives more context to punching everything in arm's reach.
Overall, if you judge the issue by what it is and not what was promised in the solicitation, it's a fun outing that falters with its female protagonist in the last few pages – or it's a cheap cliffhanger that will only serve to make me roll my eyes when issue #2 comes out. The series has set itself up to be something more cinematic in nature and will probably read better in a trade format. I'll be back next issue to see what happens regardless.

A REVIEW COPY OF SKYBOURNE WAS PROVIDED BY THE PUBLISHER IN EXCHANGE FOR A FAIR AND HONEST REVIEW. NERDOPHILES WAS IN NO WAY COMPENSATED FOR THIS REVIEW. OUR OPINIONS ARE OURS AND OURS ALONE.