By now, if you're a long-time Nerdophiles follower, you'll know that I'm a huge book nerd. I love books. I read a ridiculous number of them. My GoodReads list for this year's reading challenge currently sits at 382 books read – and we still have a month to go! I also now work at my local public library and so I decided to take my "expertise" and get you started on your gift buying for those book nerds in your life.
I have three lists in this post. The first is for general book related gifts. The second lists more general recommendations sure to please the geeks and nerds in your lives. And the final list has some genre and age-specific recommendations.
I did my best to find some great stuff but – as always – if you have recommendations, chime in down in the comments!
Book-Related Gifts
Kindle Paperwhite + Gift Card + Dodo Case
All right, let's get the obligatory Kindle recommendation out of the way. I love my Kindle and I would be absolutely lost without it. The ability to carry around my entire library with me still blows my mind. You might be thinking to yourself, "But, Sam, I love having real books in my hands. I'd never get a Kindle!" But I found a solution for you or for your giftees who may be reluctant to pick up a Kindle. Check out that Dodo Case! It gives you the feel – and some of the smell, I'm sure – of a real hardcover book while still letting you enjoy the wonder of eBooks. This is a definite combo to consider for the readers in your lives! (If the Paperwhite is a little pricey, consider the $79 basic Kindle instead!)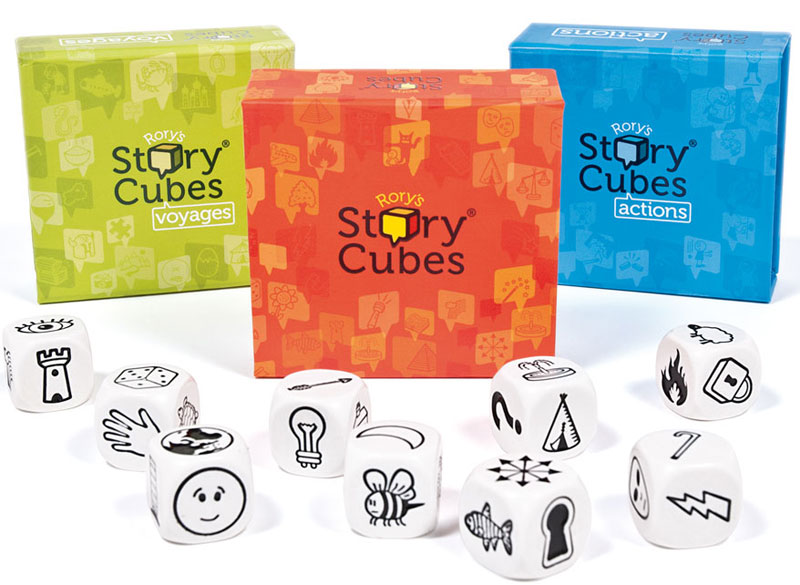 Rory's Story Cubes
I know the recommended age on these is 8+ and so they might seem like kids' toys. But hear me out. While, yes, these are excellent for kids they are also great for adults, too. The idea behind Rory's Story Cubes is to take dice, roll them, and come up with stories that can connect all the pictures on the dice. Sounds like hours of fun for the family, right? But think about the implications for adults. For one, it'd probably be an awesome drinking game. Imagine you and your friends trying to make up stories while drunk. Sounds like a great time to me. But also imagine the use for the writers in your lives. Know someone who likes to write short stories or relies on writing prompts to find inspiration at times? Give them Rory's Story Cubes and they have an all new set of portable writing prompts they can carry with them anywhere!
Magnetic Bookmarks from craftedvan on Etsy
My love for these bookmarks cannot be understated. I absolutely love them. I got a set of the Game of Thrones bookmarks from my match during Reddit's bookmark exchange and I could not have asked for a better gift. These things are amazing. I have hopelessly coveted basically all of them ever since. These are perfect and affordable gifts that can be given to friends, used as stocking stuffers, or used all year to bring a smile to that special book lover in your life's face. Some of my favorites include: LEGO Batman, baby Groot, Carl's House from Up, the Harry Potter set, the Adventure Time set, the Guardians of the Galaxy set, and basically ever single other one ever. No joke.
Hand-Made Literary Mugs
Etsy is full of amazing mugs for the book lovers and they would make excellent gifts – especially for the readers who need their caffeine fix! From mugs with clever quotes, classic phrases, and more, you are sure to find the right mug for your giftee. If not, you can always make your own!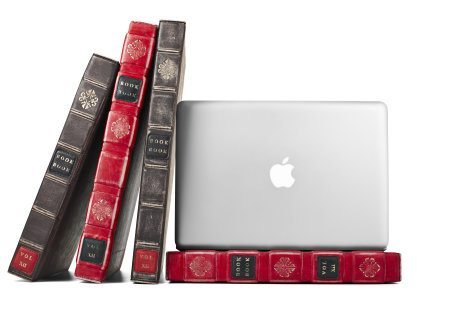 MacBook "Book Book" Cover
Know someone who loves the look of a classic hardback? Check out the Book Book cover for the MacBook Pro. Stylish and professional, it's a great choice for book lovers and offers a good looking layer of protection for their laptop. It's also available for the iPad, iPhone 4 and iPhone 5! (Sadly, it's only really available for Apple products.)
Moleskine Notebooks and Planners
Sturdy, sleak, and classic Moleskine notebooks and planners are always a great choice when it comes to gifts. There are a number of uses for the multi-purpose notebooks. They come in a variety of sizes, colors, and themes – including Star Wars, the Little Prince, Peanuts, and LEGO. Perfect for students and writers and just the perpetually organized, these are sure hit gifts for this holiday season.
Litographs T-Shirts
How AWESOME are these shirts? Just look at them! They take the text from classic and contemporary books and use that to create intricate t-shirt designs. It's amazing how these turn out. They've made shirts for tons of science fiction, fantasy, and non-fiction scientific tomes that are sure to he bits with the nerds in your life. They've got everything from 20,000 Leagues Under the Sea to Cory Doctorow's Little Brother to Sherlock Holmes and Peter Pan.
Books for Nerds and Geeks Alike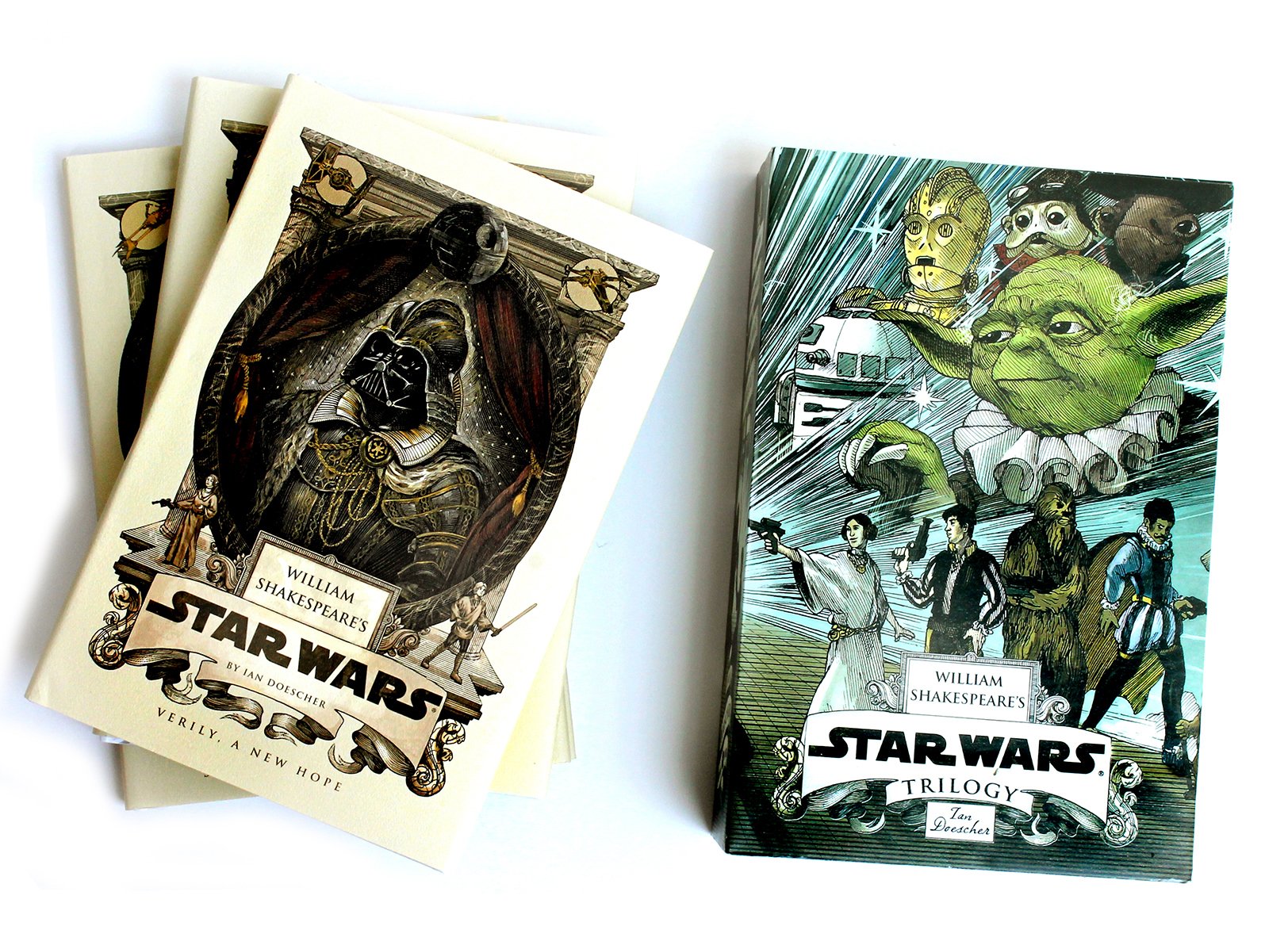 Ian Doescher's William Shakespeare's Star Wars
If you haven't picked up these books for yourself or someone else now is the absolute perfect time to do it. Ian Doescher did an amazing job imagining the Star Wars Trilogy as if the great William Shakespeare had written it. Written in full iambic pentameter, the series is great for Star Wars fans of all ages regardless of their affinity for the bard. Filled with familiar lines from actual Shakespearian works, it's just a blast to read. And, now that the original trilogy has been finished, Quirk Books has released as a boxed set. Trust me on this one, people. This is a gift that any nerd will appreciate.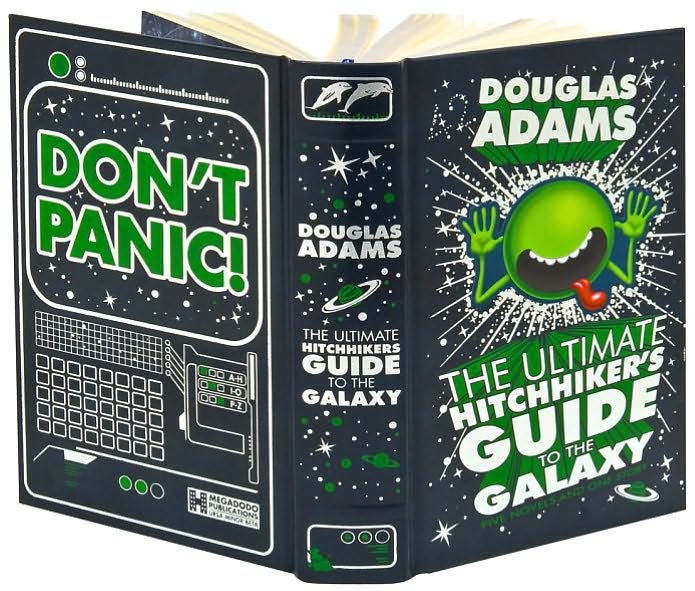 Barnes and Noble's Leather-Bound Classics
If you haven't a chance to stop by a Barnes and Noble recently you should if just to check out these leather-bound editions of great classics and contemporary novels. The designs are absolutely gorgeous. From Austen to Lovecraft to Lewis, Adams, and Crichton, these books just look fabulous. These are perfect gifts for book nerds with an eye for design. And there are plenty of science fiction classics to choose from. They even have Jurassic Park and the Lost World!
Box Sets of Popular Contemporary Series
You might think that this is a big of a cop out recommendation. Of course box sets are a good gift recommendation. But hear me out. People often overlook this option when it comes to book buying. Others are hesitant – with good reason. If someone doesn't like the first book in a series why would they want to continue? Still, there are some pretty safe bets out there. Game of Thrones, Divergent, Harry Potter, and the Hunger Games can all be purchased as box sets and for readers who want to compare the original books with the series this is a great option. Some other good options? You can buy several John Green books bundled together in a box set at Barnes and Noble and you can pick up the Giver Quartet as a single bound book. The last one is a particularly great purchase because most people don't realize that the story continued after the ambiguous ending of the Giver.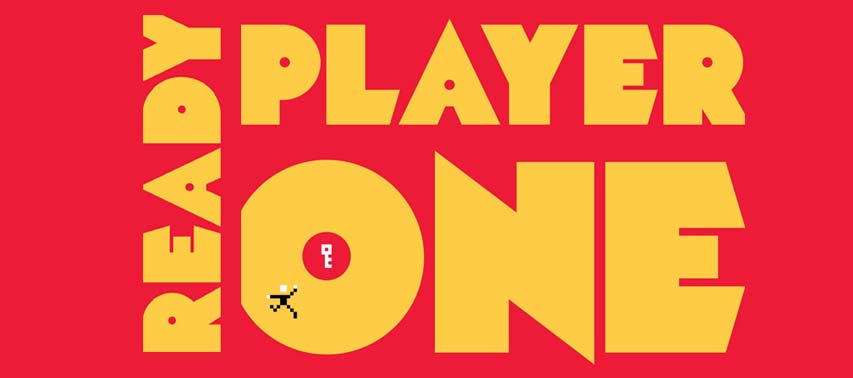 Ready Player One by Ernest Cline
All right, c'mon, you probably expected this recommendation, too. Ready Player One has become pretty much the book to recommend for the nerdy, geeky folks in our lives. It's full of all kinds of pop culture nostalgia and easter eggs. It's an adventure novel that not only draws you in but also leads you to question what it means to live in the real world versus reality when those two things become harder to distinguish. It's a fantastic, quick read that people will want to read all over again and share.
Great Showdowns by Scott Campbell
These are some of my favorite 'coffee table' books and I think that they'd be a good choice for just about anyone on your Christmas buying list. Scott Campbell – under the name Scott C. – re-imagines classic movie scenes in his own unique style. They're great books to read through and incredibly fun to gift because people enjoy flipping through the pages to identify each and every movie. He posts new scenes almost daily over at his Tumblr, too, so once you've introduced your friends and loved ones to the fun keeps on going.
Lev Grossman's The Magicians Series
This was my most recommended series of 2014 so I definitely needed to recommend it here. The Magicians is a series that really speaks to me as part of the generation that grew up with Harry Potter and that's what makes it so great. Following a group of students pegged to attend a sort of college of magic, it blends the parts of Harry Potter and the Chronicles of Narnia with dark, realistic undertones. The magic is still there but Grossman shows it to us from a different perspective that – now that we're older – we'll appreciate.
Genre Specific Recommendations
The above gifts are less specifically targeted by genre. My hope is that most of them will work for a wide variety of people and that they will at the very least offer those looking for great gifts a place to start their search. For people who are more interested in gifting within our targeted genres – generally science fiction, fantasy, and anything even remotely related – I've got some genre and age-specific recommendations below!
Science Fiction & Fantasy
Non-Fiction
Young Adult
Middle Grade
Children's Books