Star Wars Rebels:
The Complete Season 2 [Blu-Ray]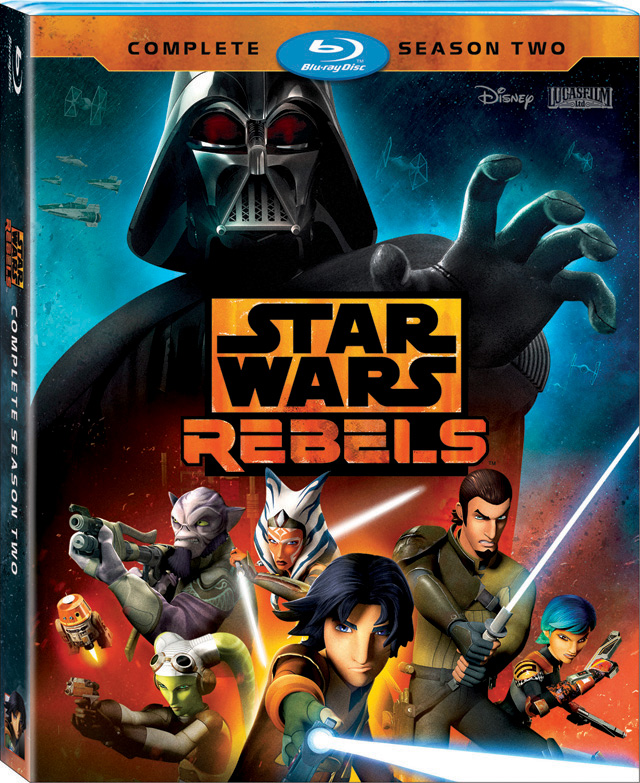 Release Date: August 30, 2016
Cast: Taylor Gray, Freddie Prinze Jr., Vanessa Marshall, Tiya Sircar, Steven Blum
Network: Disney XD
Genre(s): Sci-Fi, Animated
Extra Feature Rating:  ★★★★☆
Rating: ★★★★☆
Review Spoilers: Moderate
Amazon | IMDB | Wikipedia | RT
It may come as a surprise to some of you when I say that Star Wars Rebels is probably my absolute favorite series on television right now. After all, who would expect an animated series on Disney XD that is marketed primarily to younger viewers to be so great? But the truth of the matter is that it's a fun, well written series that manages to capture a lot of what makes Star Wars such a great series all in a 30 minutes-a-week format.
For the uninitiated, Star Wars Rebels follows a plucky band of rebels including one of the last remaining Jedi and his young, teenage apprentice. While the story primarily focuses on this ragtag group the second season opens things up even more and sees these characters having a much broader effect on the Star Wars galaxy as a whole. The crew of the Ghost – Hera, Sabine, Kanan, Ezra, Zeb, and Chopper – get thrust into a much larger struggle and start to play a much bigger role in the early days of the Rebellion.
After falling in love with the show in it's first season, I couldn't wait to see what the writers had up their sleeve and I wasn't disappointed in the least bit!
Season Review
When we last left our Rebels they were being rescued by the Rebellion and learning that their efforts as freedom fighters on Lothal were part of a larger movement across the galaxy. It's a big change for the crew of the Ghost – especially Kanan. He's already fought one war and lost and the prospect of teaming up with a band of soldiers all over again leaves a bad taste in his mouth. Still, it's an inevitable jump in their development, the show's development, the history of the Star Wars galaxy as a whole.
One of the greatest additions to this season's cast was Ahsoka Tano. A familiar figure from earlier Star Wars canon, her last appearance was back during the final season of Star Wars: The Clone Wars and her fate was left very ambiguous. We had no indication as to whether or not she survived the war or the Jedi purge after the initiation of Order 66.
Now, of course, we know she was the rebel agent known only as Fulcrum in the first season. And with the introduction of Darth Vader in the first two-part story of the season we're inevitably set up for the reunion between master and apprentice that everyone's been clamoring for since Ahsoka was revealed to still be alive.
But Darth Vader and Ahsoka are just two of a number of familiar faces to appear in this season.
A number of old favorites from The Clone Wars pop up again – including a band of Clone Troopers who didn't let themselves get duped by Order 66. Captain Rex joins the team on a number of missions throughout the season and it's really great to see him working along side our rebels. Another favorite – Hondo Ohnaka – shows up a couple of times, too. And we get a pretty awesome cameo from a certain Princess we all know and love.
Everything feels more connected this season. The stakes seem so much higher. With the crew of the Ghost entirely on board with the greater rebel movement we get to see more of how the Rebellion operates as a whole and it's early struggles. It's a much needed step forward and it's nice to see the timeline edging closer and closer to the start of the story we all came to love in A New Hope.
But that's not the entire focus of the season.
Season 2 saw an expanded episode order from the limited number of episodes in the first season. This means that there was a lot more opportunity to delve into the backstory of the various characters and that's exactly what the writers did.
We get to learn more about Zeb's history and his people. We discover more about Sabine and Hera's families and backgrounds. Everyone gets their own moments to shine and in a series that includes so many strong character's it's a great thing to see. While some of the episodes certainly feel a bit like filler they are so full of excellent character development that you really don't care.
A heads up for Star Wars Rebels fans who liked the often lighthearted feel of the first season: while the show is still primarily upbeat and hopeful it certainly has it's darker moments this season. Darth Vader is not a foe to be taken lightly. And he's not the only dark character to emerge from Star Wars' past this season. Certain characters will struggle with hard truths they learn along the way. Others will be faced with hardships no one saw coming.
It's an incredible journey from start to finish and this second season only makes us even more excited for the third.
Special Features
As far as special features go, the blu-ray release is a peculiar beast. To long-time fans of the series it probably seems a little bit lacking in content. To people who may be checking out the season for the first time, though, it will likely feel like the exact opposite. This is because the bulk of the special features on this release are the ever ubiquitous Rebels Recon behind-the-scenes videos that were included in the first season home release as well.
Rebels Recon serves as a sort of after show for Star Wars Rebels and the videos are undeniably awesome. I love watching them. But they aren't new content. If you're a Star Wars Rebels fan and watched this season live as it aired you probably already watched them all.
Now, if you haven't watched them then you absolutely should. Each Rebels Recon video is about seven minutes long and it includes interviews with the actors and showrunners. They provide incredible insight into each episode and the progression of the series as a whole. But, again, if you've already seen them they don't add much to the home blu-ray release.
Luckily, there are some other bonus features. One is actually a blu-ray release exclusive so Star Rebels fans who haven't made the jump from DVD to blu-ray are going to be missing out! The bonus feature feature is called From Apprentice to Adversary: Vader vs. Ahsoka and focuses on the relationship between Anakin Skywalker and Ahsoka Tano in the second season.
The Clone Wars left Ahsoka's fate in limbo and ever since she was revealed as Fulcrum at the end of the first season people have been wondering when she and Anakin would cross paths again. Spoiler alert for those of you who may not have watched the season yet: it happens this season – and it's a heck of a reunion. This short featurette does a great job of explaining how they broached that climactic showdown.
The only other special feature included on the home release is Connecting the Galaxy: Rebels Season 2. This featurette takes a look at all the little easter eggs and subtle connections to the rest of the Star Wars universe sprinkled throughout the season. It's definitely worth a watch because if Star Wars does one thing right it's keeping it's new canon connected.
Sadly, there are no trailers for Season 3 or any sneak peeks at what's to come. Since Season 3 starts up at the end of September it's a bit disappointing. It feels like a lost opportunity!
Final Thoughts
I cannot recommend Star Wars Rebels highly enough. While it retains a more kid friendly veneer than The Clone Wars did, it's not a childish series. It's a fantastic look at the intervening years between the prequel trilogy and the original films and it introduces some awesome characters.
The second season in particular is a treat for any Star Wars fan. The familiar faces that pop up and the focus on the early days of the Rebellion make it feel more like Star Wars than ever before.
The DVD and blu-ray releases of this season came out last week and they were released just in time for people to pick them up and get ready for the third season. Star Wars Rebels Season 3 returns to Disney XD on September 24th at 8:30 AM. You'll want to pick up this season and get read because Season 3 reintroduces Grand Admiral Thrawn to the Star Wars canon. You can't miss it!

A REVIEW COPY OF STAR WARS REBELS: THE COMPLETE SEASON TWO ON BLU-RAY COMBO WAS PROVIDED BY DISNEY AND FINGERPAINT MARKETING IN EXCHANGE FOR A FAIR AND HONEST REVIEW. NERDOPHILES WAS IN NO WAY COMPENSATED FOR THIS REVIEW. OUR OPINIONS ARE OURS AND OURS ALONE.