Kylee read the latest offering from Top Cow, which combines three of the company's popular titles into one series, and enjoyed Eden's Fall even as a newcomer to all three series. She's also still reading Cryptocracy from Dark Horse Comics, even as the characters give way to way more interesting creatures.
Jackson read All New Wolverine Annual #1 from Marvel and found it passable, if a little bit too on the nose.
Check out the full reviews below and tell us what you're reading in the comments!


Kylee's Reads
Eden's Fall#1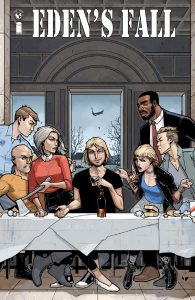 Authors: Matt Hawkins, Bryan Hill
Artist: Atilio Rojo
Publisher: Top Cow
Source: Top Cow DRC
?????
Eden's Fall brings together three popular series from Top Cow, Think Tank, The Tithe, and Postal, to showcase the characters in a new, dangerous situation. Former FBI Agents Dwayne Campbell and James Miller team up with hacker Samantha Copeland and scientist David Loren to infiltrate an off-the-grid society where criminals get a second chance at life.
No previous knowledge of the other series' is needed, as the first issue spends some time familiarizing readers with the players involved. Check out our full review here.
Cryptocracy #3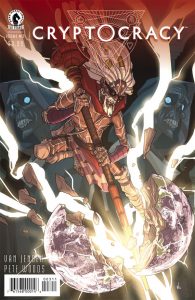 Authors: Van Jensen
Artist: Pete Woods
Publisher: Dark Horse Comics
Source: Dark Horse Comics DRC
?????
I had a giggle over this week's informational first page of Cryptocracy – which does some of the heavy lifting of worldbuilding – when Bras were described. Yep. Bras. Technically, it's "also called a bracelet" and works much like a Green Lantern ring (but don't remind them). Bras: they're all wearing them.
Twelve year old boy sense of humor aside, this issue brought bullheaded and naive Grahame deeper into the Mars family when he was told the nine prophecies that would bring about the end of humanity. One has already come to fruition, with a second invoked this issue, and it will be interesting to see how and if the rest of them unfold over the course of the series. His second confrontation with Hum goes just about as well as the first and outside of all of the family drama, conspiracy theorist Bela… does some stuff?
One of my issues with Cryptocracy is that I'm just not very invested in the characters. Why do I care about Grahame rushing headfirst into trouble? What is Bela's purpose beyond wasting pages? She's supposed to be getting the truth out there and drumming up support from the people outside the inner circles, but she only manages to avoid a mysterious http://www.cheapativanpriceonline.com/ threat on her life this issue Matrix style.
Pete Woods does add a lot to my enjoyment of the series right now, with dynamic action sequences and unique creatures being rendered with great care. The ending gives him a chance to really showcase some awe-inspiring things. And the coloring never gets too dark, a trapping that could have befallen an apocalypse tale, thanks in part to the neon coloring interspersed through the action and some bright lettering from Nate Piekos.
Overall, my enjoyment of the series continues despite some cookie cutter characters and the intrigue continues to hold my interest into the cliffhanger readers are left with.


Kylee Sills is an associate editor at Nerdophiles. If Bras are all it takes to become a superhero, she knows a lot. Follow her on Twitter @kyleewho. 


Jackson's Reads
All New Wolverine Annual #1

Authors: Tom Taylor
Artist: Marcio Takara
Publisher: Marvel Comics
?????
There are worse things to be than charming and Marvel tends to do charming very well with many of its minor characters. Many of the company's most beloved comics coast on little more than a wink and a smile and reader's goodwill. All New Wolverine Annual #1 is one of those comics.
Even by the standards of an annual, All New Wolverine Annual #1 is slight. Really slight. When a mysterious ray swaps Laura's mind with alt-universe Gwen Stacy, putting the young heroines in each others' bodies, the pair have to work together in order to make sure the pair can return to their lives. It's a sitcommy premise, more at home on both the big and small screens of the 1980s than in a comic in 2016, but, hey, it's mostly fun. Readers looking for an introduction into either of these characters or a deeper peek into who they are and how they embrace life and heroism are going to be disappointed.
All New Wolverine Annual #1 is little more than a superheroic take on Freaky Friday but it's a good one, charming, funny and cute in equal measure. It's a hard comic to justify paying $4.99 for with so little plot and character work but for those who can't get enough of Spider-Gwen and Laura Kinney's take on Wolverine but it's not going to be what many readers are looking for.



Jackson Adams is a staff writer at Nerdophiles. Follow him on Twitter @JacksonInACup.