Warner Bros. Home Entertainment provided Nerdophiles with a free copy of The Flash: The Complete Second Season on blu-ray which is being reviewed in this blog post. The opinions we share are our own.


The Flash: The Complete
Second Season [Blu-Ray]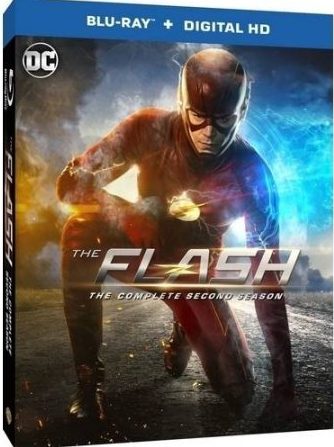 Release Date: September 6, 2016
Cast: Grant Gustin, Candice Patton, Danielle Panabaker, Jesse L. Martin, Carlos Valdes, Tom Cavanagh, Keiyman Lonsdale
Network: The CW
Genre(s): Sci-Fi, Comic Book, Superheroes
Extra Feature Rating:  ?????
Rating: ?????
Review Spoilers: Moderate
Amazon | IMDB | Wikipedia | RT
Those patient fans among us who have waited for the DVD/blu-ray release of The Flash to catch up on the series are in for a treat. Everything you loved about the first season of The Flash is back in full force but with all new twists and turns ahead. Forget the prospect of time travel. This season it's all about parallel universes!
This second season introduces 'Earth-2' – a mirror universe that's very similar to ours. Familiar faces show up in often in surprising ways and the newest speedster to show up in Central City is a villain here to give Barry a real run for his money. (Yes, I used that phrase and, yes, I'm sorry.)
While the bulk of the season is all about The Flash and his battle against the new bad guy, Zoom, there are some deviations. Much like this season of Arrow there are a handful of episodes dedicated primarily to introducing new characters for The CW's latest DCTV superhero series, Legends of Tomorrow.
Still, it's an overall solid season and though it has it's frustrating moments there's a reason that The Flash is my favorite superhero series on TV right now.
Season Review
The Flash is an awesome show – and this season in particular  was pretty great. While I admit I sort of neglected to keep up with Arrow this season and instead ended up binge watching it on Hulu, I made sure to watch The Flash every single week.
Part of the reason for that is that The Flash is such a fun series. Even in it's darkest moments it still manages to be upbeat for the most part. (Though heads up: this season does have some pretty dark moments – especially towards the end.) It's a series that relies on it's strong, interpersonal relationships between the characters and the very strong feeling of family that binds them all together.
Another very important part is the excellent storytelling.
This season focuses a lot on our world's connection to the parallel world, Earth-2. A lone traveler calling himself Jay Garrick arrives seemingly out of nowhere to warn Barry and the others of an incredible threat – a demonic speedster called Zoom. But Zoom isn't the only baddie slipping through from Earth-2. Zoom brings a host of metahuman characters from his own world to terrorize Barry's, which adds a needed shake up to last season's metahuman-of-the-week formula.
The Earth-2 storyline also manages to bring back some characters we said goodbye to last year. The 'doppelgänger' of the real Harrison Wells arrives to help Barry save the day. Meanwhile an evil version of Ronnie appears in a later episode.
One of the greatest appearances this season, though, comes from newcomer Keiynan Lonsdale who joins the cast as Wally West.  Joe's long lost son comes to Central City and, while he's got a good heart, he's also got a penchant for trouble.
Throughout the season he struggles to find his place in Team Flash – taking on a sort of Iris-like role this season insofar as he's now the one who doesn't know that Barry is The Flash. His character goes through some really great development and growth. And as he settles in to the West family officially he actually helps to set up next season's epic Flashpoint storyline.
I don't want to give too much away here but if you've already seen the second season, check out our interviews with the cast at San Diego Comic-Con 2016 for some more details about what's coming up next with Wally and the rest. We're super excited about it all.
That said, this is a great season and if you haven't seen it I envy you as you watch it all unfold for the first time. The whole storyline with Zoom is incredible. There are some amazing reveals throughout and when Barry starts messing around with time travel things get even crazier. But I won't spoil any more than that!
I loved pretty much everything about this season – even the two-part crossover with Arrow that really was just a super long backdoor pilot for Legends of Tomorrow. I will say that one of the really http://premier-pharmacy.com/product-category/weight-loss/ nice things about this release is that both parts of this season's big crossover with Arrow were included.
If you watched the series live, you'd know that technically one part aired in the regular timeslot for The Flash and the second aired in the Arrow timeslot. I neglected to mention it in our review for Arrow: The Complete Fourth Season but both series include the full crossover event. So don't worry if you're just a fan of The Flash. You'll get the whole story!
And if you enjoy that two-parter with Hawkgirl and Hawkman, you can always check out Legends of Tomorrow the first season of which is also available on blu-ray and DVD.
Special Features
If you've been keeping up with our reviews of the other DCTV series, you'll notice that some of them are a little light on the special features. That is not the case with The Flash: The Complete Second Season at all.
Every single disc in this four-disc release is jam packed with behind the scenes featurettes, deleted scenes, and bonus features. It's a little insane.  There are twenty-three special features for you to watch and you'll want to check them all out.
The coolest feature of this release is that it helps you figure out in what order to watch these special features. When you boot up the episode menus you'll notice there are little clap boards and scissors next to some of the episodes. The clapboards link to the various behind the scenes featurettes on the disc while the scissors link to the deleted scenes from that particular episode.
It's awesome! Some of the behind the scenes featurettes are definitely best watched in conjunction with certain episodes. Leave them until the end of the disc or even the season and they'll feel old and dated. Watching the as they are linked, though, makes them feel much more relevant and makes them much more enjoyable!
So, what kind of bonus features can you expect?
Each disc includes at least one visual effects special feature focused on one of the episodes included on that disc. They're really cool to see and they explain how some of the coolest moments in the season are brought to life. Some of them focus on individual characters – Lewis Snart, Grodd, and Dr. Light for example.
Also included are the same Hawkgirl/Hawkman featurettes that were found on the Arrow: The Complete Fourth Season release. And while most of the DCTV series this year have included the show's Comic-Con panel from the previous year this release steps it up a notch and throws in the 2015 Paleyfest panel, too.
Rounding everything out is an excellent gag reel. The introduction is much like the Arrow gag reel intro. It's got a retro feel and takes its' cue from the old school live-action Flash series.
One of the surprisingly best featurettes include a nearly hour long mini-documentary chronicling Kevin Smith's experience working on the series. I'm admittedly not a huge Kevin Smith fan but you can't help but be charmed by someone who really loves what they are doing. And he loves The Flash.
I don't know if this counts as a bonus feature but do you want to know something else that's cool? This season's blu-ray release doesn't just include the digital copy of this season. It also includes a voucher for the first three episodes of next season on Amazon or VUDU. If you don't get to watch the series air live it's a cool way to at least get an early look at what's ahead in Season 3! (Well, at least as far as those three episodes go.)
Final Thoughts
Basically all I can say is that if you're a fan of this series you really need to get this season on blu-ray ASAP! Rewatch the season (or watch it for the first time) and then watch every single one of special features. I'm not kidding. They are all worth it – and I do not say that lightly.
You can maybe skip the panels but all of the behind-the-scenes footage, deleted scenes, and other featurettes are more than worth your time. This blu-ray release does special features right. I wish every television series came with these kinds of extras!
The third season of The Flash starts up on October 4, 2016 so you've got about a month to prepare. I don't know about you guys but we're super excited. And rewatching the second season on blu-ray has only gotten us that much more hyped up for it!