The Jungle Book (2016) [Blu-Ray]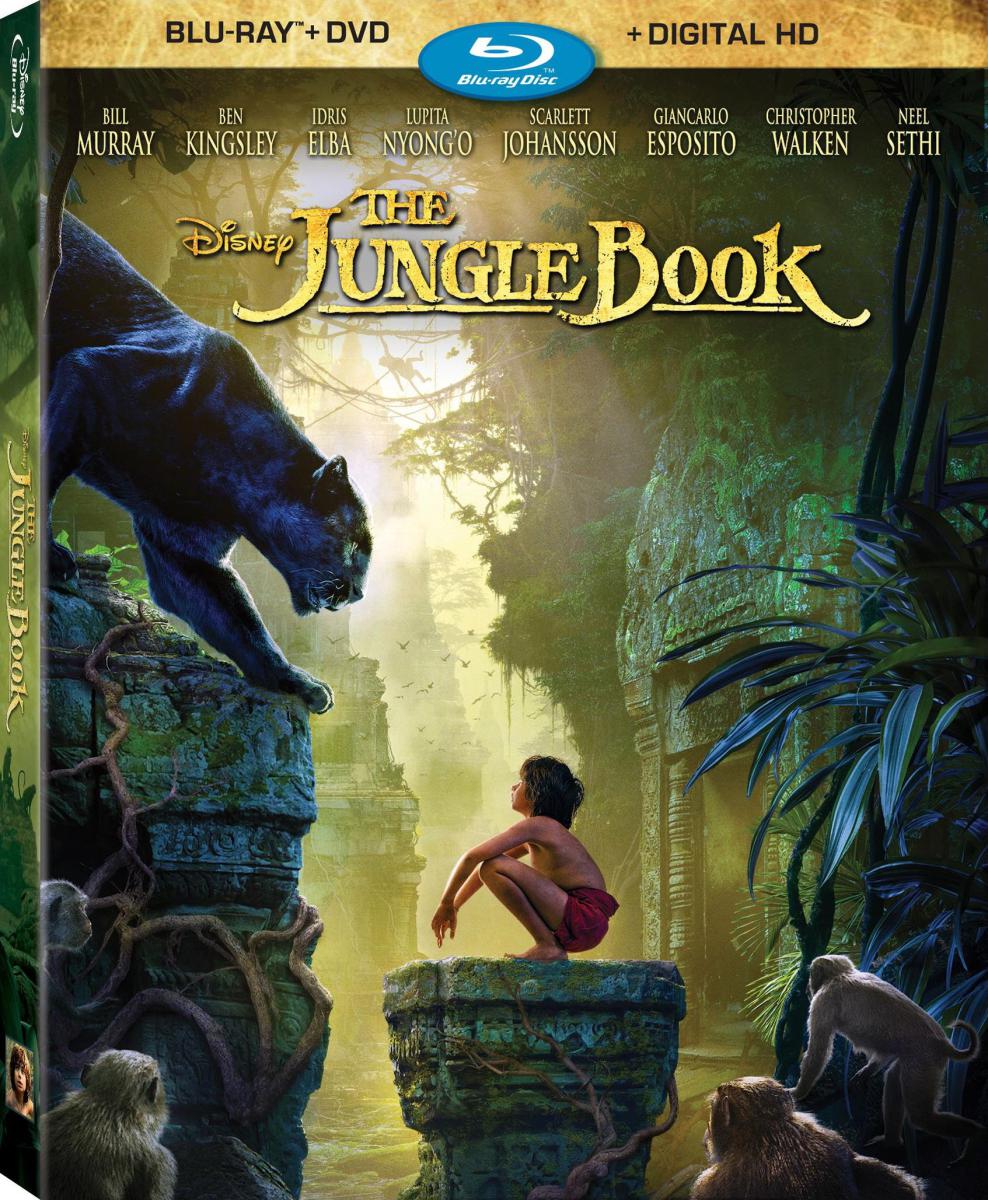 Release Date: August 30, 2016 [Digital HD August 23]
Cast: Neel Sethi, Ben Kingsley, Bill Murray, Idris Elba, Lupita Nyong'o
Director: Jon Favreau
Studio: Walt Disney Pictures
Genre(s): Adventure, Family
Extra Feature Rating:  ★★★★★
Rating: ★★★★★
Review Spoilers: Low
Amazon | IMDB | Wikipedia | RT
The magic of Disney's classic animated film is alive and well in Jon Favreau's modern, live action adaptation of The Jungle Book. Though there is considerably less singing, the movie has more than earned the critical acclaim its garnered since it's theatrical release back in April.
I know some people out there are skeptical of all the live action adaptations that Disney has been making lately but so far all of them have been fun and enjoyable. And The Jungle Book is perhaps the best of Disney's live action remakes to date.
Growing up I was a huge fan of the animated film, but this new version truly makes the story of Mowgli it's own. It's a darker tale than you might expect at times (though admittedly the animated film had it's darker moments, too) with a few more nods to the original Kipling tale. The CGI animals and live action depiction somehow makes the stakes seem higher, the story seem realer.
And yet it's still the same story of self discovery, bravery, and friendship that we all grew up with.
Neel Sethi and the outstanding cast of talented actors who lend their voices to the various animal characters in the film are absolutely amazing. They truly bring the story to life. We loved pretty much everything about The Jungle Book and you can read more about our thoughts in our full review of the film here.
Special Features
What makes this release truly great, though, is the special features that were included. If you read my review for the original animated feature, the Diamond Edition blu-ray release was jam packed with extras. There's a lot of history to The Jungle Book. It was a ground breaking film for Disney animation. In contrast, this The Jungle Book release has every few special features.
What matters, though, is that they make them matter.
A lot of blu-ray releases will include a lot of very short, disjointed special features about one thing or another. The Jungle Book release did away with that concept and instead produced a half-hour documentary film on the process of adapting the story. Entitled The Jungle Book Reimagined, the featurette sees the filmmakers behind The Jungle Book sitting down together after the film was finished to discuss the making-of journey.
The Jungle Book Reimagined includes everything you'd want to know about the film. They talk about the CGI animation and filming. They talk about the casting. They talk about how the score was developed. They even go into some of the history about the original animated film and the way you could see how it influenced this movie still. It was an amazing featurette and it flowed really well from topic to topic. If you watch just one special feature on this release this should be it.
That said, the others are fun, too.
I Am Mowgli explores the making of the film from Neel Sethi's perspective. The unknown young actor broke on to the scene with his amazing protrayal of Mowgli for this film. He's an adorable kid and his personality really shines through in this featurette.
And King Louie's Temple is cool, too. It's the only bonus feature with a very specific scope and it talks about how they filmed the scene in (obviously) King Louie's temple. They don't just talk about the design, though. They also talk about changing up the lyrics, working with Christopher Walken, and more.
There are no deleted scenes on this blu-ray release, which is surprising. There are always deleted scenes. But since the vast majority of this film was done in CGI it makes sense that there probably weren't a whole lot of scenes cut during production. They just wouldn't have bothered filming them in the first place. Or if they did film parts of them it would just be Neel Sethi on a stage talking to hand held puppets – not exactly exciting.
As a consolation, though, you could always watch the film with the audio commentary. I'm hearing impaired so I don't often do it (and there didn't seem to be a closed captioning option that I could find) but I really like Jon Favreau so I gave it a try. Definitely worth it if you enjoy filmmakers' commentaries!
Final Thoughts
Really, as with all Disney movies, there really isn't much to consider when it comes to whether or not you want to pick the movie up. It's a Disney movie! Ultimately, the answer will always be yes. If you don't buy it for yourself you need to at least see it at some point – especially since these live action remakes may very well become the versions this generation remembers.
Besides, it's a really great movie. If you've been on the fence about live action remakes, The Jungle Book will hopefully win you over. While it's certainly more realistic and a little darker at times than the original animated film, The Jungle Book is still a great film for kids and families alike. You'll still get a little bit of singing and you'll get all the lovable talking animals you would expect.
The Jungle Book is out on DVD and blu-ray today and is also available on Digital HD and Disney Movies Anywhere!

A REVIEW COPY OF THE JUNGLE BOOK (2016) BLU-RAY COMBO PACK WAS PROVIDED BY THE DISNEY AND FINGERPAINT MARKETING IN EXCHANGE FOR A FAIR AND HONEST REVIEW. NERDOPHILES WAS IN NO WAY COMPENSATED FOR THIS REVIEW. OUR OPINIONS ARE OURS AND OURS ALONE.