Ant-Man [Blu-Ray]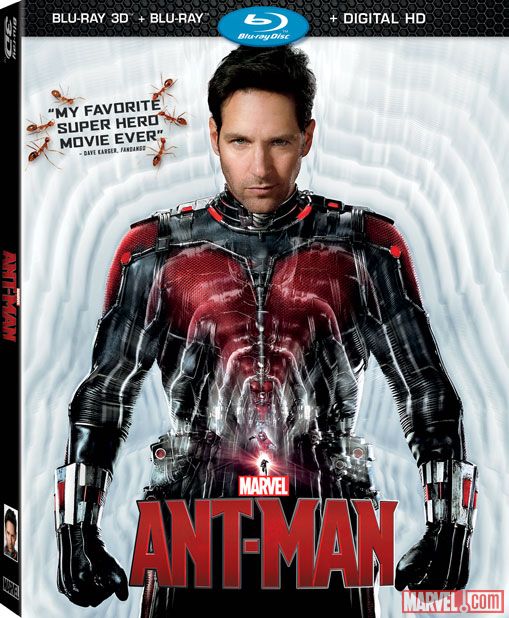 Release Date: December 8, 2015
Cast: Paul Rudd, Michael Douglas, Evangeline Lilly, Corey Stoll
Studio: Marvel Studios
Distributor: Walt Disney Studios
Genre(s): Action, Comedy, Superheroes
Extra Feature Rating:?????
Rating: ?????
Review Spoilers: N/A
Amazon | IMDB | Wikipedia
Ant-Man is one of my favorite superhero movies of all time. I know, I know. In our original review, we posted a four-star rating but I couldn't help adding one more star to this review. It's just such a fun movie. I think I can easily say that it has deposed Captain America: The Winter Soldier my favorite Marvel movie – at least so far!
Part of the reason for that is Ant-Man is something completely different from every other MCU story we've been given. While most other  Marvel stories – be they movies, TV series, or Netflix series – have plenty of humor to them they still take themselves fairly seriously. Meanwhile, Ant-Man embraces the levity. It embraces the ridiculousness of the source material and gives us a movie that leaves us laughing, tugs at our heartstrings, and just lets us have some good natured fun.
It's equal parts comedy, action, and adventure. It's also a great family movie. And a great heist movie, too! It touches on classic themes like the relationship between fathers and their daughters to the Marvel-centric theme of what it means to be a hero. Ant-Man blends and reshapes genres to tell the kind of origin story that never gets old. (Seriously, I could watch this movie time and time again if for no other reason but Luis's ridiculous narration of stories.)
So, here's the real question I know you're all wanting to have answered: how does the home release stack up?
Like our short statured hero, the number of special features included on the Ant-Man blu-ray release may seem small but don't let that fool you. They pack a lot of punch into a deceptively tiny looking offering. I was actually a little disappointed at first when the making-of featurettes seemed few and far between, but boy was I mistaken.
Where there may appear to be fewer than you're used to, the ones Marvel and Disney gave us are lengthier than the usual 3-4 minute making-of featurettes you might be accustomed to in other releases. Instead of breaking them down into numerous, short, effectively meaningless featurettes they created a couple longer, more in-depth ones.
Here's what's included with the blu-ray release:
Making of an Ant-Sized Heist: A How-To Guide
The title of this featurette is misleading. It's not just about the heist that the movie ultimately revolves around. Instead, it's about the making of the entire film. It's about setting the scene, the music, and all the little elements. It touches on crucial things like designing the suit, the strengths of the casting choices, the evolution of Luis's van and a lot, lot more. I love that. I love that it focuses on a wide variety of topics and really tries to show you every aspect of the Ant-Man filmmaking and storytelling process. It's long but really fun to watch. They even touch briefly on the future of Ant-Man, Wasp, and the Avengers!
Let's Go to the Macroverse
Because of the drastic dichotomy in the way the world is seen throughout the film while Scott is using the Ant-Man suit, the powers-that-be decided (and rightfully so) that this part of the filmmaking process deserved its own featurette. I was really blown away at the amount of detail that went into making this movie look as amazing as it does. A surprising number of scenes were actually done practically with scaled down models to help make everything feel real. It's really cool to see how they pieced everything together. I already loved all the scenes with Scott down in micro-size but now I have a much greater appreciation for them. It really is incredible.
WHIH News Front
While a lot of the earlier Marvel Cinematic Universe blu-ray releases included little short films Ant-Man sadly does not. However, what it does have are the WHIH News Front shorts. Originally released as a web series leading up to the release of Ant-Man, these little shorts are designed as if they are real news reports and interviews straight out of the Marvel Universe. Christine Everheart, a character from both Iron Man and Iron Man 2, returns for a handful of them including one where she interviews a still incarcerated Scott Lang.
https://www.youtube.com/watch?v=2xnbyefdpdk
Deleted & Extended Scenes
One of the true joys of any blu-ray release are the deleted (and sometimes extended) scenes. Ant-Man is no exception. There are eight deleted scenes included on this blu-ray and some of them are really, really cool to see. There's a whole scene where Scott meets Hank prior to stealing the suit while pretending to be a cable repair man. There's also a super cute scene with Scott and Cassie together and a hilarious scene where Scott uses the Ant-Man suit to help Luis and the others make it big rolling dice while out at a casino. They're all definitely worth a watch and unlike with some movies most of these deleted scenes would have felt right at home in the final cut!
The special features are rounded out with a favorite offering of everyone's – a hilarious Gag Reel – and an audio commentary by Peyton Reed and Ant-Man himself, Paul Rudd.
I wasn't kidding – it really doesn't feel like there are a whole lot of special features included. But I still think that the ones they did include are pretty great. Would I have liked to see more? Sure. Can I think of what other features I would have liked to see? Not really. I might have liked to have seen a bit more about how they adapted the comics and, in particular, how they designed the suit but all-in-all I'm very happy with the special features we got.
Sometimes less is more. Sometimes you need to emphasize quality over quantity. In that regard, the Ant-Man blu-ray release definitely excels with it's special features. I'm particularly happy they included all the YouTube webseries shorts from the WHIH News Front. There is nothing I love more from Marvel blu-rays than in-world shorts that expand upon the Marvel Cinematic Universe.
Ant-Man is one of the must-buy movies of the holiday season. I know it's coming out a little bit later than other movies you might be picking up for the holidays (and it missed out on all the Black Friday deal potential) but you'll definitely want to pick it up. Its focus on humor and unique heist-focused plot make it a great entry level Marvel film even for those who may not usually like superhero movies.
Unfortunately, like all Marvel releases these days there's no DVD/blu-ray combo pack so you'll have to commit to the 3D blu-ray combo pack like we have pictured above or one of the single disc options. The movie comes out today – December 8th – and will be available basically everywhere!

A REVIEW COPY OF THE ANT-MAN 3D BLU-RAY COMBO PACK WAS PROVIDED BY THE DISNEY AND FINGERPAINT MARKETING IN EXCHANGE FOR A FAIR AND HONEST REVIEW. NERDOPHILES WAS IN NO WAY COMPENSATED FOR THIS REVIEW. OUR OPINIONS ARE OURS AND OURS ALONE.