Synopsis: Rackham, Max, and Vane prepare for the governor's impeding arrival, while Blackbeard makes them a tempting proposal. Flint and his crew face starvation and dehydration. Silver and Flint begin to work out their differences.
Rating: ★★★★☆
True to her word, Max brokers an exchange for the gold, trading the gold pieces for less conspicuous black pearls. During her exchange, she learns of the governor's impeding invasion from the trader and quickly shares the news with Vane and Rackham, claiming that they have approximately twelve days until the governor arrives. Either way, Nassau is far from prepared and without the full force of the repaired fort, they are desperately in need of some help. Rackham proposes that they organize a show of force, and unite all the pirates and ships to repel the governor's fleet. Sounds easier said than done though.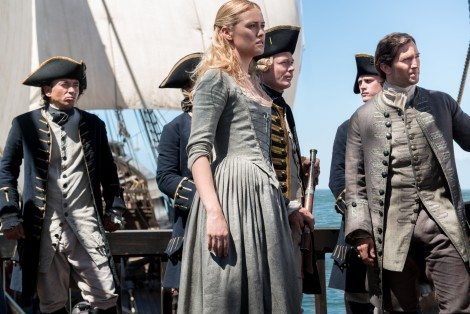 Back on board the governor's ship, the governor presents Eleanor with his proposed speech to Nassau. The governor believes that without Flint's presence, there is no organized defense to oppose them, but he is unaware of Blackbeard's presence in Nassau. The governor asks for Eleanor's help to prepare the best possible address to pacify and maintain the people of Nassau.
Through her thorough questioning though, Eleanor quickly discovers that the governor is under somewhat of a pressing time table with Spain – the governor must seize Nassau and Spain's gold promptly (within 8 weeks) – or Spain will respond with a deadly force of their own.
Aimlessly adrift at sea, Flint and his crew find themselves in a life or death situation. Flint is forced to cut the men's rations once again and claims that they will only feed certain men critical to sailing the ship, while letting others starve. Silver grows increasingly irritated with Flint and his behavior, to the point in which he even considers challenging Flint and his leadership.
As things grow bleaker, men begin to steal rations, and Silver, as quartermaster, is forced to become the judge, jury and executioner. When Silver is unable to discern who the guilty party is, Flint steps in and quickly executes both men. Flint continues to be plagued by visions of Miranda Barlow and he seeks the solace of his cabin, where he suffers an emotional break down as the past few month's events catch up with him.
Billy advises Silver to deal with Flint before things get even worse and it is painfully clear that Flint and Silver need to sit down and work out the tension between them.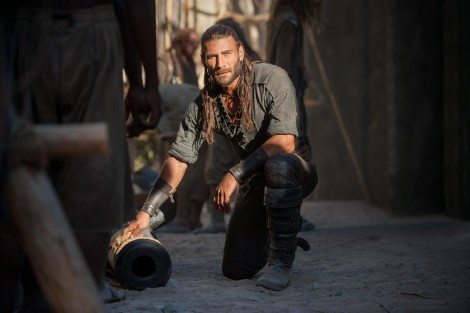 Back in Nassau, Rackham proposes his plan for unity to the other pirate captains. Vane believes they might be able to discourage the governor from attacking but others believe they need Flint to do so. Their plan seems to rely on Flint's presence at the head of their unified fleet, given his perchance for strategy and without him, many believe they are doomed.
In an interesting turn of events though, Blackbeard makes his grand entrance, claiming that Flint is dead at Hornigold's hand. Instead, Blackbeard believes that he can take Flint's place at the head of their unified fleet, only if Vane will join him and become his partner after the governor is driven away. Vane reluctantly agrees to Blackbeard's proposal for the sake of Nassau.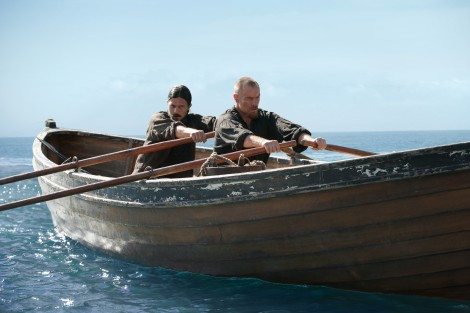 As the men continue to battle starvation and dehydration, Flint sees clearer visions of Miranda and she speaks with him, guiding him to his own peace of mind. To their surprise, the crew spots a dead whale carcass floating in the water a ways away. While it has the potential to be their salvation it may also be rotten.
Silver and Flint despairingly row out to look at it. On their way, Silver surprisingly admits that he deceived Flint and stole the Irca gold from him. With the tension literally palpable between the two, they must decide whether they are to be partners or rivals if they are to survive. Silver admits that he gave up his claim to his share of the gold in order to be a part of Flint's crew.
Flint, remaining stoic, spares Silver any sort of reaction and continues rowing to his surprise. While the carcass turns out to be in-edible, Silver and Flint find tons of great white sharks circling the carcass. The two spear one and Silver impressively reels the beast in, despite their exhaustion. It looks like the crew won't be starving after all, as the men later feast on the shark meat. With luck apparently now on their side, the wind springs up, granting them a potential reprieve and the ability to reach land.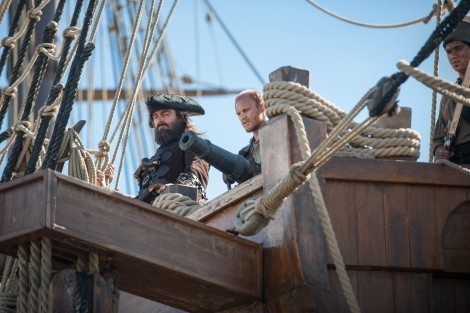 Upon arrival near Nassau, the governor is surprised to find a firing line of ships sitting outside the harbor. Vane, Blackbeard, and their men spring into action as they prepare to repel the governor's forces. With Blackbeard's tactic, the governor is unable to approach in battle without failure.
As an alternative, Eleanor proposes that Hornigold sail into Nassau instead and present the governor's speech and proposal to the men, as many men have sailed under Hornigold and wouldn't dare fire on him. Hornigold makes his entrance and begins speaking on the governor's behalf, claiming that men who renounce piracy will be offered full pardons and clean slates, all except for Vane, whom he announces a hefty bounty for. Many of the men put down their arms and graciously embrace Hornigold and his offer.
Flint and his crew reach landfall and find an unrecognizable lush rainforest. From afar, a large group of tribal warriors watch the men land with anticipation. Something tells me that these are not friendly tribes men, but I've been wrong before. At this rate, Flint may not make it back to help defend Nassau after all.