Every Little Thing:
A Flat Vernacular Coloring Book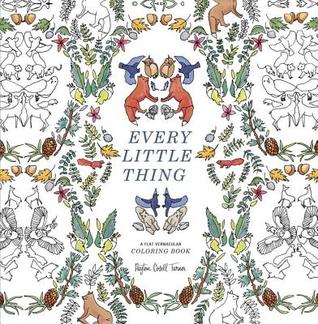 Author: Payton Cossell Turner
Release Date: November 3, 2015
Publisher: Penguin Random House
Genre(s): Coloring Book
Rating: ★★★★☆
Review Spoilers:  N/A
GoodReads | Amazon
Every Little Thing may be my favorite adult coloring book yet. I've been fallen hard for the new fad and so I've picked up quite a few of them so far. They're fun. They're relaxing. But there's something about Every Little Thing that really sticks out for me. I've actually spent more time with this book than any other coloring book I've bought or received for review.
The book was designed by Payton Cossell Turner – one half of the team behind Flat Vernacular, a company that specializes in modern wallpaper. Their designs are meant to mimic classic wallpaper patterns but with new, quirky designs.
That fun translates very well to this coloring book. The designs are fun and they are quirky. Some involve ice cream and cats, others bits of nature. Some of the designs are thematic while others are so weirdly matched together that you don't have any idea what the designers are thinking.
The designs are repetitive yes – but that's part of the point. Instead of getting boring and predictable like mandalas or paisleys they keep you on your toes with the sometimes wacky images inserted into the patterns. I think that's really the reason I like this book so much. It's new and different but doesn't stray too far from the usual expectations people have when they're getting a new adult coloring book. The repetition is there because it's relaxing.
But the images aren't quite as detailed as mandalas can get and they aren't nearly as mundane. It's not just swoops and curves and circles. It's foxes and cellphones, sharks and alpacas, pineapples and pizza boxes.
And, honesty, I just can't get enough.
Every Little Thing really speaks to me as a person, I think. I just love how outrageousness some of the designs can be while still providing that simple, calming experience. It's such a great coloring experience. I highly recommend it!
A REVIEW COPY OF THIS BOOK WAS PROVIDED BY POTTER STYLE/PENGUIN RANDOM HOUSE VIA BLOGGING FOR BOOKS. NERDOPHILES WAS NOT COMPENSATED IN ANY WAY FOR THE REVIEW AND THE OPINIONS HERE ARE OURS AND OURS ALONE.