Synopsis for 2×04: Kate hunts down Scott in Bethel before he can exact revenge. In Houston, Richie and Santanico find themselves deep in the flesh trade, while Seth tries to get back in Uncle Eddie's good graces.
Rating: ★★★☆☆
As far as stories go, this one was primarily a transitional episode as well as a character study into Santanico's past. In their attempt to smoke out Malvado's hideout, they prepare Paloma by bringing her to Blanchard's club to be sold off to the culebras. Their plan seems to be running smoothly initially, even when Santanico must kill one of Blanchard's madames and must pose as her.
Her supernatural identity is revealed to Paloma, who has proven herself to be a believer in the diosa, and this moment strengthens the bond between the two women as well as the promise Santanico made that Paloma would not be hurt.
Paloma is a symbol of Santanico's own innocence lost and protecting her becomes as much a priority as tearing down the culebras is. Her motive is clear, she's not about taking over the business, she wants to burn it to the ground. It's reiterated so much as when she gets into an actual physical fight with Richie over what their end goal is.
Unfortunately, it looks like their plan is going to need a plan b, because the two of them just happen to run into Carlos, coming to bid for Malvado. Seeing Paloma's dance, which mimic's Santanico's, Carlos instantly buys all of the girls on stage and pulls Paloma aside for himself. Living up to her own promise to Paloma, Santanico follows the two of them to the back room where she protects Paloma from being turned by Carlos. After Paloma gets away, Santanico reveals her identity to Carlos, who had already guessed it and goads her on. She attacks him but is greeted with repeated bullets with one in her head. Carlos drags her lifeless body out with him just as Richie comes into the room to find her amidst the chaos.
After leaving Malvado's hideout, Scott is found by Kate in their family home, starved and irritable. He leaves to go party with three boys who used to bully him in high school, assumedly to get them high and then feed on them. However his plans change as girls come over and Scott is pulled aside with one of Kate's old friends from high school. The two attempt to have sex, but Scott's hunger is overwhelming and he kills her instead. Coming to find him, Kate stumbles in on the scene of her dead body and along with Scott, they drag the body back home to be buried.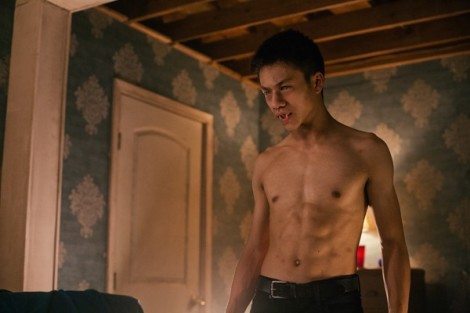 Unable to handle the pressure and the reality of so much that has changed, Kate furiously smashes a picture of their family, feeling completely defeated. A vision of Rafa visits her, and tells her to be strong even if she feels that Scott's turned into a monster. He tells her to keep telling him that he can be good or else someone else will begin to poison his mind, as Carlos and the Culebras have already begun to do so.
Kate goes to speak to Scott, empowered by the vision of Rafa, but it might be too late. Scott tells her that he has already developed a control over his powers and plans to protect Kate the only way he knows how, by turning her. The two get into a fight but they are interrupted by Freddie Gonzalez holding a gun to Scott's head. Kate called him in for help earlier in the episode and it seems like characters are slowly converging in on one another again.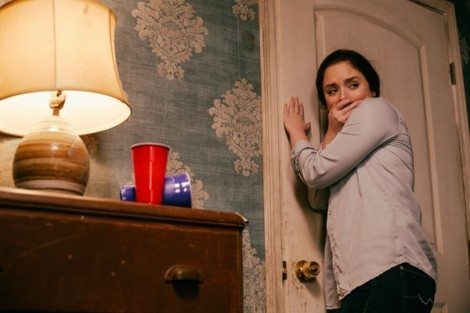 Seth has lost his sadness beard and has returned back to Seth Gecko status, suit, monologue, and all. He takes Sonja with him to Uncle Eddie's after he has been sobered up in the last episode, for a job that will help him pay off his debt to Sonja. The two arrive two days after Richie's visit and Eddie sends Seth on a job to collect a loan for him.
This scene demonstrates just where Seth is at as a character. He's still got all the same swagger, with the story about underdogs, calling himself a nobody who can be anyone in three seconds, beating the crap out of the two guys who try to get out of paying their debt. It's a vast improvement from the bumbling job he pulled with Kate but still a far cry from his glory days with Richie.
Still, it's a step in the right direction.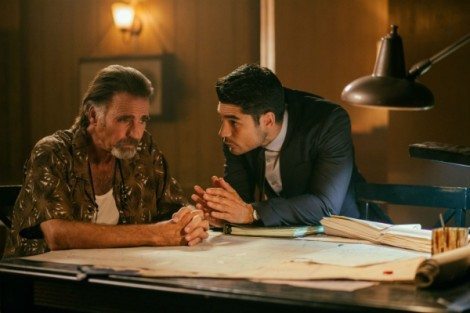 Paying back Sonja, Richie thanks her for getting him clean. The two of them have sex instead of saying good bye to one another and seem ready to hit the road together. Too bad, Seth walks out of the bathroom and comes face to face with two of Blanchard's men holding guns to him and Sonja.
I'm still not 100% convinced by Sonja, since we seem to know so little about her. She's got a murky past and it seems to clean to just have her along as Seth's tattoo artist/bedmate. Before being confronted by the thugs with guns, Richie seemed to be about to confess something to Sonja. I can only assume it was going to be about Richie, but now it seems like she's coming face to face with that fact soon enough.