Synopsis for 2×04: An ever-growing group of parasites have infested the Smith household, and the family has to figure out who's real and who's an impostor.
Rating: ★★★★★
Over the course of these recaps, I've continued to praise Rick and Morty for its ability to frame extreme science fiction scenarios in ways that comment on legitimate human problems, from Rick's dysfunctional relationship in "Auto Erotic Assimilation" to Morty's coping with the permanent and damaging consequences of his actions in "Mortynight Run." "Total Rickall" doesn't relate to real life the same way; it's unlikely that any of us will have to deal with a parasite infestation posing as a series of wacky characters and inserting themselves into our memory, and it's also hard to see how this could act as a metaphor for something more significant. But even so, this episode remains complex, fascinating, and even horrifying.
The family shares a cheerful breakfast with Uncle Steve, whom Rick murders on sight. He explains that Steve was a parasite who created memories of his existence in the minds of the rest of the family. These creatures propagate by extending additional iterations of themselves into new memories, then appearing in the house once the family becomes sure of their existence. Thus much of the rest of the episode plays out in flashbacks, each time of a zany invented memory, each time introducing a new strange character, and each time bringing that character into the real world with it.
Dan Harmon worked as showrunner of Community for years before creating Rick and Morty, and this episode shares a lot of DNA with Community's excellent "Curriculum Unavailable" in taking the format of the clip show but only flashing back to new material. Harmon seems to realize that this sort of story can only work when the frame story can maintain its own tension while doing something useful with the cut-aways. In "Curriculum Unavailable," it was the characters questioning their own sanity, and here it's actually not all that different. Every flashback makes it even more difficult to determine who among them is real, while introducing a series of bizarre personalities like Pencilvester, Hamurai and Photography Raptor.
While it may seem easy to us as viewers to decipher who's too ridiculous to be real, these characters think they have full-fledged relationships with everyone in the room, meaning Rick or Beth may just as easily be a parasite as Frankenstein or Tinkles the Magic Ballerina Lamb. Morty ultimately solves this conundrum by realizing the parasites can only create positive memories, using this to suss out the actual members of his family and arm them to kill the rest. The largely unspoken sickening truth behind this is that even though they know they're only killing parasites, it feels to the family like their murdering their closest friends. Heck, Beth isn't even married to Jerry in their memories; she's married to Sleepy Gary, who she shoots in the head herself.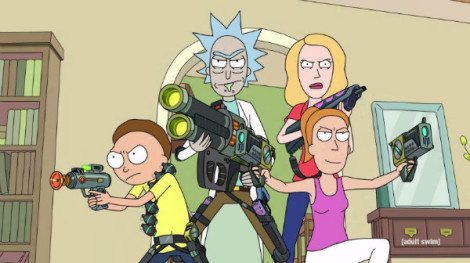 This ultimately comes to fruition with Mr. Poopybutthole, who joined the family at the beginning of the episode and even appeared in the theme sequence. When Beth shoots the final shot at Mr. Poopybutthole, he doesn't transform into an alien corpse; against all expectation, he turns out to be completely real and bleeds real blood, and in the post credits sequence he communicates to the family "he's sorry you didn't have bad memories of him." It's a disturbing revelation, and an incredibly dark end note for the episode. Still, the internet is already aflutter with fan theories that Mr. Poopybutthole created the memory of getting shot so that he could escape and propagate the parasite elsewhere. Regardless, he's a new character likely to become just as popular as last season's Mr. Meeseeks, and I sincerely hope we see him again.