https://www.youtube.com/watch?v=KRHIqJ67A_0
Walt Disney Studios Short
Films Collection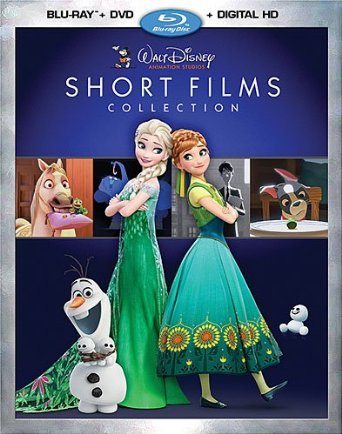 Release Date: August 18, 2015
Cast: Various
Director: Various
Studio: Walt Disney Animation Studios
Distributor: Walt Disney Studios, Buena Vista Home Entertainment
Genre(s): Short Film, Animated, Collection
Extra Feature Rating:  ★★☆☆☆
Rating: ★★★★☆
Review Spoilers: Moderate
Amazon | BN
Animated Shorts have been a part of Disney history from the beginning. They've been used to tell stories that might not otherwise be told and to experiment with new animation styles and techniques. Frequently these shorts are added to theatrical releases of Disney films.
Most recently we saw Frozen Fever play before the live-action Cinderella movie. The award-winning Feast played before Big Hero 6. Paperman was released along with Wreck-It Ralph. Though these shorts are usually included in the home blu-ray and DVD releases, they've been collected together along with other classic shorts for the Walt Disney Animated Studios Short Films Collection.
I'll admit that I actually hadn't seen as many of these shorts as I probably should have before now. Pieced together they all run for a little over an hour. I highly recommend choosing to play the introductions from the creative teams along with them all because you'll learn some really cool little tidbits. They aren't very long introductions but you'll learn a little about the process that goes into making the shorts, designing characters, and more.
Here are all of the shorts that are included on the disc:
John Henry ★★★★☆
The first featured short is an animated, musical re-telling of the classic tale of John Henry. It has a very classic line-drawn feel to it that harkens back to the more traditional Disney films that a lot of us in our twenties grew up with. The only song isn't all that imaginative but it's a great short with a really hopeful, uplifting ending despite the tall tale's end.
Lorenzo ★★☆☆☆
In Lorenzo, a vain cat with a super bushy tail mocks another cat with nothing more than a nub. Unfortunately, this other cat curses Lorenzo's tail and the poor cat is tormented by his own tail until he's driven to drastic means. Honestly, it's kind of weird and downplays the fact that this cat ultimately turns to mutilating himself out of fear of his own tail.
https://www.youtube.com/watch?v=faIn8IYVe5c
The Little Match Girl ★★★★☆
This is probably the most heartbreaking short I have ever seen. Based on the Hans Christian Andersen story, it follows a small Russian girl as she lays dying in a snowy alley after a day trying to sell matches. With each strike of a match she sees a new, joyful scene of holidays, love, and family. Unlike some versions that see the girl rescued at the end, this short stays true to its sorrowful roots.
How to Hook Up Your Home Theater ★★☆☆☆
This was probably my least favorite story simply because I've never been the biggest fan of slapstick humor – even when it's Disney. In this short Goofy does his best to set up his home theatre system in time for 'the big game' with the help of a narrator chronicling his absurd efforts. It's a cute short – just not my sort of humor.
Tick Tock Tale ★★★★☆
Bring the tissues for this one, folks. I didn't expect to cry over a short film about clocks but I did and I'm not ashamed to admit it. This is easily one of my favorite shorts in the collection. One little malfunctioning clock gives it all to prove his worth to all the other clocks that come alive at night in his little clock shop. So cute.
https://www.youtube.com/watch?v=j5lL8biSz6E
Prep & Landing – Operation: Secret Santa ★★★★☆
Honestly, I feel like Santa Claus and Mrs. Claus should be everyone's favorite OTP. Stories about them are often just so cute. In this short Mrs. Claus calls on a pair of elves to help her infiltrate Santa's secret workshop to find the missing piece to make her Christmas present for him absolutely perfect. Lanny and Wayne – our intrepid elves – are fantastic characters and supervisor Magee has a very special origin you'll learn about if you listen to the introduction for the short!
The Ballad of Nessie ★★★★☆
One of the best parts about this short is it's message: sometimes it's okay to cry. After Nessie and her best friend, a rubber duck named MacQuack, lose their home to developers they go on a journey to find a new one. Along the way everyone keeps telling Nessie she has to keep her chin up and power through but sometimes you just need to cry it out. This is a really cute short I had never heard of before and now absolutely love. It's easily one of my favorites in this collection.
Tangled Ever After ★★★★☆
I have a confession to make. I had never actually seen this short before. I know, I know. It's Tangled! But the release of this particular short was a little haphazard so this was my first chance to see it. Tangled Ever After did not disappoint. Though the main focus is Rapunzel and Eugene's wedding, I love that they actually followed the crazy antics of Pascal and Maximus. The short was fun and featured all the right returning characters.
https://www.youtube.com/watch?v=ONpMRbdmoCM
Paperman ★★★★★
Without a doubt Paperman has always been one of my favorite Disney shorts. It's one of the absolute best budding love stories I think I've ever come across and it's so simple. The best part about Paperman will always be the style. It's an experiment in meshing CGI and the line-drawn feel of classic Disney films. The whole thing comes together perfectly. It's no surprise that it won an Academy Award.
Get A Horse! ★★★☆☆
If you saw Frozen in theatres you're already familiar with Get A Horse! And if you had a little girl in your life who demanded to see it in theatres a dozen times you're probably ready to let it go. For those of you unfamiliar with the short it features Mickey, Minnie, and their pals fighting back against Pete in both traditional black-and-white hand-drawn animation and colorful 3D CGI as they go back and forth between their world and 'ours.' It's cute and fun – a really great companion to Frozen and this collection in general.
Feast ★★★★★
I love this short. I have loved this short from the very first time I saw it in theatres before Big Hero 6 and will probably love it forever. It's so cute and emotional. From the very first moment Winston gets that first french fry I was hooked. The story behind how it was created is pretty cute, too. I can just imagine being at Walt Disney Animation Studios on puppy model day. If you only watch one short on this collection it should be Feast.
https://www.youtube.com/watch?v=VVXMkj-CufM
Frozen Fever ★★★☆☆
I have been dying to see Frozen Fever since it was announced. Unfortunately, I never got a chance to see Cinderella when it was in theatres so I have been stuck anxiously waiting for the blu-ray release. Luckily this collection came out so I didn't have to keep waiting. Having seen it now, it's cute. It captures a lot of the fun of the original Frozen but the original song that goes along with it doesn't quite. All in all, it's super cute and super fun – but I cannot wait for the full sequel to get here sometime in the next few years!
Runaway Brain (DMA Exclusive) ★★★☆☆
If you ever needed a reminder not to answer creepy Craigslist ads this is the short for you! Mickey agrees to take a sketchy job at a mad scientist's lab so he can afford to take Minnie on a romantic getaway. Instead of getting paid, however, he has his mind switched with a monster version of Pete who goes after Minnie. Mickey – in the body of the beast – must save Minnie and some how turn himself back to normal. A little dark but still funny, this one can only be access online via the Disney Movies Anywhere app or website.
The shorts included in this collection are amazing.
There is no other way to say it. These are the kind of stories only Disney could tell in a way only their animators could bring to life.
Besides the introductions to each short, the only other special feature included is @DisneyAnimation. It's a short featurette hosted by TJ Miller alongside a number of Disney creators. If you're interested in the Disney shorts program in general it's a really quick look at how things are put together. Every year Walt Disney Animation Studios team members pitch ideas to John Lassiter for the next great short and he selects essentially one idea for them all to run with.
So, if you were wondering, that's why the shorts are usually so great. They are the best ideas out of well over a hundred to be pitched in any given year. Crazy, right?
Lastly, I need to throw this out there since I've seen some people asking online: Lava – which premiered with Inside Out – will not be on this collection. Though Disney now owns Pixar outright it's still a Pixar short so you'll have to wait until the Inside Out blu-ray release in November.
Otherwise, head out and pick up a copy of Walt Disney Animation Studios Short Films Collection today!


A REVIEW COPY OF WALT DISNEY ANIMATION STUDIOS SHORT FILMS COLLECTION ON BLU-RAY WAS PROVIDED FOR THE PURPOSE OF THIS REVIEW. NERDOPHILES WAS NOT COMPENSATED FOR THE REVIEW AND THE OPINIONS HERE ARE OURS AND OURS ALONE.