Synopsis for 2×01: Rick, Morty and Summer's timeline struggle to stabilize their timeline when time splits into multiple dimensions. Jerry and Beth attempt to save a deer's life.
Rating: ★★★★☆
It takes real balls to start off a season with something this completely nuts, but Rick and Morty has those balls. If anyone tuned in last night who wasn't 100% sold on the show yet or hadn't seen it before, this episode almost definitely either scared them off or hooked them permanently. "A Rickle In Time" is rather demanding to watch, but it demonstrates exactly to what depths the show will willingly take its bizarre concepts.
The show picks up 6 months after the end of the last season and time has been frozen for all 6 of those months (if you'll remember, the last season ended with Rick freezing time so they could clean up from their house party before their parents arrived home). When Rick finally unfreezes them, their certainty in time has become rather fragile, such that a minor disruption splits time into two and transports them to a universe surrounded by floating Schrodinger's Cats.
This is television for the modern age, rewarding those who take advantage of the now-universal rewatching and pausing mechanics. At times the episode splits into as many as 64 separate screens all with at least marginally distinct action, and surely fans on the show's subreddit will continue to unearth bonuses hidden in the various timelines for weeks to come. But remarkably, the show delivers the central mechanic without it being too disorienting or confusing on the first viewing, and it manages to use the premise for non-visual jokes as well, such as when various paranoid Ricks all become convinced that the other Ricks plan to kill him.
Seriously, what other show can have a mad scientist beating the crap out of an actual Testicle Man in over a dozen different timelines simultaneously, only for that same scientist to make a noble (though temporary) sacrifice of his own life for the sake of his grandson's survival minutes later without an arresting tone shift? "A Rickle In Time" maintains the first season's ability to capably balance its trippy sci fi insanity with its legitimate thematic depth and heart. If the show can keep doing that for the remainder of season two, that's all I would ever ask of it.
Holding back this episode in some ways is the B plot, which revolves around Beth attempting to save a deer that she and Jerry hit on the road, facing resistance from the hospital, the hunter who shot the deer, and the legal system. Beth was easily the least developed member of the main cast during season one, and this is actually the first time she's been the central focus of even a side story. But while I applaud the additional character development, the deer story has such smaller stakes than the central narrative that it feels incongruent and loses its impact.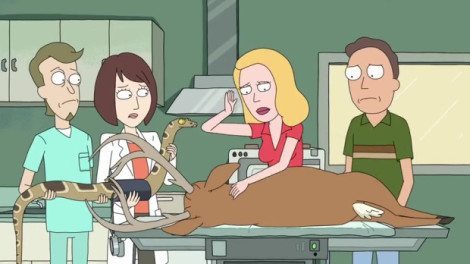 That being said, I would expect an episode this ambitious to be buried somewhere in the middle of the season, and yet it sets the tone for the upcoming season somewhat perfectly. Sophomore slump be damned, Rick And Morty refuses to lose even a tiny bit of momentum. Keep checking back here for recaps of every episode as it airs. This is gonna be a season you don't want to miss.