Synopsis for 3×23: Bee colonies are collapsing, a beekeeper is killed, and then a Sheikh goes missing. What on earth is going on in New York City?
Rating: ★★☆☆☆
Strangely enough, this episode began with a case already being solved. In a bizarre twist of facts, a man was found to have murdered his boss while using a flash mob as cover. They had the evidence and presented it to him until he confessed. However, the really interesting thing occurred as they finished up the case and Gregson returned to his office to see an old friend. That old friend came bearing good news: Gregson was being offered a promotion to Deputy Chief, if he was willing to take it.
The case of the week surrounded a beekeeper that ended up murdered. Apparently someone had put cyanide in his smoker and, while he was tending to bees, he inhaled too much of it and died. Along the way, thousands of bees died with him due to the chemical in the air. Someone who had been employing him found him dead and brought in the police.
Naturally, Sherlock was mostly upset about the bees.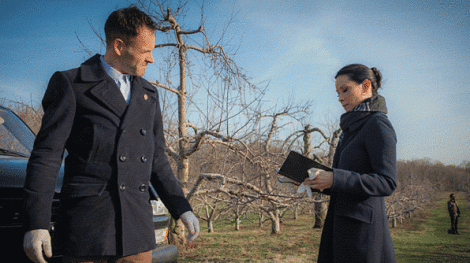 Gregson pulled Watson aside before they dove into the case and informed her of the offer he'd received. Of course she was excited for him, but Gregson was less than enthusiastic. He was potentially interested in the position, but wanted to make sure his precinct would be okay without him. So he asked Watson to investigate the woman that would be his replacement.
With the bee colony collapses happening all over New York, Sherlock returned to AgriNext, our old friends from earlier in the season. In his eyes, they'd had motive to kill the beekeeper who had been investigating the sudden collapse of so many colonies. If they killed him, it would keep him quiet and AgriNext wouldn't be at risk of legal action due to their pesticides. However, the AgriNext execs turned him down rather quickly. They had enough dirt on Keck, the dead man, that they didn't need to resort to anything that extreme to get their way.
Joan returned home after talking with the Captain and it took Sherlock all of two seconds to come to the conclusion that the Captain was leaving. Joan was surprised Sherlock didn't seem more upset about it, but it made sense. Sherlock pointed out that even if the Captain left, and his replacement decided her precinct didn't need a private consultant, that the Captain would probably "find them a new perch" given his position of power.
Back to the case of the bees, the evidence put them on the trail of a man named Mr. Jarvis. When they confronted him, he admitted almost immediately to killing Keck. He was convinced that Keck had put some sort of dangerous mites into his bee colonies which had caused their collapse. Even though he was a diagnosed paranoid schizophrenic, he admitted that he was in his right mind at the time and had no problem coming clean.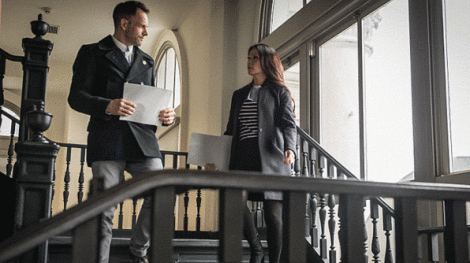 Since Jarvis had seemed to believe Keck had been sabotaging his bees, Sherlock began to believe he had as well. The more he investigated, the closer he got to the heart of the case. One of the people who had been investigating Keck on allegations of tampering and misconduct had suddenly had a heart attack. It was initially believed to be caused by bee stings but Sherlock was able to deduce that it was more than that. Someone had killed the investigator to cover up the fact Keck had been destroying bee colonies.
Keck had an alibi for the day of the investigator's heart attack. After going back to the investigator's wife to get the full scoop, they ended up turning toward a USDA related summit about the decline in bee colonies.
While discussing the possibility that Keck had been working with a disgruntled researcher, it came to be that a royal Sheikh who was also a famous bee keeper was going to be attending the summit. Even though he was a hermit who refused to leave his estate on the best of days, the sudden collapse of bee hives was enough to get him to make his way to the summit. Sherlock figured he may know something, especially since he stood to gain a lot if American bees suddenly turned up dead.
Joan continued to investigate Gregson's replacement and came up with some interesting bumps in the road, but nothing solid to prove the replacement wouldn't be a good fit. While Gregson had been worried she may have been involved in a scandal, Joan was finding no evidence of it. She let the Captain know as much and he still looked conflicted.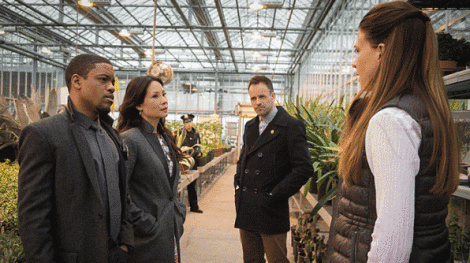 Naturally, the Sheikh turned up missing and the team now had a new task: find him. This is where it got really crazy and a little unbelievable. They initially believed the Sheikh had been taken by his own guard, but it turned out he'd been kidnapped by someone else for ransom. His government was willing to pay the ransom, but the team still didn't know who was behind it.
When they figured it out, I was surprised they believed it. The two people who had arranged the summit about the collapsing bee colonies were behind the whole thing. They had orchestrated Keck's destruction of the colonies in order to create a buzz about the possibly bleak future of our little pollinating buddies. It was enough to force the Sheikh to fly all the way to the United States out of concern for his colonies. Once he was there, he was lured away from his guards with the promise of a prostitute, abducted from his room, and ransomed back to his country for a lot of money.
The craziest thing is, they would have gotten away with it, too. Except Sherlock was able to prove that Tara, the female mastermind behind the entire plot, had been sleeping with Keck. When her husband found out about it he turned on her immediately and made a deal. He spilled everything, and both of them had to pay for their crimes.
Of course it wouldn't be the episode before the finale without something sinister in the works. Gregson turned down the promotion, only to be met with a warning. Since he didn't accept the carrot, there was a high likelihood that he might see a stick sometime in the near future. Offers like the one he was given don't come just because they are merited, but because they want to offer solid policemen the chance to move up in a positive way. No one really knows what lies ahead for Gregson, but it is probably not going to be fun.