Rose City Comic Con came and went again this year. It was my second year attending, and I will say I had slightly less fun this year than the last. I don't know if I'm just becoming desensitized to conventions, or if this one is simply becoming too crowded, but regardless of my mixed experience I still managed to make the most of my day and a half and had a lot of fun. The Agents of SHIELD panel with Brett Dalton and Elizabeth Henstridge was a wild ride, and Artist's Alley once again boasted some of the most talented folks I've ever met from all sides of the comic book world. All in all, this little convention has taken off and was a fun show.
A lot of my time Saturday was spent wandering Artist's Alley, though with the number of attendees packed onto the floor, it was difficult to really scope out any of the artists and writers who were showcasing their comics and other crafted goods. My time spent there was far more meaningful on Sunday, when there were fewer people and I had the chance to get to the booths and talk with some amazing people.
I reconnected with Ed Siomacco and bought an adorable print of BB-8 and got a free sketch. I bought a skeptical tiny glass dog from Bling Squared, a Canadian company that produces some of the most unique and fun glass figurines I've ever encountered. Bling Squared was right next to our good friends at Blood & Gourd who were there celebrating the successful funding of their second issue. They had free candy and friendly faces, so I spent a lot of time hanging around with them. I also purchased the first four issues of We Can Never Go Home, from New York writer Matthew Rosenberg who was a delight to speak with.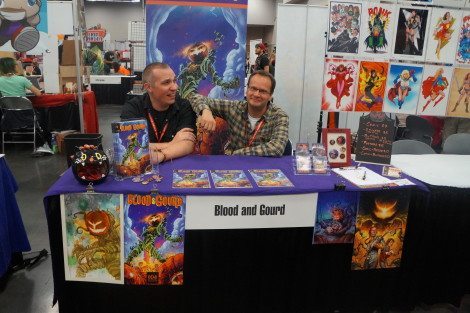 Along with a robust Artist's Alley, the convention provided a huge exhibitor area with businesses from all over peddling anything and everything fandom related. The CW had a booth too, where they promoted Arrow and The Flash with a prize wheel. Unfortunately, I only won a tattoo when in reality I was angling for one of the fancy The Flash hats. Oh well, at least I tried. I found some cool swag nonetheless, and picked up a neat Agents of SHIELD logo key chain pressed in wood along with some buttons and a few other knick knacks that caught my eye.
Even with the number of people checking out the convention on Saturday, the whole thing still remained relatively well organized. While anyone with or without a pass could come in and out of the convention center whenever they liked, security stood posted at all of the doors leading into any of the convention events. There were a lot of food options, though the lines at all of them were huge, and I opted for checking out the Burgerville nearby that hit the spot.
Parking was a worry at first, but the Oregon Convention Center is just a prime location for a convention of this size. Both days, even though I showed up hours after the convention had begun, I easily found parking at the convention's overflow parking structure that was only a couple of blocks away. It was affordable, too, at $12 for the entire day Saturday and $10 for the day Sunday. Couldn't beat it.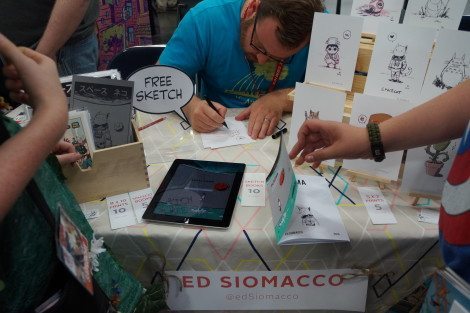 The panel lineup for the entire show was fantastic, even though I didn't really take advantage of it. I find I'm more inclined to go walk the floor, regardless of the hordes of people, because I like meeting all of the creative minds behind the art and comics I enjoy reading. Yet if I were so inclined to go rest my feet for a while, there were definitely panel rooms I could hide away in and still be interested in what was being said. A lot of the celebrity guests headlined some of the bigger, more popular panels, but there were a lot of smaller ones too put together by locals who love what they do.
All in all, Rose City Comic Con put on another great show. They continue to improve their system year after year, as the convention grows larger. It will be interesting to see how they handle increased numbers next year, if the trend continues in the way it has the past few years. Regardless, it is a show I recommend checking out. If not for the celebrity panels and photo ops, then for the still small-time comic book feel the convention tries to bring to the event.