Yes Please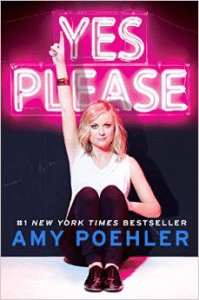 Author: Amy Poehler
Release Date: October 28th, 2014
Publisher: Dey Street Books
Source: Purchased by reviewer
Genre(s): Memoir
Rating: ★★★★★
Review Spoilers:  Low
GoodReads | Amazon
I'll admit it. I jumped on the Amy Poehler train after being sucked into the wonderful world of Parks and Recreation. Before that, I'd seen her in a few movies and knew she was on SNL, but I didn't really know a lot about her. After Parks and Recreation, I became fascinated by her. She contributed to such a wonderful, life changing show, and that made me want to know more. Thankfully, even after Parks and Recreation ended, I was able to turn to Amy Poehler's memoir, Yes Please to fill the hole it had left.
Yes Please is sort of a weird title, but from cover to cover the book is filled with wisdom, reflections, and hilarious stories. From her early life, to trying to make a living in NYC with the Upright Citizens Brigade, to her days on SNL and beyond, Amy shares her life story and experiences transparently and with the utmost honesty. Interjecting her own brand of humor into her story, she's not afraid to laugh or criticize herself and her actions which made the book all the more compelling.
This title has a lot in it for anyone who is even the slightest fan of Poehler and her work. Honestly, even if you'd never heard of her, there's advice in this book that applies to virtually everyone who is alive and breathing right now. You could skip over everything and jump to the last bit about time traveling and still find you've gotten your money's worth out of this particular book.
If books are difficult because staring at words for long periods of time just isn't your thing, never fear. Amy included loads of pictures and other graphics all throughout the book. There are ridiculous images denoting every section, pictures from her Saturday Night Live days, extras from Parks and Recreation, and even haikus. Yes Please is more than just a memoir where some famous somebody goes on about their life and expects people to like it simply because they're famous. Amy goes to great lengths to make her memoir entertaining and engaging, not because she's famous, but because she is genuinely an interesting and heartfelt person.
Perhaps what stuck out the most to me, other than the section of the book where she reminds the reader that living in the present is the best course of action, is just how much she didn't really want to write a book. She admitted to being a relatively private person and there were some things she did opt out of discussing. However, for someone who clearly didn't want to write a book, she managed to fill it with interesting and thoughtful material.
Yes Please is one of those books that snagged itself a permanent spot on my bookshelf. Not only does Amy Poehler entertain her readers, but she also gives them a lot to think about. I believe that the best storytelling is the kind that integrates honesty into every tale. Yes Please achieves that flawlessly as Amy shares about her life candidly and humorously. If you're a Parks and Recreation fan, a Saturday Night Live junkie, or just someone mildly interested in Amy Poehler, then I definitely recommend you check out Yes Please.