Federal Bureau of
Physics Vol. 1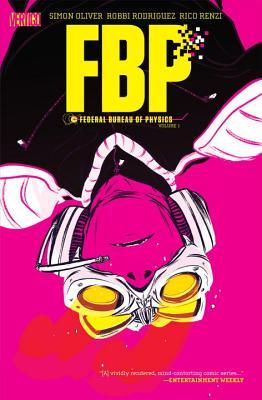 Author: Simon Oliver
Artist: Robbi Rodriguez
Release Date: February 25, 2014
Publisher: Vertigo
Genre(s): Science Fiction
Rating: ★★★★☆
Review Spoilers:  Mild
GoodReads | Amazon
I am kind of in love with the Federal Bureau of Physics. Hands down this is one of my favorite on-going series not just from Vertigo, but any publisher. I mean, have you read this yet? If not – do it!
In this series, the laws of physics run mad. Quantum storms and anomalies in gravity – even reality itself – are common place. One day your kitchen just may flip itself upside down. Your kids might be throwing balls through wormholes in the backyard in an endless loop.
The government has set up the Bureau of Physics in offices around the country to respond to such incidents and Adam Hardy is poised to become one of the best agents. But he's got physics related demons of his own and the organization itself is facing a lot of pressure.
While responding to what should have been a simple gravity reversal, Adam and his partner Jay find themselves delving into an alternate universe known as the BubbleVerse on a rescue mission. But things aren't as they seem – and not because this is a completely different reality. There's something else going on and Adam will be lucky if he ever makes it back to his world at all before everything – including him – blink out of existence.
The plot and world created here are just so incredible. Anything could happen. Anything could shift in an instant. Even the usual laws of gravity mean nothing. It's crazy and awesome and it makes for a really great setting for such a strong narrative, which is incredible. Plus the characters are pretty interesting. Adam's a talented slacker that you just want to root for throughout. And, once she's introduced, the enigmatic Agent Reyes really kind of steals the show.
And (spoiler), having read the next volume, things get even more insane. It's great. Definitely a must read if you like serious, gritty science thrillers.


A REVIEW COPY OF THIS BOOK WAS PROVIDED BY THE PUBLISHER VIA EDELWEISS FOR A FAIR AND HONEST REVIEW. (I also bought it for myself in hardcopy because it's freakin' awesome.)