The Avengers Vault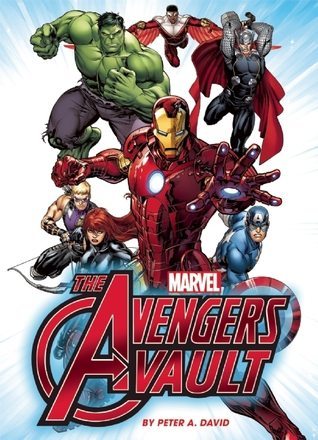 Author: Peter A. David
Release Date: February 17, 2015
Publisher: Thunder Bay Press
Genre(s): Non-Fiction, Superheroes
Rating: ★★★☆☆
Review Spoilers:  N/A
GoodReads | Amazon
Love the Avengers?
Of course you do. Or, rather, you probably do. With Marvel's epic cinematic universe pretty much omnipresent in pop culture these days you've got a lot of new Avengers fans out there of all ages. New fans and old fans alike are eating up the new tie-in media.
The Avengers Vault seeks to help you learn just a little bit more about some of your favorite Avengers. It's not just a book or historical tome – it's also something of an Avengers archive.
Unfortunately, the book doesn't boast nearly as much diversity in the information as the cover might imply. Only Iron Man, Thor, Captain America, and the Hulk are really featured in the book. Each of these heroes gets their own detailed section outlining their history, which is supplemented by comic reproductions, posters, and more.
Everyone else?
They still get mentioned, of course. Most, however, find their references significantly limited. The first section in the book is a brief run-down of the Avengers' history in general from the formation of the group and then on through the years. So we get obligatory mentions for Ant-Man, Wasp, Vision, and the rest. The last part of the book, too, lists (and only lists) other members of the Avengers – such as Justice, Firestar, Jack of Hearts, and more. Sadly, very little attention is given to any of them.
I was hoping that at least Hawkeye, Black Widow, and Falcon might have gotten a bit more attention considering they are on the cover of the book and featured prominently in the last two animated series versions of the superhero team.
Still, those who are featured are featured well. The sections are very informative and will be interesting for people who are unfamiliar with their favorite character's comic book history. Each section also comes with a number of little knick-knacks tucked into pockets. There are reproductions of comic book covers, fold-out posters, and other items like fan club membership cards and more.
These little extras are perhaps some of the coolest things in the book. My absolute favorite is probably a reproduction of a poster promoting Thor #363 – the introduction of THROG! Seriously, I am hanging that up on my wall sometime. It's the best.
All in all, this is a really great gift for Avengers fans who maybe don't have much of a background outside of the Marvel Cinematic Universe but want to learn more. The reproductions might make it a good pick for some life-long fans as well. If you are familiar with the comics, though, you might be a little disappointed picking this one up for yourself.


A REVIEW COPY OF THIS TITLE WAS PROVIDED BY THE PUBLISHER VIA MEDIA MASTERS PUBLICITY IN EXCHANGE FOR A FAIR AND HONEST REVIEW.