Oh, Killstrike #1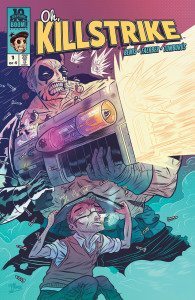 Author: Max Bemis
Artist: Logan Faerber
Release Date: May 20, 2015
Publisher: BOOM! Studios
Source: BOOM! Studios DRC
Genre(s): Comedy, Satire
Rating: ★★★☆☆
Review Spoilers:  Mild
BOOM! Studios | Comixology
A satirical series looking at the state of comics during the 90s while tying in a coming-of-age lesson on growing up and taking responsibility? Sign me up. Unfortunately, after reading the first issue of Oh, Killstrike, I'm still on the waiting list.
From BOOM! Studios:
Jared, a new father, fears parenthood. An old comics fan, he turns to them for comfort. But when he unwittingly lets loose his favorite character, Killstrike—a single-minded, vengeance-loving anti-hero—onto the world, Jared must find a way to send him back before he harms all the people he loves the most. But before that happens, Killstrike leads Jared on a quest of self-discovery to make him realize the kid who loved this character is not the man he has become.

After discovering that Killstrike #1 – the worst comic book of all time – is making a collectors comeback, Jared gives his wife and the readers a ham-fisted history lesson couched between a hipsterer-than-thou attitude and a grab to cash in on the zeitgeist (damn the consequences!). Without his wife's blessing, Jared leaves her with their new baby to travel to his mother's house and collect on the nostalgia.
Unfortunately, when he digs his old comic out of the attic, Killstrike himself climbs out of the pages shouting to quintessential 90s rallying cry, "VENGEANCE." From that moment onwards, I subbed in the Christian Bale Batman gravel voice for everything Killstrike said. There's no explanation for how Killstrike came to the 3D world or why he passively sat by as Jared left him in the attic – only to hunt him down soon after.
Likewise, there's no real pushback from Jared against accepting that – in order to put Killstrike back into the pages of the comic – they must embark on a quest of vengeance against his absent father. It doesn't seem like a hardship at all for Jared to pack a bag and inform his wife that he's got to take a little weekend trip with his new, questionable friend.
The dialogue is clunky and pushes too hard with the wink-wink-nudge-nudges to be a nuanced satire, but I can see where it was trying to go. I enjoy the art and the coloring – ignoring the fact that I think Jared looks to be in his mid-40s with a newborn – but I wish there was a bit more to show that Killstrike literally crawled off the pages of a 90s comic. He's got the muscles, pouches, never-ending weaponry, tribal tattoos, and tiny feet of the 90s, but stylistically he still fits right in.
A lot of leeway has to be given in this first issue, jumps in logic, and a few head-scratching moments between Jared and his wife – who is a saint and a clear background prop to his ultimate journey to self-discovery – but the potential is there for Oh, Killstrike. At the moment, it could really go either way and, luckily, we'll find out soon enough which way it goes, as Oh, Killstrike is a four issue mini-series.
If nothing else, listening to Say Anything circa 2008 while writing this review showed me that Bemis really put his stamp on the writing. Let us know what you thought of Oh, Killstrike in the comments (or tell us what terrible pop punk bands you listened to back in the day)!