Take a break from the ordinary and check out this past week's pull list picks. Embrace the supernatural with the Lumberjanes, investigate mysteries with Malcolm in UFOlogy, and see a favorite fictional comic book character come to life in Oh, Killstrike! and more.
This was a pretty solid week across the board.
We really enjoyed everything we read – and who doesn't just love when that happens! Did you read any of the books we did? What did you think? Let us know in the comments!


Sam's Reads
UFOlogy #2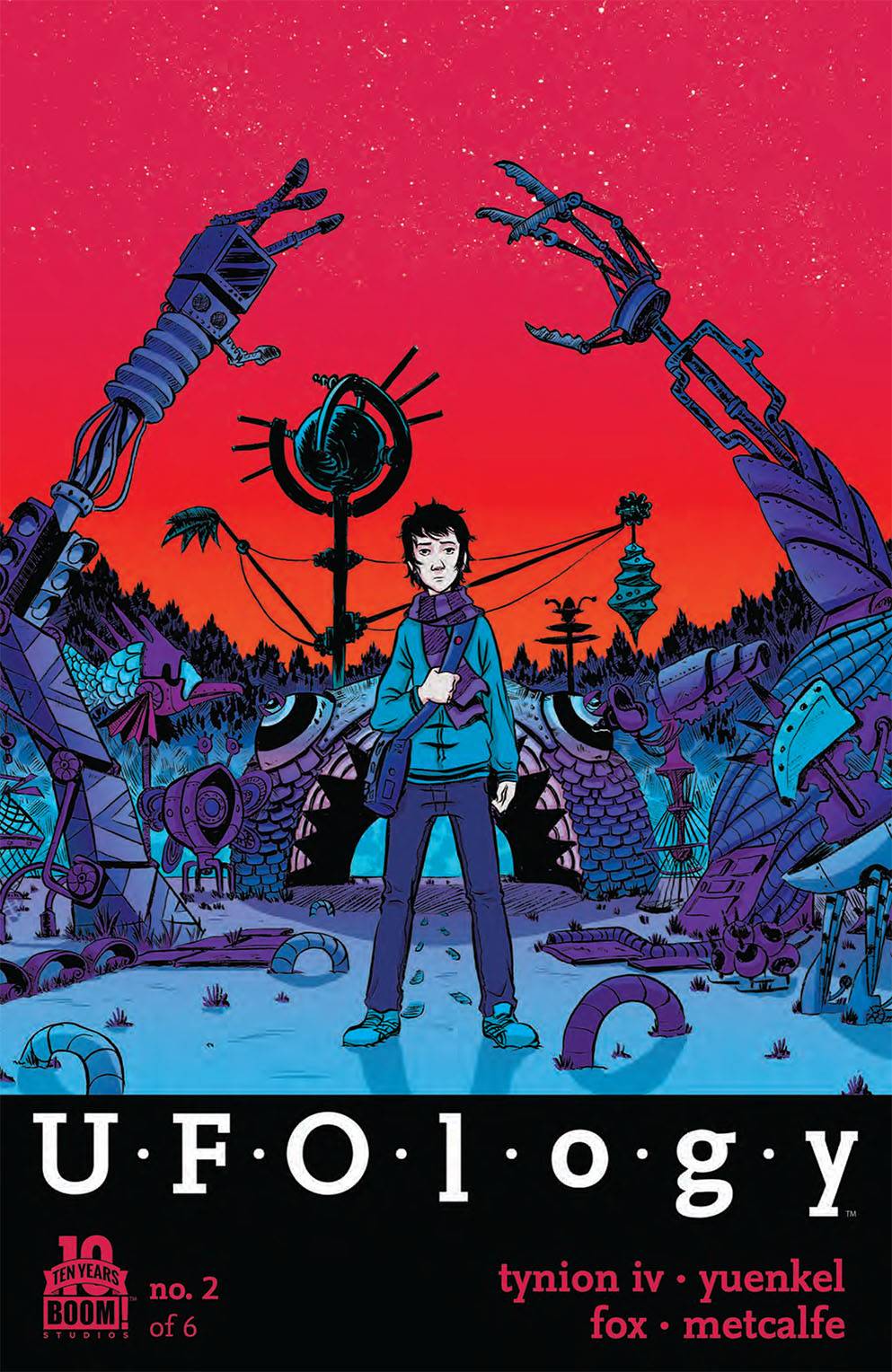 Author: James Tynion IV & Noah J.Yuenkel
Artist: Matthew Fox
Publisher: BOOM! Studios
Source: BOOM! Studios DRC
★★★★☆
After the last issue's dramatic ending, the start of this one sees us catching back up with Becky and Malcolm in the hospital. Malcolm may not have had the close encounter he was looking for but he's calmed down a bit and he's starting a thorough investigation into what's going on. It's clear, though, that he probably doesn't have all the facts he needs. His father has been keeping secrets and the government has a lot secrets of their own. Becky, meanwhile, just wants to get on with her life.
This issue really starts to set the groundwork for what's coming next. As you read it you start to really feel drawn into the mystery. There are so many questions that you start asking (like who the hell is the monster-esque dude creep stalking around Becky's hotel room?) and hoping the book will answer. I also need to say that after this issue I'm kind of in love with Matthew Fox's artwork. I'm loving it in this book at least. It's just so great and atmospheric (I'm loving whoever is doing the lettering, too. Perfection).
Lumberjanes #14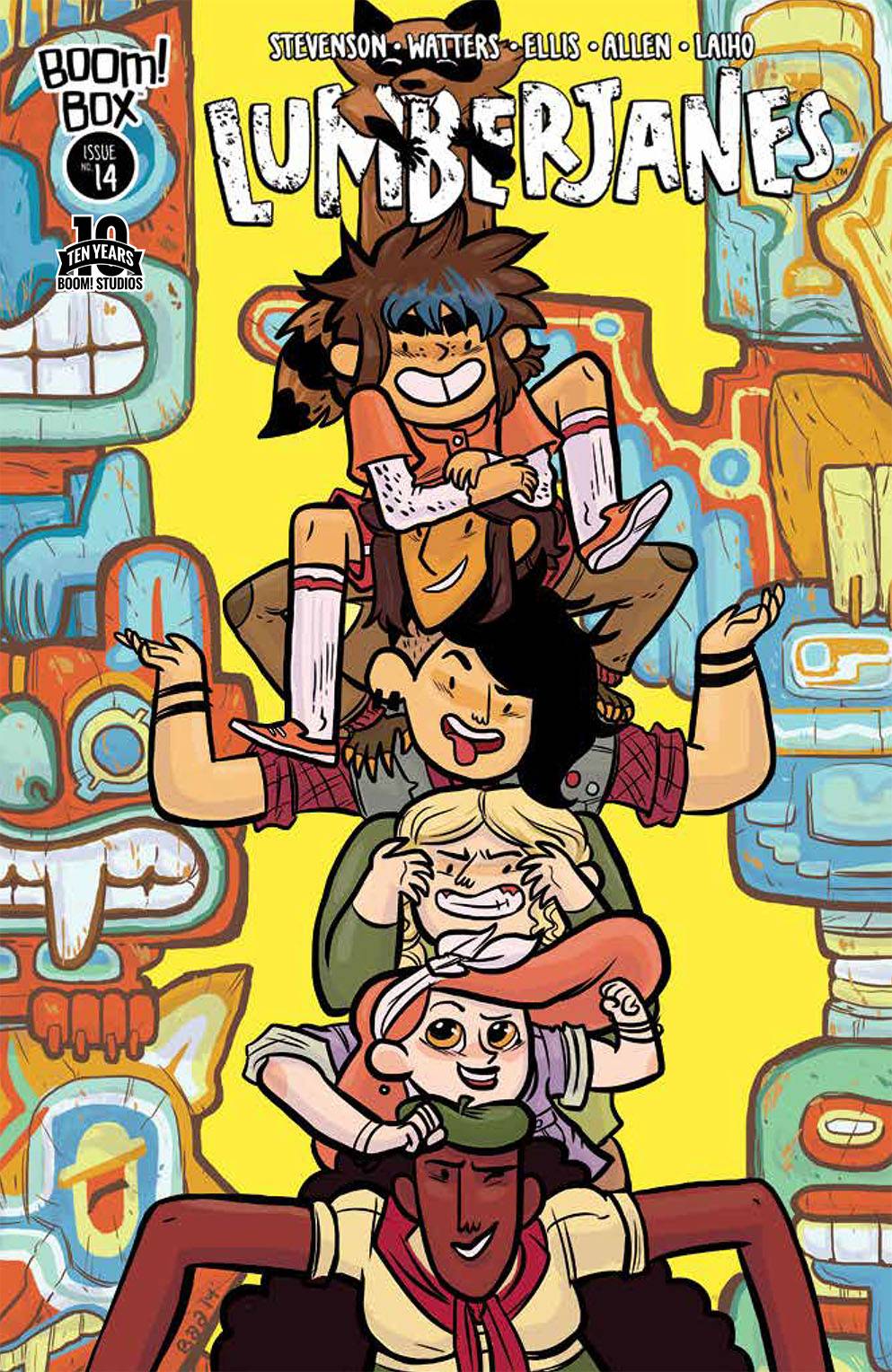 Author: Noelle Stevenson & Shannon Watters
Artist: Brooke Allen
Publisher: BOOM! Box
Source: BOOM! Studios DRC
★★★★☆
This was an excellent issue kicking off a new story arc. Jenn takes the girls out for an overnight camping trip complete with tents and everything but finds them woefully unprepared and lacking any actual survival despite their previous adventures. Of course, no one is prepared for a BLIZZARD to blow through in the middle of the summer. Separated from Jenn, the girls are taken back to camp by Rosie but they don't stay put for long. Teaming up with Scouting Lad Barney they head into the woods to bring back Jenn. Rosie is out looking for Jenn, too, but finds out someone else already found her. Abigail seems like a decent lady to Jenn but it's clear there's something else going on….
How can you do anything but love this series? This issue in particular was a lot of fun. I mean, they threw in a Frozen reference! I always feel so bad for Jenn. She just doesn't get what's going on out there and she's really the only one who seems to realize that these girls aren't exactly prepared for, well, anything they face. I'm glad she has a friend in Abigail and I hope she's not really evil or something (but seriously, what do you need a room of dynamite for girl!?). I love that everyone's looking for Jenn and I love that Barney and the boys are all doing well and that he's along for this adventure. I can't wait until the next issue. I'm so excited. What is the 'Mystery of the History' between Rosie and Abigail!?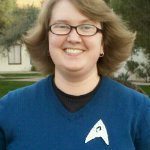 Sam Wildman is a co-founder and co-editor at Nerdophiles. She totally would have been a Lumberjane if that was actually a real thing. @samaside


Kylee's Reads
 Ei8ht #4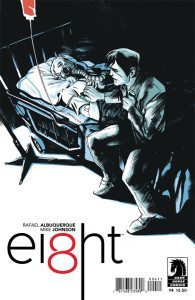 Author: Rafael Albuquerque, Mike Johnson
Artist: Rafael Albuquerque
Publisher: Dark Horse
Source: Dark Horse DRC
★★★★☆
There's only one more issue of Ei8ht to wrap up the series, but we're treated to a lot of answers in issue #4. With an extended jaunt into the purple? – the present – and a time period I wasn't expecting, we get more answers about The Spear and Dr. Hamm, to whom Nila was sent when she escaped from last issue's cliffhanger. A time conundrum from the first issue is resolved and Hari succeeds in rescuing Joshua from his captivity.
I almost wish this series wasn't wrapping up. The colors denoting time periods cleanly delineate things in my mind and I can't help but think there's so much more to explore here. What about the other people in The Meld? What are their stories? How did they get there? I can't wait to see how Ei8ht wraps up and what happens to the future if – when? – Joshua completes his mission.
Resident Alien #1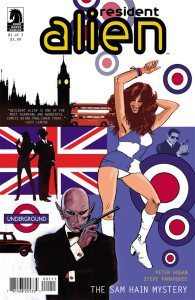 Author: Peter Hogan
Artist: Steve Parkhouse
Publisher: Dark Horse
Source: Dark Horse DRC
★★★☆☆
A small town doctor obsessed with murder mysteries sometimes consults on cases with the local police, is friendly with the mayor, and oh yeah, might just be an alien from another planet masquerading as said doctor after the previous doctor was murdered. This all happens before Resident Alien #1, throwing readers directly into the action of a potential second murder when a mysterious briefcase turns up.
So long as you catch the cheat sheet notes before the beginning of the issue, Resident Alien reads quick and easy. While the murder mystery plot is almost too familiar, the alien twist serves its purpose enough to make the series intriguing. The writing is smart and the art harkens to the pulpy crime novels our alien protagonist is so enamored with.
I really enjoy the way readers are invited into the middle of the mystery, how we still see the alien for exactly what he is while – most of – those around him are fooled into thinking otherwise. Off-beat and inviting, the first issue of Resident Alien is worth the read.
Oh, Killstrike #1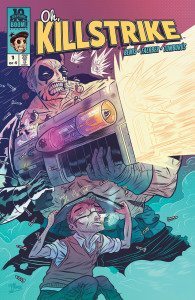 Author: Max Bemis
Artist: Logan Faerber
Publisher: BOOM! Studios
Source: BOOM! Studios DRC
★★★☆☆
Max Bemis, frontman of the band Say Anything, makes an attempt at satirizing 90s nostalgia with mixed results. The dialogue and characterization are a bit heavy-handed, with a dash of condescending history lessons from that pedantic neckbeard you know.
But one part nostalgia, one part coming-of-age story has me hoping that the next issue of Oh, Killstrike capitalizes on the main character's, Jared's, growing up significantly through the madcap quest for vengeance in Manhattan.


Kylee Sills is an associate editor at Nerdophiles. She still knows all the words to her favorite pop punk bands of the early 2000s and Say Anything took her back down the rabbit hole this week. @kyleewho