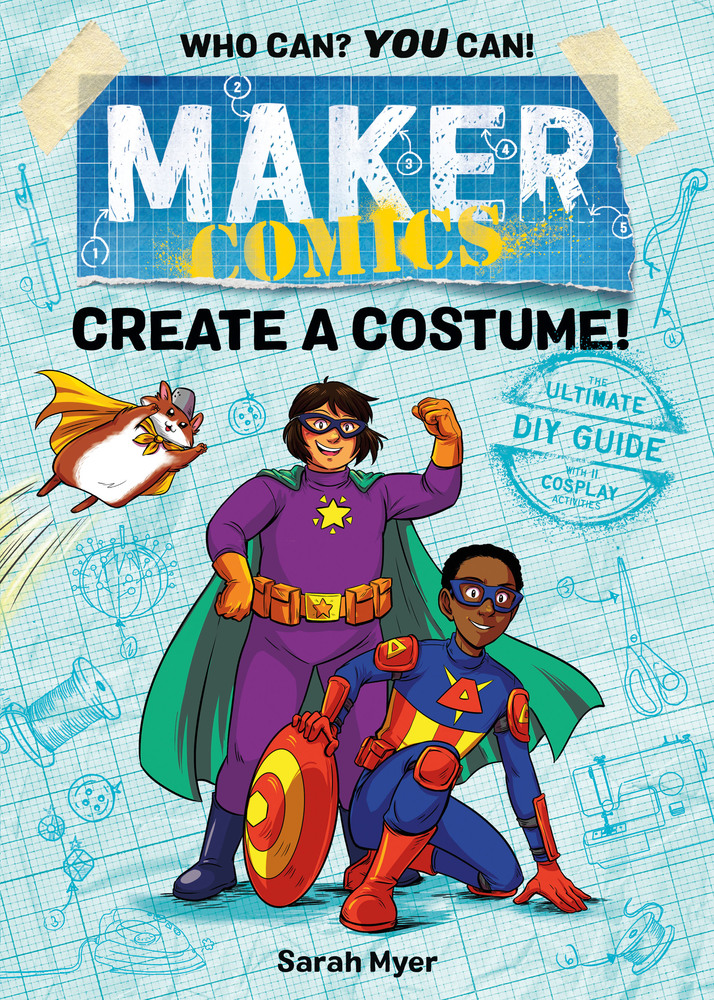 Title: Create A Costume
Series: Maker Comics
Author: Sarah Myer
Release Date: August 6, 2019
Publisher: First Second Books
Review Spoilers: N/A
GoodReads | Amazon
We loved the first two entries in the Maker Comics series and as huge nerds (and frequent convention goers) we couldn't wait to read Sarah Myer's Create A Costume. I will admit that I was a little intimidated by this one. I vaguely remember working with a sewing machine in middle school during a home economics course and I do not remember it going well. But I have a couple kids who love the idea of cosplay so I knew it would be a great read for me – and my twelve year old, too!
Just like the first two books, Create a Costume is a how-to-guide in the form of a story. This time around readers find two young friends, Bea and Parker, who decide they want to dress up at a local convention. They don't have a lot of money but they have some general know-how and the drive to create great costumes from a variety of materials.
But Create a Costume isn't told from the perspective of Bea and Parker – not entirely anyway.
The Costume Critter – a talking hamster – walks the reader through the basics of costume creation. Obviously a graphic novel can't teach you exactly how to sew but Sarah Myer sure does a great job of giving young readers a foundation in the basics. She puts an emphasis on safety, creativity, but most of all the idea of just having fun and doing your best. And she says it all through an adorable little hamster.
Throughout the book, Bea and Parker have a blast coming up with generic cosplay characters (many based on pre-existing characters) and attempting to recreate their looks. Sarah Myer makes it clear that costumes don't have to be perfect and she gives a lot of tips on how to make the most of limited experience and materials. Simple little changes and substitutions here and there can go along way and it's easy to reuse or recycle materials into something completely new!
Create a Costume is a cute, fun, colorful introduction to sewing presented as the kind of story-based graphic novels kids can't get enough of these days. It certainly got my kiddo interested in creating his own costumes. Bea and Parker are such relatable characters that kids will undoubtedly see themselves and their friends in their enthusiasm and love of all things nerdy.
If you've got a kiddo interested in sewing, cosplay, comic book conventions, or anything else similar they might just like Create a Costume!