Scarlett Undercover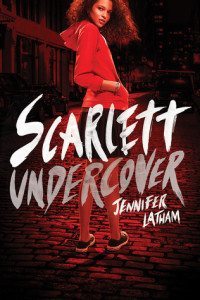 Author: Jennifer Latham
Release Date: May 19, 2015
Publisher: Little Brown
Source: NetGalley
Genre(s): Mystery, Detective, YA
Rating: ★★★★★
Review Spoilers:  Medium
GoodReads | Amazon
Scarlett is a Muslim-American teenage detective, and she just got a new case. A teenager jumped to his death off a bridge, but it turns out that there might be more than meets the eye regarding his apparent suicide. What follows is Scarlett's investigation into an ancient legend and modern gang involving her family's history and father's murder.
This book was pitched as a good read for fans of Veronica Mars, and that's one of the aspects that hooked me.
There are some obvious parallels to VMars in Scarlett Undercover – the most obvious is a precocious, young female protagonist detective and her snarky dialogue.
Scarlett as a character carried the novel – it was refreshing to see such a strong, smart, well-rounded (and I'd argue, feminist) character who happens to be a woman of color in control of her own story. I felt an immediate connection to Scarlett as a reader, and I hope the author writes more books with her as the female lead.
Scarlett's cultural heritage factors prominently in the novel – from her sister's faith to the story and relics of King Solomon and their role in the mystery. The character is smart, snarky, empathetic, and highly likeable.
Each bit of Scarlett's Muslim heritage contributed to the dark, mysterious atmosphere of the story. I have nothing but the highest praise for the author because I think she did the best, and one of the hardest, possible things I think an author can do: she transported me outside of my experiences and gave me insight into another perspective.
One of the criticisms of this book I've read on GoodReads forums was that the book didn't have much of an introduction. Instead, the author launches directly into narrative, letting the reader catch up with Scarlett's fast pace. Even though this was disorienting at first, I think it's a very positive artistic choice. In fact, it's actually one of my favorite aspects of this book.
We never get much of an introduction to Scarlett or her business. Instead, the author lets the characters introduce themselves to us through their actions. Life isn't neatly tied up into a beginning, middle, and ending, and this book mirrors real life in that aspect – Scarlett's story didn't start here. This way, we feel like we've come in on the middle of someone's life and we're along for the ride – the book is not contrived.
We didn't get the first few pages of Scarlett's story, but the author trusts that we're capable enough as readers to figure out what we need to know to catch up. More importantly, by saving us the introduction, it gave us more time as readers to learn what our opinion of Scarlett is, instead of having the author spoon-feed a canned summary of personal appearances and personality traits to us.
The author doesn't condescend to her audience. She expects an audience that is as sharp as her main character and I love it.
With this choice, we also get directly into the mystery without filler.
Which, by the way, was fantastic. One of the problems with YA literature is that sometimes the stakes don't feel real – that wasn't the case here. Scarlett's world is gritty. People get hurt. Some die. The danger is real, especially as a young Muslim-American woman, and Scarlett can very easily become collateral damage.
Final Thoughts: Pick up a copy of this book when it comes out. It's a fun read that does mystery, atmosphere, and a POC female protagonist pitch perfectly.
A COPY OF THIS BOOK WAS PROVIDED BY NETGALLEY FOR REVIEW