Strange Magic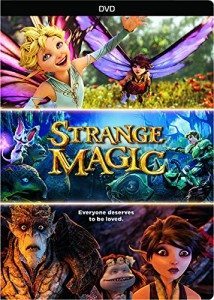 Format: DVD (also available in Digital HD)
Release Date: May 19, 2015
Cast: Evan Rachel Wood, Maya Rudolph, Kristin Chenoweth, Alan Cumming, Alfred Molina, Elijah Kelly, Meredith Anne Bull, Sam Palladio
Director: Gary Rydstrom
Studio: Lucasfilm, Touchstone Pictures, Walt Disney Studios Motion Pictures
Distributor: Touchstone Home Entertainment
Genre(s): Fantasy, Animated, Children's, Fairy Tale, Musical
Extra Feature Rating:  ★★☆☆☆
Rating: ★★★☆☆
Review Spoilers: Moderate
Amazon | IMDB | Wikipedia | Rotten Tomatoes
From the mind of George Lucas, Strange Magic takes it's name from the lyrics of one of the many pop songs remixed for the purpose of telling this nice, original spin on classic fairy tales. Set in a world densely forested, a world divided between light and dark, the movie primarily follows Princess Marianne who finds herself betrayed by her former fiancee.
Ultimately she becomes embroiled in a conflict between her people and the creatures from 'the bog' who are commanded by 'The Bog King,' who himself has effectively outlawed love after a terrible tragedy in his past.
Mixed in with the storytelling are a number of remixed pop songs used to help guide the story along. It's a fun enough gimmick and the film definitely should appeal to it's targeted tween demographic. But I wasn't entirely sure how I felt about it.
Review
It's really hard to put my thoughts about this movie into words for some reason. There were actually a lot of things I liked about it – and that surprised me. At the same time, though, I felt it was ultimately disappointing.
Perhaps it's because the film felt as if it were put together piecemeal.
Don't get me wrong, it looked great. I loved the character designs and the setting. And there was clearly a plan and a story – a fairly decent story actually – behind it all. Still, there seemed to be a lot of shortcuts taken.
In the making-of features George Lucas mentions wanting to create all new songs and scores for the film originally. Instead, they wound up mashing together a number of popular pop songs that were adapted for the film and plot.
Some of the songs are actually pretty cool. I love covers. I don't know why. I just do. But some of them felt forced. Others just didn't seem to fit. Honestly, I wonder if it wouldn't have been a better story if it weren't a musical at all. It could have been a bit darker and potentially appealed more to the older more tween-to-young adult audience it was allegedly targeted towards.
Still, I did like some of the messages the film sent.
Some of them.
The idea of love coming from unexpected places was great and the fact that being spurned in love doesn't have to be the end for someone romantically was nice. Tweens and teens are often in that sort of "I'll die without him!" stage of dating and relationships. The fact that our main character not only finds real love but does so with someone not-so-aesthetically pleasing was another added benefit. It was nice; it was a change on the traditional fairy tale story of good and evil. The evil antagonist doesn't always need to be defeated. Sometimes they just need to be understood.
I liked that.
Acceptance is a great message.
It's too bad that our fairy king doesn't quite get that. His oldest child falling in love with some evil, ugly bug king is fine but a dwarf? No way. And don't even get me started with the younger sister 'falling in love' with her best friend… the same friend who started most of the problems in this movie by trying to get a love potion made to make her fall in love with him.
I really wanted to like this movie and I sometimes think I did. I don't regret watching it if nothing else. But, at the same time, I have no desire to watch it again. As someone who rewatches everything, that is saying something. Still, I did enjoy it – for the most part. So its certainly worth a watch.
Special Features
Unfortunately, the special features don't add much to the rewatchability of this film. The DVD release is really light on special features and there are only two featurettes on the disc. The first one "Creating the Magic" is a brief five minute behind the scenes look at the making of the film. George Lucas, the actors, and some of the folks behind the film talk a bit about the filmmaking process, their stylistic choices, and the usual reflection on how acting in animation is different from live action. So, it's pretty basic.
"Magical Mash Up" is a bit more interesting. It features a number of animation tests, deleted moments, and extended scenes all mixed up with the various musical numbers from the film. There are outtakes with the actors in the booth and more. Scenes flash from concept art through the various levels of 3D animation throughout. It's really fun to watch and I love that it's all just pieced together rather than cut up and presented separately. Honestly, at just four minutes it was almost too short. I'd loved to have seen more of it!
Final Thoughts:
If you have the chance, Strange Magic is definitely worth a watch. The cast is fairly impressive, the animation looks good, and the songs aren't that bad. It's not nearly as solid of a film as I'm sure was intended and I suspect that's part of the reason it's only being released on DVD and digital HD. But it's okay. Fans of fairy tales and gimmicky pop mashups will probably like it. Strange Magic is no Pixie Hollow movie (I love those Tinker Bell movies) but it will make a great family movie night film if nothing else!
A REVIEW COPY OF STRANGE MAGIC ON DVD WAS PROVIDED FOR THE PURPOSE OF THIS REVIEW. NERDOPHILES WAS NOT COMPENSATED FOR THE REVIEW AND THE OPINIONS HERE ARE OURS AND OURS ALONE.