Synopsis of 3×19: With Lance still targeting the Arrow, Felicity insists that Oliver keep a low profile; a metahuman who uses blasts of energy and plasma to kill people terrorizes the city, forcing Ray and Oliver to team up.
Rating: ?????
From the not-all-together-surprising plot turns, to shocking twists, to the team ups, to the high fives, "Broken Arrow" delivered the best that Arrow has to offer.
Roy Harper's character has been sitting in the backseat for most of the season, his storyline as Arsenal is important but the plot with Ra's and Starling City has often taken precedence over the story. However, this episode we get a big jump forward for his character. His confession as the Arrow lands him in prison, where he gets to meet all the people that Oliver put away after the years as the Arrow. It was nice to see him hold his own against the other inmates after all that training alongside the Arrow and his time in the streets, it was definitely a perfectly choreographed fight.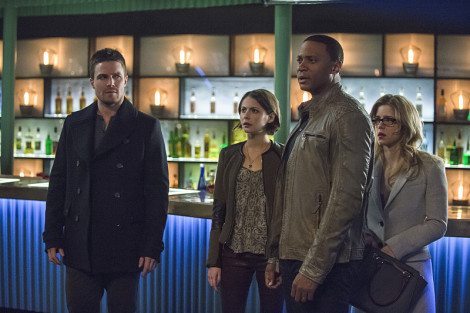 Roy's loyalty to Oliver is matched only by the guilt that he feels for killing that police officer while under the influence of mirakuru. After all that Oliver has done for Roy, and after all the guilt he's lived through, Roy seems ready to accept his fate in jail. That is, until we realized that it's all a ploy. One made to protect Oliver and also clear him of all charges set on by the SCPD. Roy is found murdered in prison, and Lance informs both Thea and Oliver that he is dead, blaming Oliver for it.
It all seems hopeless and helpless until Roy reveals that he is alive and well. It's unfortunate that Roy has to leave Starling City, since I think we all enjoyed Roy and his flips as Arsenal, but he managed to out-detective and out-think Oliver, who spends much of the episode stuck between wanting to free Roy from prison regardless of the consequences, and listening to Diggle and Felicity about having restraint.
With Roy leaving and the face behind the Arrow dead to the city, perhaps now Quentin Lance will cool down a little. Yeah, no I doubt it too. While the city and the cops are ready to believe Roy is the arrow, it's no wool over Lance's eyes. He tears apart Verdant and Oliver's apartment looking for evidence, and it seems to be landing him in some hot water. It's interesting to see this obsessive side of Lance, but it's nothing out of character. He's got an addictive personality, and it seems that revealing Oliver as the Arrow is his new obsession.
Forced to work without the hood, Oliver must team up with Ray in order to take down the villain of the week, Deathbolt (Hellboy's Doug Jones). Deathbolt's appearance served two purposes, one was to support Ray's development into a better superhero, and the other was to bring in the idea that metahumans existed before the particle accelerator explosion in Central City.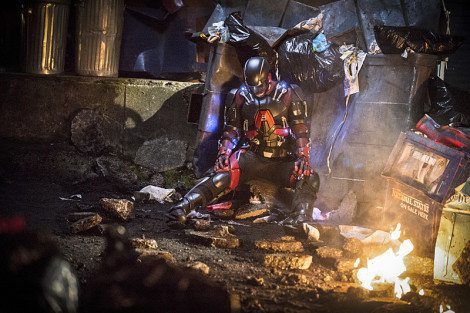 Ray's development as the ATOM took a technological step forward in The Flash episode, while Arrow evolves his character as a hero. Oliver consistently shows himself to be a good mentor to newly minted superheroes, from Roy to Laurel to Barry and now Ray, he's constantly able to shed light through his own personal insight on a situation. Watching him take control of Ray's suit was a heavy handed lesson from him, but one that Ray should probably have learned given his eagerness with the suit. Ray Palmer's got to work on Ray as the superhero, not the ATOM. The suit, like the bow and arrow, is just a tool.
The theme of Oliver with a massive savior complex gets turned on its head this episode when the future of mantle as the Arrow is completely out of his hands, and in the hands of Diggle, Felicity, and Roy. He repeatedly tells them that he's not used to getting help from others, and it's paralleled in the flashbacks in which we see the slow crawl towards the climax of Maseo and Tatsu's storyline. It's clear that something that the two did, in order to help Oliver and protect their son, has left an impact on Oliver that affects him until this day.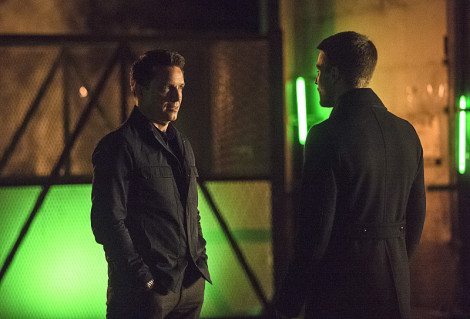 I'm sure we'll be getting more of that since it seems like we are jumping back into the League storyline as the episode ends with a painful twist (get it?) of Ra's visiting a mourning Thea, who has not been told that Roy is actually alive. Thea's attempts to fight Ra's is laughable to us, given that we know the caliber of Ra's skill. Instead of kidnapping Thea or taunting Oliver, Ra's goes all in and kills Thea. This will obviously force Oliver to take on the mantle of the Demon's Head, now that he's lost everything, he's definitely not going to turn down putting Thea into the Lazarus Pit to revive her.
And we see that her revival is hinted at turning her into a completely different person. Next week on "The Fallen" we get glimpses of a bleach blonde woman who reminds us of Sara as well as Thea being lowered into the Lazarus Pit and being brought back as something else entirely.