Synopsis of 2×17: The story of Melinda May's transformation into "The Cavalry" is revealed as she finds herself at a crossroads in the war between Coulson and Gonzales. As Skye learns more about her true heritage from Lincoln, the truth about the Inhumans will send her in a new direction.
Rating: ★★★★★
Agents of SHIELD does a few things right that should be noted in their writing. One big thing is their ability to write a very good backstory, especially by playing the long game. It seems like ages since the days of Fitz, Simmons, Skye, and Ward joking on the Bus about how May got her nickname, The Cavalry. Ah, simpler times.
Of course, since then, we've learned that not only does Melinda May abhor the nickname, but whatever she did to earn that nickname turned her into an entirely different person. The kind of person that no longer smiles as warmly, is naturally cautious, a little colder than who she used to be, and as Coulson put it, someone who has lost a part of herself.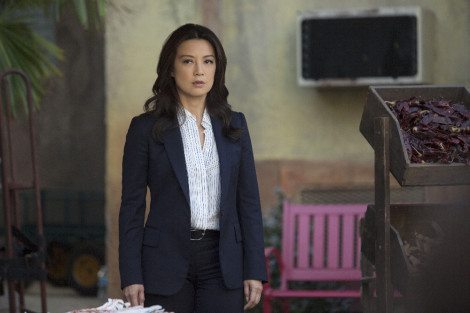 And while the story of our SHIELD and the "Real" SHIELD has been building up, it seems like the perfect time to remind us that Melinda May is now stuck between that rock and the hard place of her loyalties to Coulson and her loyalties to SHIELD. Amidst all of the espionage and inhumans and secrets, we get to not only find out the mystery that is Bahrain but also get a look into the perspective of one of the most stony faced of agents.
Being a production captained by a Whedon name, I pretty much went into this knowing I'd leave in tears. The episode painfully shows you just how happy pre-Cavalry May was. Sure, we heard it from Coulson before, that she was warmer and liked to have fun, but there's a difference between showing and telling. Seeing May happily married with Andrew, preparing to have a family, ready to settle down in her life, smiling with a warmth that we rarely feel anymore, it's pretty much the universal sign in television that we're going to have all of this taken away from us by the end of the hour.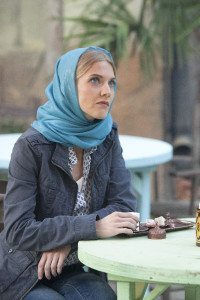 And sure enough, Phil Coulson shows up to take her on her mission to Bahrain.
The episode does a good job of throwing more twists at the viewer, making us assume that Eva Belyakov (Sons of Anarchy alum, Winter Ave Zoli) is the Inhuman who got away, but painfully reveals to us that it is Eva's daughter, Katya, who possesses something similar to empathetic leech. Eva manages to steal terrigen crystals that allows Katya to receive her terrifying powers.
Of course the most painful part of the episode comes when May realizes that she must kill Katya in order to save not only herself, but the other SHIELD agents who have fallen under Katya's control. Ming Na Wen deserves a standing ovation for her acting in the episode, showing us a wonderfully warm Melinda May, and one that has been completely broken.
Her scene with Katya is emotional as she stares up at a girl who just lost a mother, asking for a new one, not minutes after May kills Eva. After being forced to kill Katya, the thought of children, or marriage, or even happiness seems out of reach for a May who refuses to forgive herself and let the girl go. It makes sense, her attachment to Skye, her position within the new SHIELD, her wisdom gained from brutal experience.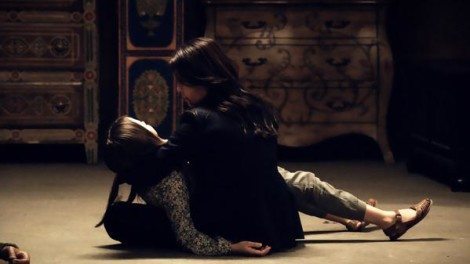 May's story almost manages to overshadow the story between another girl and her mother. Almost.
For the most part, Skye's part in the episode is somewhere between gaining some control of her power, and finding out that Jaiying is her mother. It's through Jiaying that she's able to gain some measure of control, but also learns the truth about May's past as the Cavalry. If you're keeping score at home, Skye is currently the only one outside of Coulson and Gonzalez that knows May's Cavalry origin story. And she's definitely the only one who got the inhuman's side of the story.
But Jiaying isn't telling Skye the story just for kicks, after revealing who she truly is to Skye, she tells Skye that it must be kept a secret. That "their people" will react poorly if they find out, because they know what a woman is willing to do for her daughter (e.g. Eva and Katya).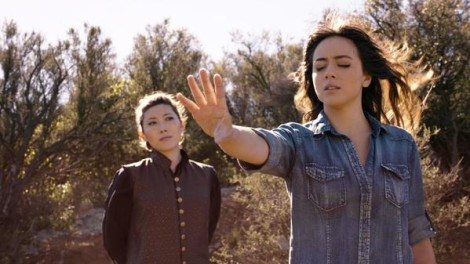 It's also worth noting that we get a little bit of insight into Jiaying's journey in searching for Skye along with Cal. Last week we saw how Cal reacted when he saw Jiaying, and it's pretty clear she has a pull over Cal that more than borders on worrying. However she clarifies that whatever horrible person Cal turned into from the good man he used to be was through the devastation of losing his daughter and by proxy, his family.
It's interesting to hear Jiaying refer to them both as ruthless and turning into something that is barely recognizable. Keeping true to her promise, she allows Cal a dinner with Skye (promising Skye that she will send him away afterwards) and we get the pleasure of seeing kind-of-super-crazy Cal.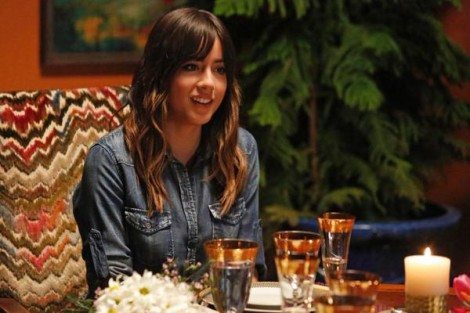 But I think we'll recall that this image, of the happy family sitting at dinner sipping champagne, Skye with her bouquet of daisies, is quite familiar.
Ah yes, Raina. I was glad to finally find out what Raina's ability is, and isn't it beautiful that after all of this time, Raina was always the true clairvoyant? (In case you didn't catch on, Lincoln is there at the end with a club to hit you on the head with the connection).
It seems as happy as Skye is, Raina seems to be equally tormented. Her nightmares are visions, and if she's dreaming of being hunted her entire life, things are not looking good for our favorite girl in the flower dress. We'll have to see how Lincoln reacts to this revelation. The episode showed him sympathetic to Raina and her desire for freedom, while Gordon is a more temperate guide, reminding her to shield her physical appearance.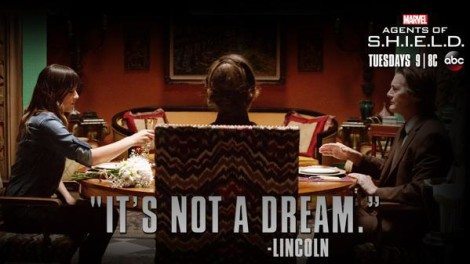 Skye's story seems to be reaching some sort of dangerous climax, as we know now that her tie to Jiaying must be kept secret, and perhaps we'll see more out of the future from Raina's prophetic dreams.
And in case you missed seeing our favorite Scotsman, the coda at the end of the episode shows him successfully opening Fury's toolbox and contacting Hunter and Coulson (lounging in Mexico) about shaking his SHIELD tail and finding out where they are.
Next week, we see our team back together, as Ward is approached by Coulson and hopefully Fitz manages to shake his tail and make it down past the border.