Rebels #1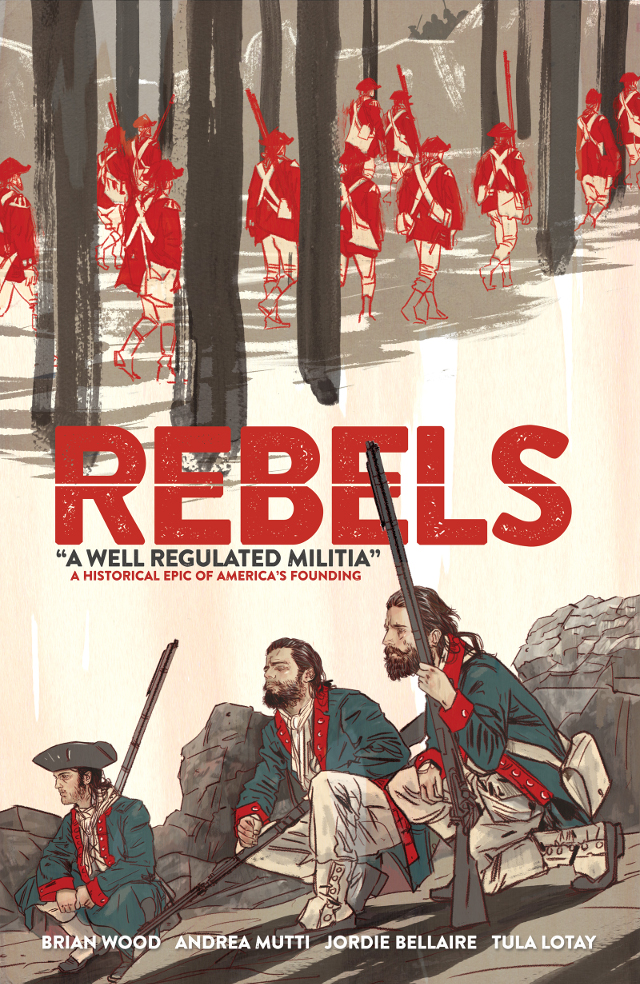 Author: Brian Wood
Artist: Andrea Mutti
Release Date: April 8, 2015
Publisher: Dark Horse
Source: Dark Horse DRC
Genre(s): Historical Fiction
Rating: ★★★★☆
Review Spoilers: Moderate
Historical fiction is becoming increasingly popular in pop culture and I'm loving it. American Revolution in particular has recently become a much more common setting for various offerings. From Assassins Creed III to AMC's Turn, it's been very cool to see this era reinvented in more visual mediums. Rebels from Dark Horse is the latest trip back to the 1770s.
Actually, 1775 to be exact.
The book follows a young man by the name of Seth Abbott from the New Hampshire colony as he resists against the tyranny of the British government and military in the region. His story begins early on in the revolutionary era most of us may be familiar with and Seth's initial plight was less about independence from he crown than it was resisting against those fat cats in Albany who would run his family and neighbors off their land. But we know where history is heading and Seth finds himself drawn in to support a greater push for independence.

This first issue sort of shows us Seth's build up from farm boy to revolutionary. Time passes rather quickly and Seth grows up fast. The narrative feels a little rushed at times but not so much that I found it distracting. While the Declaration of Independence is being signed, Seth and his neighbors are simply trying to protest against unfair taxation. But when it goes wrong, ultimately men have to take things into their own hands.
It's interesting to watch Seth grow. I think they could have provided a bit more substance to it but over all he becomes a really solid, respectable man – a leader. I'm looking forward to seeing how that lends itself to his success as a soldier under General Washington.
While the story is interesting and the historical fiction aspect rather unique among current comic book offerings (with the obvious exception of the March trilogy and perhaps Nathan Hale's Hazardous Tales), what really makes this book a must read is Andrea Mutti's artwork. It's quite astounding. This is actually my first experience with his work and I have to say it's freakin' gorgeous. Coupled with Jordie Bellaire's work as colorist this book is a fantastic example of just how much great art can add to an already powerful story.
I'm looking forward to seeing how this story moves forward. Issue #1 is the first in a six part story arc entitled "A Well-Regulated Militia." So we'll check in again once the arc has concluded!
A REVIEW COPY OF THIS TITLE WAS PROVIDED BY DARK HORSE FOR A FAIR AND HONEST REVIEW.