Announced mere moments ago at WonderCon, the Nerdist is teaming up with the historic El Capitan Theatre to host an epic two day, twenty-nine hour, eleven film Marvel movie marathon ending with an advanced screening of Avengers: Age of Ultron. Yes, you heard that right. 29 hours of Marvel movie awesomeness between April 20th to the 21st all in one place at one time hosted by the Nerdist's Chris Hardwick and company for just $70.
You might be thinking, "That's a lot of time." Or maybe, "That's a lot of money." You might have had your own movie marathon planned at home over the course of maybe a week leading up to the May 1st premiere of Age of Ultron. So is it really worth switching gears and attending this one?
Yes.
Yes it is.
If I were in California I would go in a heartbeat. So if you're within a reasonable distance of Los Angeles live the dream for me and go.
Here's what $70 and twenty-nine hours will get you: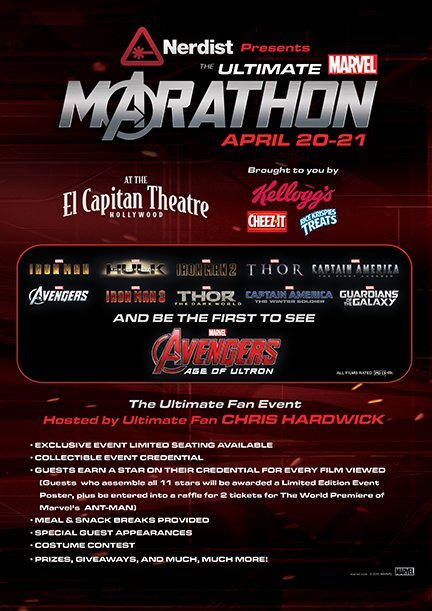 That's right. There will also be SPECIAL GUESTS as well as a costume contest, various raffles, giveaways and more. Your couch at home in your living room won't have that!
And did I mention it's limited to just 400 tickets?
That basically ups your chances for every giveaway and potentially some face time with an Avenger! (Just keep in mind that some perks require you to make it through the entire 29 hours… game on.)
So what are you waiting for? Get you tickets now!