Sleepless Knight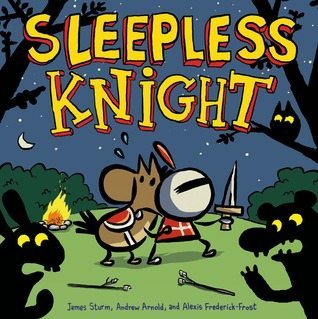 Author: James Sturm, Alexis Frederick-Frost, Andrew Arnold
Release Date: April 14, 2015
Publisher: First Second Books
Genre(s): Fantasy, Children's Graphic Novel
Rating: ★★★★☆
Review Spoilers:  Mild
GoodReads | Amazon
Sleepless Knight is an adorable, short all-ages comic that's half children's picture book and half graphic novel. The titular knight and her trusty stead Edward head out into the forest on a camping trip – but they don't make it very far. After settling down to camp just outside their castle they gorge themselves on marshmallow and prepare to hit the hay.
Except something's wrong.
Something is missing.
The knight's teddy bear is gone!
She goes on a short adventure with the aid of a rabbit she so rudely awakens to find her teddy. Told in cute, simply illustrated panels, Sleepless Knight is a fun story full of easy humor. It's cute and fun and well worth a read.
If you've got a little one at home that's just starting to get into sequential comics, Sleepless Knight would be a fantastic book to sit down with and read before going to bed (and tucking them in with their own teddy who is hopefully not lost).
A REVIEW COPY OF THIS TITLE WAS PROVIDED BY THE PUBLISHER VIA NETGALLEY.