The Eighth Day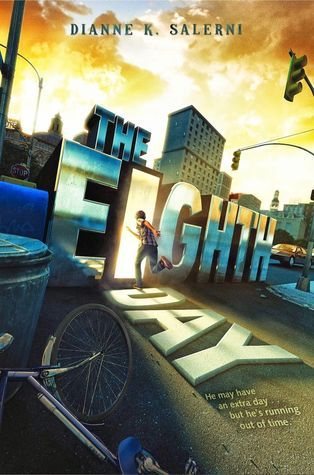 Author: Dianne K. Salerni
Series: The Eighth Day #1
Release Date: April 22, 2014
Publisher: HarperCollins
Source: Edelweiss DRC
Genre(s): Middle Grade, Fantasy, Adventure
Rating: ★★★★☆
Review Spoilers:  Mild
GoodReads | Amazon
All right, so, I need to put this out there right away: this book was kind of amazing. I loved it. I read in just a few hours in one sitting because I had to know what as going to happen. I had been wanting to read this book for a while but I kept putting it off for some reason or another and I regret it now.
The Eighth Day follows a boy named Jax Aubrey who recently lost his father and was forced to move in with a young, teenage guardian he's never met before. Supposedly a friend of his father's, Riley is hardly any older than him and as far as Jax is concerned his life couldn't really get any worse.
Then he wakes up one morning and he's alone.
Everyone else in the world is gone. He panics. But then things change back to normal the very next day. When it happens again the next week he finds out from Riley that they are descended from the great knights of Arthurian legend and that this eighth day exists to contain the Kin – a magical race bound by THE Merlin.
He also finds that this birthright gives him a particular type of magic all his own. Jax is an Inquisitor – he can learn the truth from people. But the truth of his new reality isn't all that easy to comprehend.
The Eighth Day handle's it's mythology and world building very well and packs a lot of twists and surprises. It really is the perfect middle grade blot. It has a few of the usual stereotypes but pushes through them giving us a very fun, charming book.
The characters are particularly great. Jax is a fantastic main character whose voice and characterizing feel authentic. His relationship with the various characters – especially his guardian Riley – evolves naturally and that's great to see. He's a clever kid and seems like a very solid person all around despite all that he's been through. He's angry and resentful at times in a very realistic way – and in a way that other middle grade and young adult books either gloss over or over emphasize.
It's basically perfect. It's one of my top recommendations for middle grade readers who enjoy books like those from Rick Riordan but want to move on from just one writer's series.
A REVIEW COPY OF THIS TITLE WAS PROVIDED BY THE PUBLISHER VIA EDELWEISS IN EXCHANGE FOR A FAIR AND HONEST REVIEW.