UFOlogy #1 (of 6)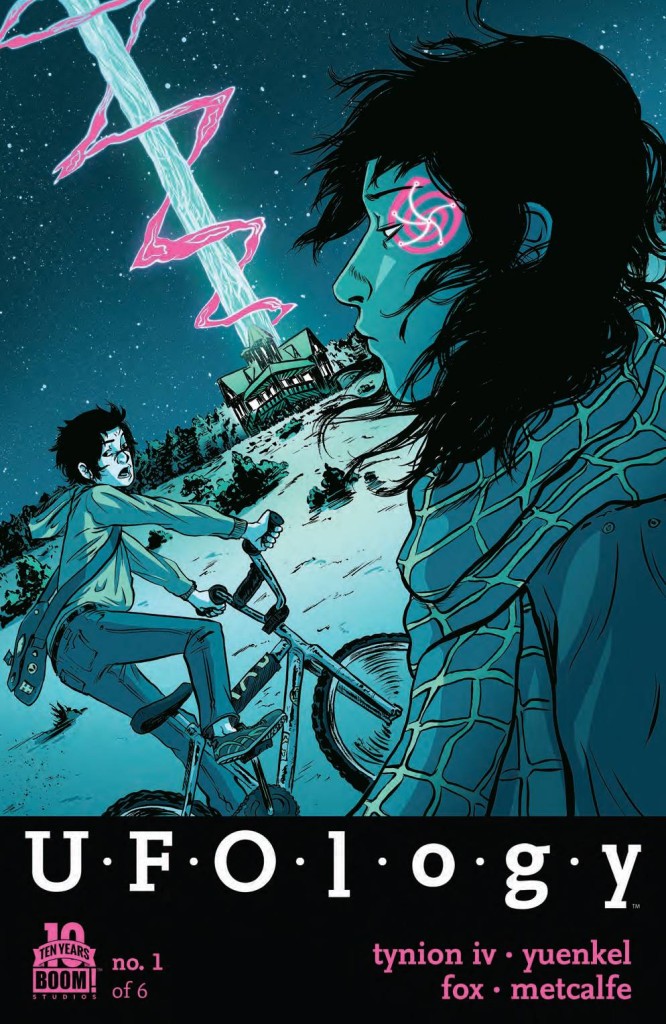 Writer: James Tynion IV and Noah J. Yuenkel
Artist: Matthew Fox
Release Date: April 1, 2015
Publisher: BOOM! Studios
Source: BOOM! Studios DRC
Genre(s): Science Fiction
Rating: ★★★★☆
Review Spoilers:  Moderate
BOOM! Studios had me at 'James Tynion IV' with this one. The Woods has been my favorite on-going series basically since it started. So I figure pretty much everything this guy touches is probably gold. UFOlogy is no exception. Set in the small town of Mukawgee, Wisconsin, UFOlogy follows two high schoolers in a story that's reminiscent of a teenage-centric CW produced X-Files reboot (and I actually love the CW so that's a good thing!).
This first issue introduces us to the characters and sets the general tone for the series. We meet our heroine, Becky, the daughter of the local sheriff who is currently underachieving in a passive aggressive protest to her parents' expectations. Shortly after, we meet Malcolm, who is the son of a local conspiracy radio host, whose mother disappeared ten years ago after an ambiguous, probably UFO related incident. They are ultimately brought together one night when some sort of extraterrestrial light fills the sky and leads them both to an abandoned house.
But Becky comes out changed – touched by an alien in ways we'll only understand in issues to come, I'm sure. Malcolm resents the fact that it was Becky who got there first and he's probably not the only one. We get brief glimpses of a government agency that's going to be very interested in Becky and I suspect she'll be relying on Malcolm a lot in the coming days.
We just don't see much of that. Yet. It's really a more or less laid back issue until the end.
But I really liked it.
I enjoyed getting to know the characters and their motivations in as much detail as Tynion could give us in just a few dozen pages. Becky's characterization in particular reminds me a lot of growing up in the rural Midwest. Something about her just resonated with me. Tynion does a really good job writing teenage characters as evidenced in The Woods which remains my absolute favorite on-going series from BOOM! Studios at the moment.
And I can't wait to see how the extraterrestrial elements come into play.
We got a little bit of it at the end but there's so much we don't know (I mean, basically, we know nothing at this point). Did Malcolm's mother really disappear due to alien influence? What do these government lackeys know about what's going on in Mukawgee? There's so much to be built upon. This could be such an amazing series!
Matthew Fox's gorgeous artwork rounds out this solid first issue. As a lifelong X-Files fan, I can really get into this one. I'm already lamenting the fact that this is only going to be a six issue series rather than an on-going comic. I just can't wait to see what comes next!