This week, Sam had a lot of fun with her BOOM! Studios picks, Goldie Vance and Lumberjanes, rating them both four stars. Kylee also raved about Paknadel & Trakhanov's Turncoat from BOOM! Studios.
Unfortunately, Jackson finished out a lackluster Superman: American Alien series from DC Comics with few nice things to say.
Check out our full reviews below and let us know what you're reading in the comments!


Sam's Reads
Goldie Vance #2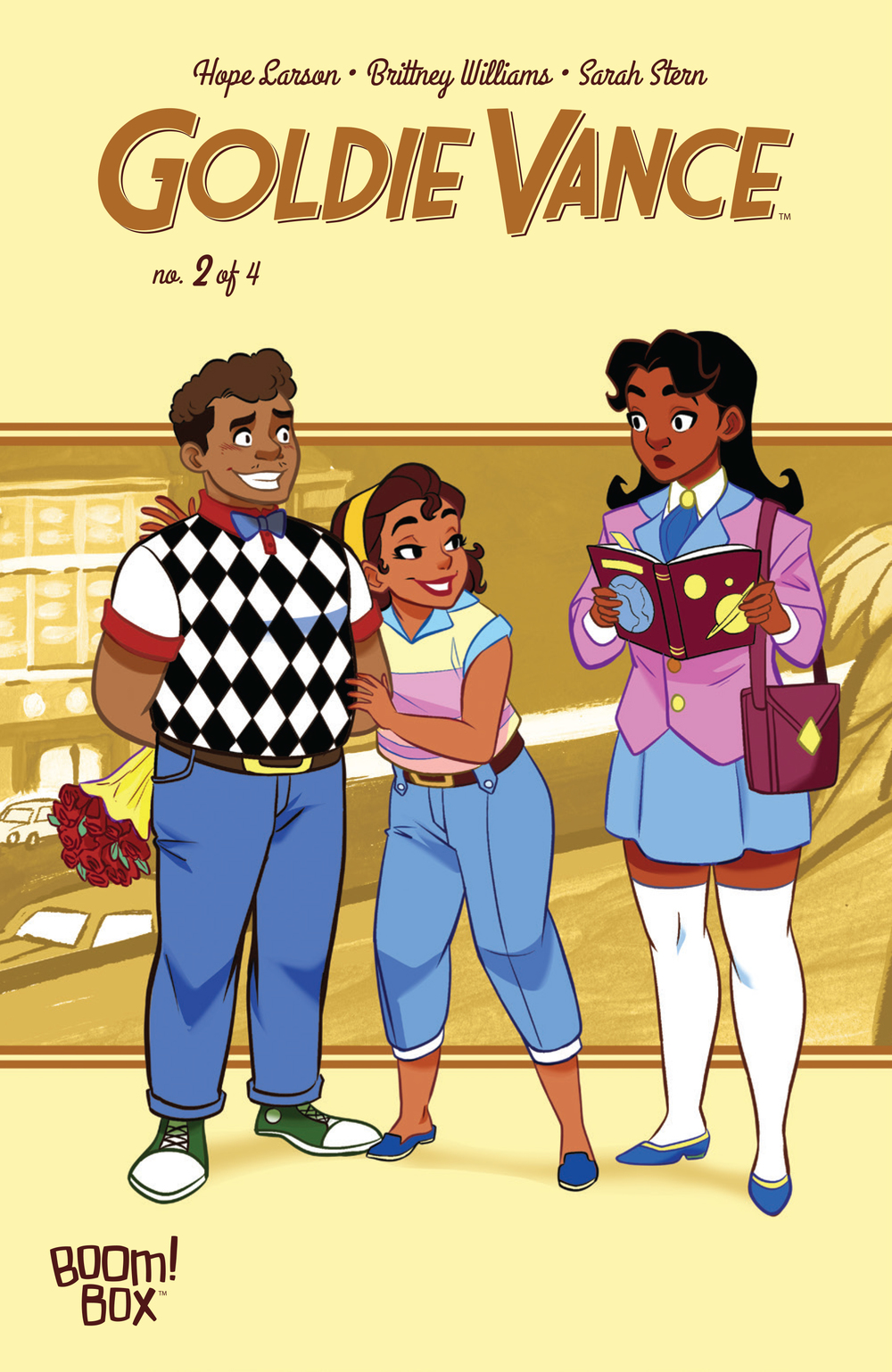 Author: Hope Larson
Artist: Brittney Williams
Publisher: BOOM! Box
Source: BOOM! Studios DRC
?????
Goldie Vance is so cool. I mean it. This book is just so much fun and Goldie is such a great character. I love her determination and quirkiness. And I just love the setting and her friends and her parents (her mom is a real-life mermaid!) and just basically everything. Books like Goldie Vance are what keep me coming back to BOOM! Studios and their imprints.
So, when we left off in the last issue Mr. Ludwig had gone missing. Goldie isn't about to let the case go even when it gets late and it's time to go stay with her mother for the night. She follows a series of clues including a tip that her valet friend has been tipped with a $2 bill by a man with a strange accent to lift a decidedly human-weighing object into a trunk. She starts running down leads only to be disappointed when she learns that the car he was driving is one of the most common ones in town and the $2 bills were handed out to everyone who came through the currency exchange at the airport.
Total dead ends.
But at least the issue doesn't leave us hanging on that particular downer. Instead we get a glimpse at Goldie's past relationship with Sugar Marple, who is presumably the hotel owner's daughter. They were best friends growing up until Goldie beat her in a kart race. Goldie's mother tells her there may still be hope for them to reconcile but Goldie doesn't think so. And when we see a grown up Sugar back in town it looks like she's in it for some vengeance!
Lumberjanes #26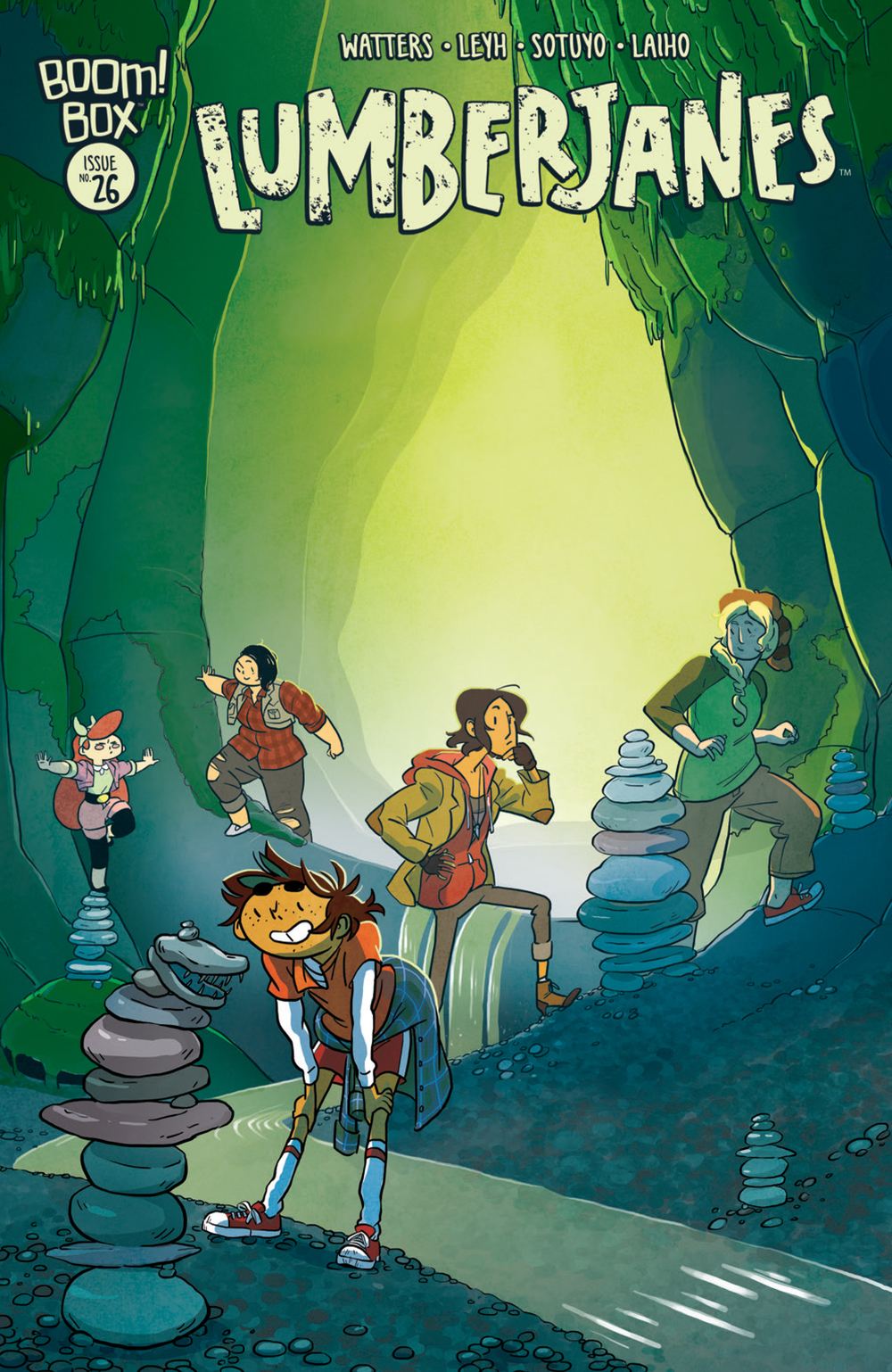 Author: Shannon Watters & Kat Leyh
Artist: Ayme Sotuyo
Publisher: BOOM! Box
Source: BOOM! Studios DRC
?????
Just when I think I can't love this series any more than I already do we get a great arc like this and I'm suddenly head over heels again. I mean, when they brought in the superpowered kittens I was obviously hooked. But then Rosie and the Grand Lodge were abducted by a FREAKIN' GIANT BIRD MONSTER. And after that I knew this could only go up from there.
And I was right.
This is such a strong arc that I'd almost say this is probably the second best place for people start reading the series – other than the actual first issue. The reason I say this is because between last issue and this issue it really does a great job of highlighting the personalities and characters of each of the girls while also just immersing you in their world. They don't explain their relationship with Barney. They don't get caught up on Ripley creating this multitude of cats. They don't bother explaining why Rosie rides a moose. They just go for it.
In this issue, the girls and Jen go after Rosie and the Grand Lodge with the begrudging assistance of Hes from one of the other cabins. She's not a fan of the Roanokes by any means because she blames them for all the weird stuff that happens.
But she lets them come along since she's damned determined to rescue the Grand Lodge because – spoilers – one of them is her grandmother! (Cue tears.) They continue to butt heads, Barney's kitten grows to be horse (or moose) sized, and they eventually reach the giant bird monster's nest only to find no sign of Rosie or the Grand Lodge. Of course, then the giant bird monster comes back to it's nest and DUN DUN DUN. That's where we end.
Seriously. Best arc ever. It's action packed, there's real character conflict, and Marigold becomes a giant cat that they can ride! What more can you want?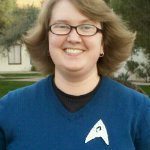 Sam Wildman  is a co-founder and co-editor at Nerdophiles. Follow her on twitter @samaside.


Kylee's Reads
Paknadel & Trakhanov's Turncoat #3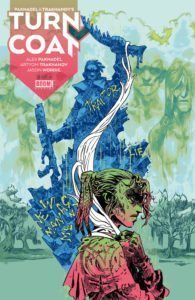 Author: Alex Paknadel
Artist: Artyom Trakhanov
Publisher: BOOM! Studios
Source: BOOM! Studios DRC
?????
While I think Paknadel & Trakhanov's Turncoat would have benefited from a longer run and a slower burn, the penultimate issue of the series picks up where the last issue left off and doesn't hesitate to crank it up to 11.
True to its name, the dizzying double-crosses and underhanded dealings make for a narratively packed issue in which readers learn just how far the hybrid children plot goes (spoiler: like a good noir, it goes all the way to the top). It's not as straightforward as Gonzalez versus bad guy, with Paknadel infusing twists and turns, as well as third and fourth parties into the fray, and the issue – like much of his work – deserves a second read-through to catch the nuances and to admire the artwork as well.
Someone buy Jason Wordie a drink because the city, the people, and the violence all live and die through his coloring, especially the neon pops amongst an otherwise decaying landscape. Trakhanov's scratchy lines and gritty artwork give Wordie the canvas to bring Paknadel's neo-noir alien aftermath to life. With only one issue left, and many of the players revealed, this series promises anything but a neat and tidy conclusion in its exploration of the fallout after a revolution.


Kylee Sills is an associate editor at Nerdophiles. At this point, she's not even sure what side of the Turncoat revolution she would've been on. Follow her on Twitter @kyleewho. 


Jackson's Reads
Superman: American Alien #7 of 7
Author: Max Landis
Artist: Jock
Publisher: DC Comics
?????
I haven't had a lot of good things to say about Max Landis' messy, achingly unnecessary new origin story for Superman. It's a comic that's failed to justify its own existence from its first issue, telling a familiar story about a familiar character, only differentiated by the top tier artists the book drew. Even with that, I hoped for a finale that could shed new light on the series but Superman: American Alien #7 only more clearly illustrates the many failures of one of the worst comics of the year.
The issue sees Clark defending Metropolis from Lobo, the shit-talking Czarnian assassin, hired to send a message to the people of Earth. It's an odd choice of villain, one with no real connection to Superman or the Superman mythos and one that says even less about the character.
Most of the issue takes the form of a verbal and then physical battle between the characters that's sole purpose seems to be establishing Lois Lane's romantic relationship with Clark. The best thing here is Jock's art. He draws a well realized young Superman and his Lobo is appropriately grotesque but there's a consistent feeling that he could have done stronger work with a script that carried more weight.
It's clear what Landis' script is doing, even if it doesn't work. He's using Lobo as an amoral example of an extraterrestrial expressing his powers on Earth, but it's not really a message that serves much of a purpose. The series had established repeatedly that Metropolis was coming  to accept Superman as its protector and using Lobo as a metaphor for what could have been only reiterates what had already been expressed before and better.
It begs the question of what exactly Landis was attempting here. There's certainly a sense that these issues are snapshots of some sort of cinematic Superman adaptation but they don't connect in any real way, instead serving as would-be greatest hits of Clark's early life.
There's clearly an attempt in all of the scripts to place Clark Kent as "the other" in every situation he finds himself in. It's a noble effort in keeping the character's origin relevant in his day to day life but sacrifices what makes Superman such an iconic symbol and character. It makes him irrelevant in his own world, neither an aspirational symbol or the Man of Tomorrow but just another stranger in a world full of them.
Superman: American Alien ends as another document of Landis' obsession with the minutiae of super heroics and science fiction and yet another example of his tendency to miss the forest for the trees.  In attempting to establish how Clark Kent's life at odds with his contemporaries defined the hero he would become, the series misses what makes Superman an inspirational figure for readers the world over.
It misses what makes him such a powerful force for good in the world and the ideas of selflessness end empathy for another endless meditation on growing up, falling in love and getting a job. It's a tremendous miscalculated comic, one that labors in ground level box ticking instead of soaring.



Jackson Adams is a staff writer at Nerdophiles. In his defense, he dislikes basically every modern Superman origin story. Follow him on Twitter @JacksonInACup.