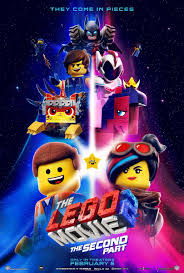 Release Date: February 8th, 2019
Cast: Chris Pratt, Elizabeth Banks, Will Arnett, Charlie Day, Alison Brie, Nick Offerman, and Will Ferrell
Director: Mike Mitchell
Studio: Warner Animation Studio, LEGO System A/S, Rideback, Lord Miller Productions, Vertigo Entertainment
Distributor: Warner Bros. Pictures
Spoilers: Mild
IMDB | Rotten Tomatoes | Wikipedia
After five years and two spin-offs we go back to Bricksburg to see what's new with our pals Wyldstyle and Emmet! The movie picks right up where we left off, with our heroes celebrating their victory! In short order a new threat arrives…
Lego Movie 2 brings back the whole gang from the first film and advances the plot along 5 years. Our heroes have had to endure some pretty dangerous times and adapted to the harsher world. Bricksburg becomes Apocalypsburg and everyone is a grittier, tougher version of themselves. All because in those five years, the kids playing with the LEGO in that fun twist at the end of the original have aged too, and so their tastes have changed.
It's a testament to the entire idea of LEGO that the world can be whatever they want it to be, the story doesn't need a consistency in setting and tone, any hero can be there, any genre can be represented. And so, the post-apocalypse becomes the new standard for a time. We get great jokes, fun turns, and wonderful stories that would otherwise be almost impossible to make fit.
I don't know what I expected when I went in to see Lego Movie 2, but it certainly wasn't this, and I am so happy for it. If it doesn't exceed the original, it certainly matches it in humor and fun. These movies are put together by people you love doing fun new things together. It's a wonderful time at the movies, that's for sure.
The film is meta, visually impeccable (through the various styles it changes from 3D to the simple hand made LEGO Brick aesthetic, and life action) it's a treat for your senses. Get yourself a big ol' bag of popcorn while you're at it and you'll cover your sense of smell and taste too!
The Lego Movie 2: The Second Part is in theaters everywhere, and if you had even a lick of fun at the original, or spin offs, you'll enjoy this one too.