Synopsis of 2×14: Coulson and his team are still reeling from a shocking revelation that leaves the team fractured as they must decide what to do with one of their own. Meanwhile, Bobbi and Mack reveal their true allegiance to Hunter, while elsewhere, Ward and Agent 33 embark on a personal mission.
Rating: ★★★★☆
Well, whether you love him or hate him, Grant Ward is back in our lives.
This week's Agents of SHIELD shows off some of the great things that a genre show like this can do, but also reminds us of some inherent flaws. We get some dynamic story building between Ward and the re-minted Kara Lynn Palamas (Maya Stojan) aka Agent 33, along with some heart warming moments between Skye and Phil Coulson, but ultimately the story branches out again from where they left off last week.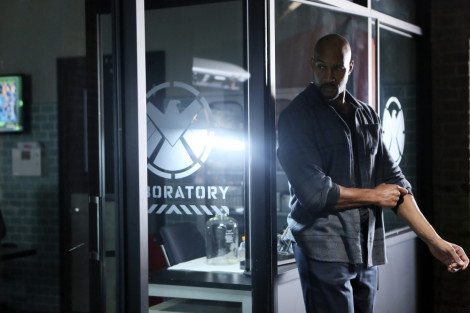 Hunter's poking around brought us right into the heart of the secret network that Mac and Bobbi have been working on, the "Real" SHIELD. Headed by Agent Robert Gonzales (Edward James Olmos), Agent Anne Weaver (Christine Adams), Agent Tomas Calderon (Kirk Acevedo), and Agent Oliver (Mark Allan Stewart) this organization is all about transparency to the agents. It was all those secrets and lies created by Nick Fury that screwed them over last time and they see Coulson and his SHIELD as a remnants of the old regime.
As much as I have been loving the Inhumans arc with Skye, I am glad to take a sharp turn back into espionage and some of the politics of SHIELD. A lot of the character dynamics and personalities are built on who they are as spies and as soldiers, it's good to put ourselves back into that perspective.
Take Hunter for example, when we first met him, he was a mercenary. Throughout the season he's rarely changed his tune, he's been the soldier, he doesn't want to be that anymore. He considered joining SHIELD officially after reconciling his relationship with Bobbi, but we saw how that turned out for him. He's not the dutiful soldier, not anymore. Nick Blood does a good job of portraying just how non-compliant Hunter can be when it comes to following orders, every word is a sardonic quip back at the big wigs staring him down.
Bobbi, on the other hand, while not lacking in wit or her own independence, is loyal to her agency. She tells Gonzales that despite her feelings for Hunter, she is all in. It's left unclear just what makes her so loyal to the Real SHIELD but it's made pretty clear that in the battle between personal and professional, she opts for the latter. Although she makes no moves to capture Hunter when he escapes from their base, she prepares to return to SHIELD next episode and take out the threat that is Coulson and his secrets.
The characters constantly edge between following their orders and following themselves. It's been a heavy theme since the beginning of the second half of the season, from Coulson and Skye to Bobbi and Hunter to Ward and Kara. They populate a spectrum from loyalty to the company and loyalty to themselves. The show does a good job of showing the benefits and drawbacks of both.
I enjoyed seeing Battlestar Galactica's Edward James Olmos as Robert Gonzales, and I am very excited to see Olmos and Clark Gregg face off with one another. Not sure if even the great Coulson can measure up to Admiral Adama. It's also nice to see a familiar face in Fringe and 12 Monkeys's Kirk Acevedo. His back and forth with Bobbi and Hunter was entertaining, and he's always fun to see on screen.
And then there's Skye. Being torn between Fitz and Simmons in her first scene of the episode, we play around with the idea of her becoming Quake and gaining near-Avengers like powers, as Fitz suggests. Skye's main story takes a back seat to the development of the characters who interact with her. Fitz and Simmons argue with one another, as Fitz confronts Simmons about her fears that are turning her into someone he doesn't recognize. He's consistently compared himself to Skye in the recent episodes, and he vocalizes it pretty well to Simmons given her comment about trying to "fix" Skye, and her invention of the "conceal-don't-feel" gloves.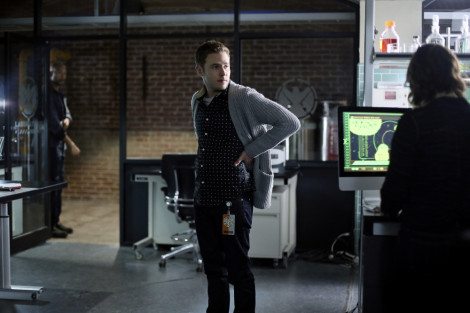 Coulson gained back a lot of my sympathies in this episode in his scenes with Skye. Last episode we saw him beating down people on the gifted index, triggering a quake from Skye. Gonzalez and the Real SHIELD seem to question his abilities to be a leader given the alien DNA in his system, but it's his scenes with Skye that really center in on the Phil Coulson we first grew to love.
He's a good man, maybe he's been clouded by the Fury Kool-Aid and the weight of obligations as a leader, but despite his shortcomings in being ruled by his emotions, it reminds us he's not as calculating as his predecessor. His confession to Skye that he doesn't know what to do about her powers, but that he trusts her feels like just what Skye needs to hear in a time like this. The origin story of Lola definitely got me choked up as he reminded Skye that despite the fact that Lola can fly and do crazy things now, she's still just a red corvette. Yup, the car metaphors have officially cemented him in dad-territory.
And of course, there is Grant Ward and Agent 33. He's been gone for the past few episodes, probably nursing some wounds that Skye left in his chest, and we see him back in action in this episode. Their storyline, although interesting, feels a little peripheral to the main storyline. Even upon hearing about his existence, Coulson and May have far too much to worry about to think about their black sheep.
But regardless, the storyline brings out more development with Ward's character, as it has been since the first season. With a repaired mask, Agent 33 is able to change her face into whatever she wants. And after being brainwashed by Whitehall, it seems that Ward empathizes with her and seeks to help her gain some sort of identity and revenge.
It's interesting because their relationship is so twisted already, that although I don't suspect that Ward has a true ulterior motive, he can't seem to switch off the "spy" part of him. His scenes with 33 feel like they are all laced in double meanings that will come back to bite us in the ass in three to five episodes. His charming, charismatic exterior no longer shields his true colors, and while he might be out to help 33, he isn't pulling any punches in leaving a trail of bodies in his wake.
The cringe-worthy scene of 33 donning Skye's face in an attempt to "repay" him was telling for both characters. 33 is at a loss of who she is and unsure of how to even the scales between her and Ward. To Ward's credit, he rejects her advances, admitting that Skye shot him and walked over his body and he'd be insane to still want her. I am hesitant to believe this fully, since he spent so much of the first half of the season obsessing over Skye, but it seems like he's taken the hint. He suggests the possibility of something between him and 33, but not as May and definitely not as Skye.
Breaking into the naval base and duping Talbot to capture Bakshi felt so in-character for someone like Grant Ward. An eye for an eye, a brainwash for a brainwash. Although we'll see just what kind of results come at the hands of their actions, 33 does gain back her original identity by the end of the episode as Kara and delivers a satisfying punch to Bakshi's face when he attempts to trigger her compliance.
The story frays in this episode, splitting from the SHIELD civil war to bits of the Inhuman storyline to Ward and Kara's own development. There is a lot to cover and it feels more of like a transition episode. The humor delivered by Adrian Pasdar was entertaining, especially from a character like Talbot, who won't be seeing any more Taco Tuesdays with his wife. The episode turned our focus back on SHIELD as a spy organization, doing it well given the heavy Inhumans content we've gotten the past three weeks.
Next week, we'll truly see shit hit the fan as Bobbi returns to The Playground and we get to see Coulson's SHIELD and the Real SHIELD face off.