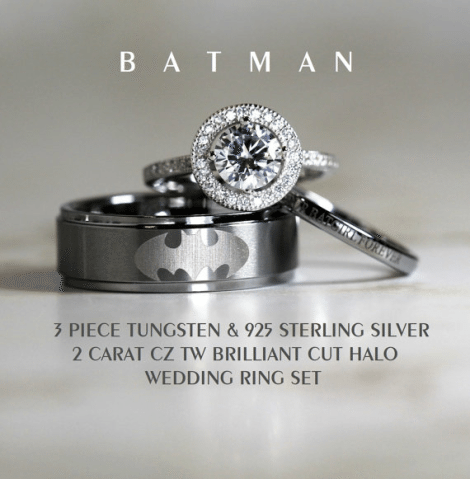 This is a three piece ring, two wedding bands and a promise ring. These rings are made of tungsten, a metal renowned for its hardness and shine. The stones in the band are two carats worth of cubic zirconium, not surprising given the price. It looks really nice, but remember that CZ does not always age well (it can turn yellow over time). If you order these you get a free engraving on the man's ring and on the promise ring, which could lead to some awesome Batman inspired quotes.
The price on this trio is awesome, considering what you are getting. It is $150 for the set and then another $7 for shipping in the U.S., and $15 – $20 anywhere else. The reviews for the store are pretty good, so the quality of the rings being sold is probably pretty good! This set looks amazing and if you and your significant other happen to bond over Batman, then these are perfect!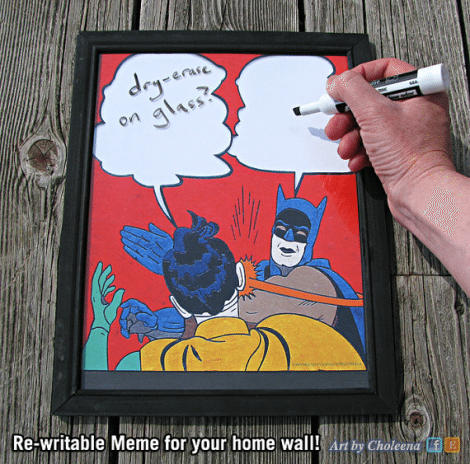 This board is seriously hilarious. If you happen to live with a roommate, this item could really come in handy! Essentially this is a dry erase board that utilizes glass. The frame comes in three different colors, either black, brown, or red. I wonder if the Batman image is interchangeable because the store offers custom orders, that may be worth checking out if you have some other image in mind.
The reviews for this store are mostly for this item, and all of them are five stars. This will cost you about $21, and up to $11 for shipping. Unfortunately, the seller only ships to Australia, Canada, the U.K, and the U.S. Still, this item would make a great gift or be fun to use with a roommate!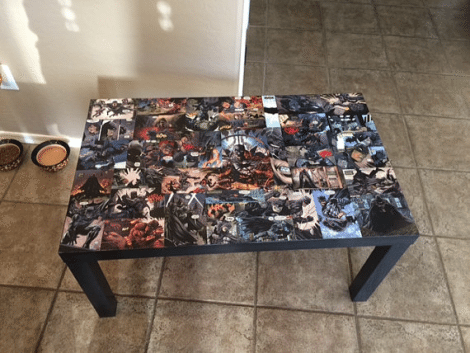 CustomHouseholds seems to either be a new store or no one has left a review yet. The table featured here looks very nice, and is hand designed with Batman comics. It looks like a Batman comic collage, which is pretty neat. Since each one is hand designed there is no guarantee that yours will look exactly like the one in the picture, but it still seems like an interesting piece of home decor.   The seller advertises this as great for a kids room, which I agree, but it could also make a nice small coffee table in a living room.
This table is $80, then another $50 – $100 depending on where you happen to be located in the world. It can take up to two weeks for this piece to be ready to ship, so as with most handmade items, you are looking at waiting a bit to receive your new table. If you happen to buy this, leave a review on the sellers page!

I like this item quite a lot, but I have one concern – the size. The seller states that it can fit "some DVD's and small books". This would probably be used mostly for the design, so maybe what it holds doesn't matter as much, but if you buy it, double check that it can hold what you want it to. The reviews seem to be pretty good for this store, particularly for this item. This would look really nice in a Batman themed bedroom, which is true of a few different items on this list. Honestly, I think any Batman fan would love to own this!
The price on this piece is a bit steep to me, at about $240 for the shelf and another $35 – $150 in shipping. Basically at its highest, shipping can be about 60% of what the item originally sells for.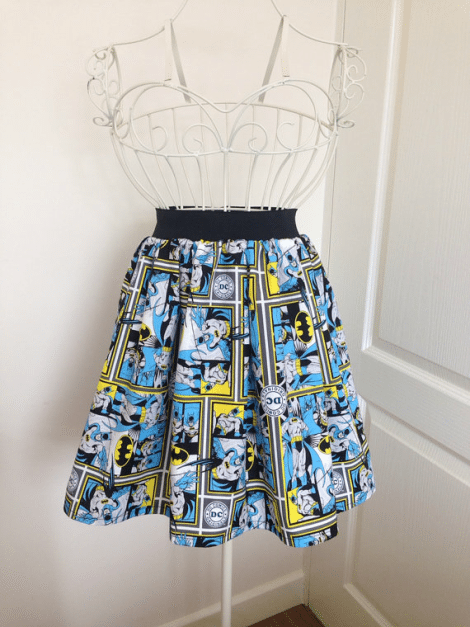 I love when clothes are made from comic fabric material! They always look unique and it's a great way to show your interests in what you wear. This skirt has an elastic waistband and is made from licensed DC comic fabric – in addition to being super cute. The store also has many other inspired skirts, such as Game of Thrones and Adventure Time. When you order remember to include your dress size or waist measurement in the order notes so they can provide the right size!
The skirt is around $42, an other $5 for shipping in the United Kingdom, or $8 for anywhere else. Even if the Batman inspired skirt isn't quite what your looking for, check out some of the others!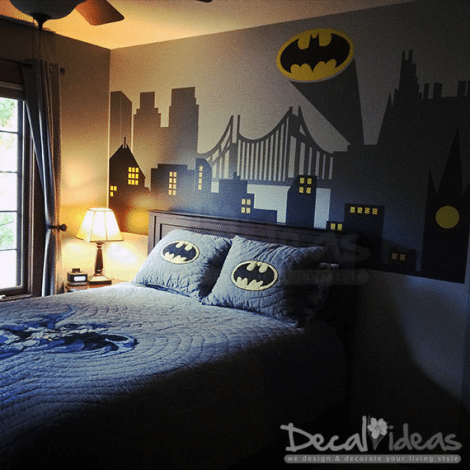 Who doesn't want the Gotham skyline to complete their Batman inspired room? I think this would look pretty cool in a Batman inspired living room as well as a bedroom. This is a gigantic wall sticker that, depending on the size you order it in, may come in multiple segments that need to be pieced together. The image above shows the default colors that this sticker comes with, but the three main colors can be changed if you take a look at their color chart and send the color you would prefer in the order details for the store.
Obviously, walls come in different sizes and so does this decal. The default decal is 48 x 24 inches for $123, it goes up from there to a maximum size of 144 x 71 inches for $414. Shipping seems to be a constant $18 no matter where you happen to be. This would be awesome for a Batman lover!
Would you buy any of these Batman inspired products? Tell us in the comments!