https://www.youtube.com/watch?v=PUJBGtpwRR4
The Zodiac Legacy:
Convergence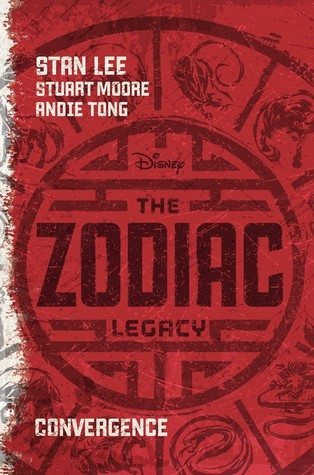 Author: Stan Lee, Stuart Moore
Illustrator: Andie Tong
Series: The Zodiac Legacy #1
Release Date: January 27, 2015
Publisher: Disney Press
Genre(s): Science Fiction, Action/Adventure, Mythology, Middle Grade
Rating: ★★★★☆
Review Spoilers:  Low
GoodReads | Amazon
When I first heard that Stan Lee was writing a middle grade novel I couldn't have been any more excited. I'm a huge comic book nerd and I currently work as a youth and families library assistant. I have been making it a point to read more middle grade books lately so I can make better recommendations for our patrons. So I couldn't wait to get my hands on this one to read it over and see if I liked it.
Spoiler alert: I loved it.
I was fortunate enough to receive a copy of The Zodiac Legacy: Convergence from the publisher. They even threw in some other cool extras – like temporary tattoos!
#zodiaclegacy temporary tattoos?!?!? I don't care if I'm 26 yrs. old. That's awesome. #stanleepic.twitter.com/GxtSAEq0PB

— Sam Wildman (@samaside) February 13, 2015
The book came at the perfect time and I practically devoured it in one sitting. It was just so much fun. Fast-paced and action-packed, Convergence is the kind of book that keeps you wanting more even after an incredibly satisfying ending. (Fortunately enough there were still two ebooks for me to read afterward.)
In Convergence, the powers of the Zodiac come surging back into the world and there are those who would stop at nothing to lay claim to those powers. Stephen Lee – a Chinese-American student on a school trip to Hong Kong – accidentally stumbles into a battle of epic proportions against a corrupt business man who wants to control all of the powers for his own diabolical means and the resistance movement that has formed to take him down.
When the powers scatter to the wind – and across the globe – Stephen and the others have to locate those who suddenly find themselves inhabited by these mythical powers. But it won't be easy. And they aren't the only ones looking.
At it's core, Convergence is a very action-oriented middle grade book. This is a book that knows it's pedigree and the story progress – and reads – like a very awesome comic book series. It's about good versus evil. It's about young people coming into their awesome powers. But it's not just about that. It's also about teamwork, trusting one another, and learning that strength comes from more than just superpowered abilities.
One of the greatest strengths of the series is it's diverse group of characters. Stephen and the others who suddenly find themselves locked into this crazy battle of good and evil come from all walks of life. They are diverse in gender, race, nationality, background, and ability and it only strengthens the story. The characters have to deal not only with these new powers but with their own personal struggles. And in time they learn to do so together as they become more and more of a team.
Readers of all ages will love Convergence for a hundred different reasons – and I say that as an adult reader myself!
Plus, if nothing else, anyone can appreciate just how good looking a book this is. From the fantastic cover design with it's hidden tiger (no joke, it's awesome!) to Andie Tong's fabulous illustrations throughout it's clear that a lot of care went into this book. Remove the dust jacket and it still looks great. And it's not just the covers that look awesome. The first page of each chapter is printed on gorgeously stylized red pages that bleed on to the next page. And the chapter headings and page numbers stand-out equally with matching red ink. Seriously, take one look at how gorgeously it's all put together and you'll be hooked!
The Zodiac Legacy: Covergence is my first must-read middle grade book of the year. It's a fun, easy read that just about anyone – especially comic book fans – should enjoy. If you liked Big Hero 6, this book certainly has a similar vibe with a diverse cast of characters from all walks of life coming together (a little haphazardly at first).
I can't wait to see what the next books hold for us. If the others are anything like this first book, we're going to be in for a real treat. Disney has a winner with this one (but they probably already know that).
A REVIEW COPY OF THE ZODIAC LEGACY: CONVERGENCE WAS PROVIDED BY THE PUBLISHER AND BIG HONCHO MEDIA FOR THE PURPOSE OF THIS REVIEW. NERDOPHILES WAS NOT COMPENSATED FOR THE REVIEW AND THE OPINIONS HERE ARE OURS AND OURS ALONE.