Oh San Diego Comic Con, as the years have gone by you have evolved from the city comic convention into a horse of the entirely different color. For those rare few people who haven't had to worry about parking or travel to and from the con during the four days, this article will be nothing but a nice look into the future. But, for the rest of us, parking and transportation is one of those important things that we always seem forget until its staring us in the face.
Now, Ace Parking, the company that manages the general parking during the convention, has taken after CCI and followed suit in the change from first-come-first-serve to lottery. While this system is not without its flaws, obviously the lottery system is implemented in good faith, hoping to level the playing field for people who haven't been versed in the years of knowledge when it comes to battling for a spot in any front at SDCC.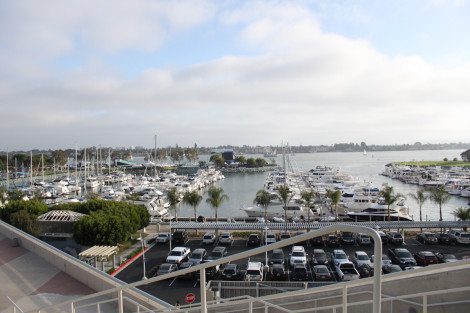 Any good planner will tell you to have a plan B, and view this as the guidelines to your plan B in case the lottery falls through, we'll also give you some tips about traveling during the convention around San Diego, as well!
If you plan to stay at a hotel during the convention, your hotel should have a spot reserved for you as their guest to park at. Prices vary from $8 to $20 per day, but it's good to have this guarantee. This includes hotels like the Hilton Bayfront and the Marriot Marquis & Marina, both situated adjacent to the convention center. Should you be lucky enough to nab a spot at these hotels, it's all about whether or not you're willing to shell out the cash.
So, after securing hotel parking, your main forms of travel from your hotel to the convention center will be either by foot, by shuttle, or by trolley. The shuttle is your best bet if you are situated at a farther hotel that is not near the trolley line. It is a free service that is made specifically for convention goers! They run from the morning until late into the night and during the peak hours of travel come as frequently as every fifteen minutes. It's also a good alternative if you do not want to pay for the trolley ticket.
If you are flying in to San Diego, your best bet of traveling from the airport to your hotel will either be booking a shuttle, a taxi, or using some sort of private taxi service (Uber or Lyft). If you're staying at a closer hotel, I definitely recommend Uber or Lyft. Both are app-based services and often reward you credit if it is your first time using their product, this credit should pay for the majority if not all of your trip to the hotel (without credit I estimate around $10-15, our trip to the Hilton Bayfront came to about $12).
If you are driving in to San Diego and are not able find parking of any kind, I recommend parking at the airport. Specifically, I recommend parking at the long term economy lot at San Diego International Airport, and taking a taxi or Uber/Lyft to the hotel. We did this in previous years and it was incredibly effective.
If you are coming from within California and want to sidestep the whole parking debacle and save yourself some money, take Amtrak! Providing nothing happens along the way (like someone jumping in front of your train or hitting LA traffic) you should arrive at your destination in a timely manner and a few blocks away from the trolley line that will take your right into the center of the Gaslamp. The trolley and Amtrak are notorious for attracting big names who are traveling to the con, and can be a very fun atmosphere to bond with your fellow con-goers.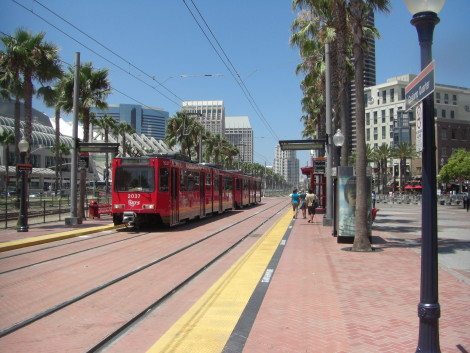 And, when you finally arrive at the convention, and after a long day of walking around, buying things, watching things, and enjoying the con, you may be sick of being on your feet. A few years ago there were quite a lot of pedicabs that were sponsored by television cable networks and free for con-goers, and those were great for getting around within the Gaslamp, especially through some of the closed streets.
Now-a-days free pedicabs are a rare bunch, but if you do find yourself desperate to have someone pedal you a few blocks uphill make sure to confirm rates with them first. Don't end up at your destination with a $40 fee for going four blocks. Last year, 2014, there were free Gotham-inspired Ubers that would drive around convention goers for free, but like the free pedicabs, they were an endangered species and nearly impossible to find.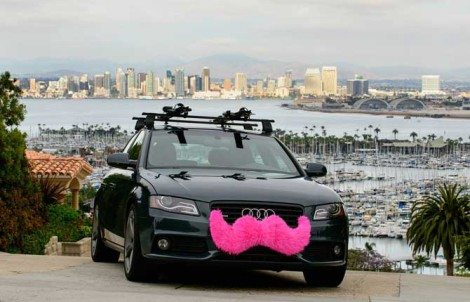 If you decide to go the Uber/Lyft route, I would suggest downloading both apps on your phone. In the past years, Uber has definitely blown up in popularity and as a result more people are using it. Last year was the first year I saw it being used so much that some Uber drivers wouldn't even bother to make the trek up to our hotel (Hilton Bayfront) because of the hassle with traffic and the difficult location. Meanwhile, Lyft, a newer company and Uber's competitor, were willing to go the extra mile, pun intended.
Of course, this was last year, and in the time between Lyft has garnered its own audience, but the spirit of capitalism is definitely working in your favor. Keeping both apps open until you are guaranteed a driver will get the job done twice as fast (but don't forget to close the other app once you get the confirmation, canceling rides come with a fee). If you are traveling to a location that is a ways outside of the Gaslamp, set that as your destination. If the drivers see that your trip is worth their time, they are more willing to make the trek up to pick you up. Alternatively, of course, you can have the concierge call you a cab and those are all ready on hand and require no negotiating.
Hopefully this has been of some help to those of you worrying about a backup plan in case parking and traveling at the convention doesn't play out like you hope. This is all knowledge gathered from our own personal experiences, and hopefully they've helped you out. If you have any questions or additional suggestions, add them in the comments below!