Letter 44 (Vol. 1):
Escape Velocity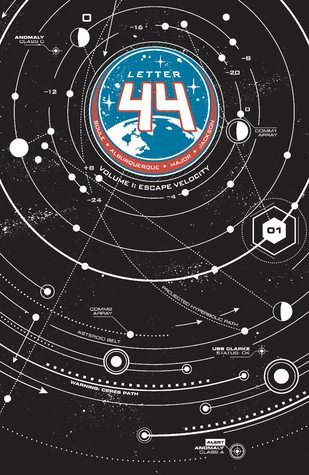 Author: Charles Soule
Artist: Alberto Jiménez Alburquerque
Release Date: Month Day, Year
Publisher: Oni Press
Source: NetGalley DRC
Genre(s): Science Fiction, Political Thriller
Rating: ★★★★☆
Review Spoilers:  High
GoodReads | Amazon
Letter 44 is an interesting blend of politics and science fiction that, honestly, I wasn't sure was going to work. Sure, the premise was cool. Incoming President Stephen Blades reads a letter from the outgoing president – an unpopular man who directed an incredible amount towards military funding and warfare – telling him that he in fact had a reason for it.
That reason?
There were aliens in this solar system, they were building something in the depths of space, and humanity wasn't prepared. But they might just have a fighting chance. Not only that, but for years there had been a space shuttle heading into the unknown to investigate whatever it is the aliens are doing.
The book is split into two perspectives: that of the crew of the Clarke as they presumably go to their deaths and that of Stephen Blades and his presidency. It's a good balance. Political thrillers always mix best with science fiction when they are evenly balanced and Letter 44 is careful to make sure both parts of the story get fair play.
Despite being a political science major (yeah, I'm one of those people), I found the crew's storyline to be a lot more compelling so far. The way they have survived and developed relationships among themselves is interesting. In the first few issues we don't learn much about the aliens. Instead we learn about them alongside the crew members. And we can only watch as they face both danger and uncertainty in more ways than one.
Definitely worth a read even if it's slower than some sci-fi comics out there. The politics are important and I'm interested to see how things play out. Blades' people aren't all on his side. And the crew of the Clarke has more than just aliens to worry about after the end of this book. So it's going to be cool to see how it all plays out. Just be prepared to pay attention along the way and perhaps sacrifice action for story in some places.
Highly recommended. I can't wait for the second book to come out next week and I hope it looks just as cool as the first one. (Because the holofoil cover for Vol. 1 is the coolest thing ever!)