Synopsis of 1×4: Phil's attraction to Melissa has him reconsidering his marriage.
Rating: ★★1/2☆☆☆
Well, this is going downhill relatively quickly. In just a few episodes, The Last Man On Earth has gone from impressively original to one sitcom cliche after another, from hilarious to uncomfortable. Granted, a lot of this might be personal taste; I've never enjoyed cringe comedy shows like The Office, Curb Your Enthusiasm or the more awkward episodes of Louie. If that kind of thing can make you laugh instead of make you want to change the channel as fast as possible, maybe The Last Man On Earth is heading in the right direction for you.
"Sweet Melissa" picks up right where the last episode left off, with Phil and Carol crashing into a limousine and meeting the other last person on earth, January Jones' Melissa. The two invite her back to their neighborhood to stay with them, but it's immediately obvious that Phil is wildly attracted to her, and he shows it by shaving before they meet up for dinner, even though both women agree he looked better with the beard.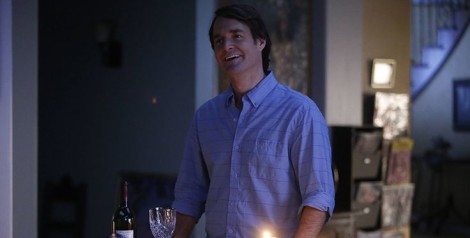 Honestly, not a lot happens in this episode past that point. It's little more than a constant switch between a scene where Phil fauns over Melissa and a scene in which Phil and Carol argue due to the new external force putting stress on their relationship. None of these scenes seem to have much consequence, and the character dynamic doesn't change much from the start of the episode to the end of it.
And that would be fine if it was all really funny, but this all feels like such tired ground for sitcoms, which is a shame given The Last Man On Earth has otherwise been making so much out of its unique premise. A love triangle isn't necessarily a sin, but adding so little originality and flavor to the whole thing is. Most of the jokes in this episode derive from Will Forte's inherent awkwardness with Melissa, and while a situation like this one certainly should feel strained and harsh, it comes off as more annoying. (Plus, I don't know if it's just me, but it's a lot more difficult to swallow Phil's manic behavior now that he's dressed and made up like the sane, functioning member of society that he most definitely is not.) It's saying something that the hardest I laughed this episode was at Melissa revealing her last name is "Shart."
This episode would receive an even lower rating if not for the final scenes, in which Melissa drunkenly confesses how horny she's been since the virus, putting Phil in such heat that he leaves to divorce Carol right then and there. But when he gets to her house, she shows him the door decoration she's been working on that proudly displays their unity. After Carol tells Phil that she believes in him and trusts in their marriage to work, he decides to stick with it and doesn't ask for the divorce. The threat keeping them together isn't particularly strong or even easy to believe exists, but the scene shows so much earnestness and humanity on Carol's behalf that it saves an otherwise awful episode from being all bad.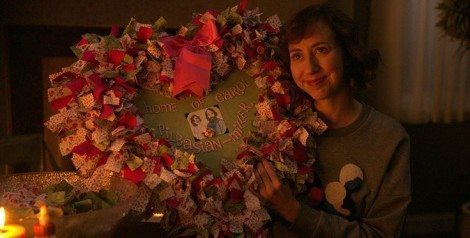 I do legitimately hope and believe that this is just an off week for The Last Man On Earth – it's difficult introducing a new major character like this, and hopefully Phil's eventual decision actually carries some weight in future episodes so we're not stuck sitting through this same painful slog every week. And while the show developed Carol and Phil alarmingly quickly, we still know next to nothing about Melissa. So far the Man Men actress doesn't show much in the way of comedy chops, but I have faith she could develop into a legitimately interesting and dynamic character rather than just her current blank slate personality. Here's hoping.