Synopsis of 2×12: Tension mounts between Abby and Clarke; Murphy and Jaha have an encounter with a mysterious stranger; Octavia is willing to fight for someone important to her.
Rating: ★★★★★
How have things gone so wrong, so quickly?
This week shows us just how much Clarke has changed since she's come to the ground and puts The 100 into an entirely new territory. Since the beginning of season two, we've seen this show take strides that continue to shock us, not to mention bringing more moral dilemmas to the table. We've seen Clarke's tough side, we've seen her make sacrifices, we've seen her lead her people, we've seen her stand her ground, but we 'Rubicon' puts us into a whole new ball game.
It seems that ever since she's come back from Mount Weather, her choices have become more and more complicated, leading her to begin to fray at the edges. Upon finding out from Bellamy (who was spying on Cage and the guard Emerson) that Mount Weather planned on bombing Ton DC, a site where the grounder leaders were meeting as a war council to fight against the Mountain Men, Clarke high tails it to Ton DC to warn them. However, instead of also warning Kane and Octavia, she only tells Lexa, whose first reaction is to leave all of the leaders to die and escape while they can.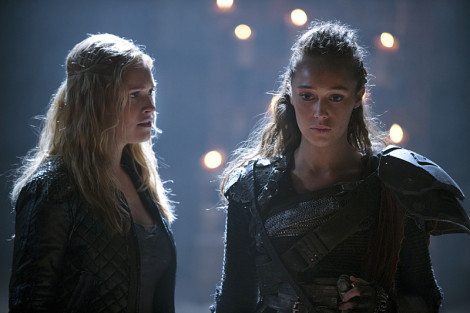 Now we all know Clarke. She's not a mass murderer. Even when Bellamy was about to hang Murphy, she was telling him no. Killing of Finn was more an act of mercy than cruelty. Under the pressures of a time limit, the mounting list of obstacles she has to overcome, and the limited influence of Lexa, she leaves the others behind and runs for the hills with Lexa. They warn no one, under the belief that if they were to scatter, the Mountain Men would know they have an inside man and their plan would go to hell.
This decision, though harsh, feels like the only choice Clarke could have made without setting off any alarms, but it's hard for me to reason this logic given what information we received within the episode. We know from Indra that the Ice People were enemies of the Skye People, we know from Mount Weather that the Grounders are known to fight amongst themselves, and we know that Lexa suggested that she and Clarke run while leaving the others to be martyrs for the cause.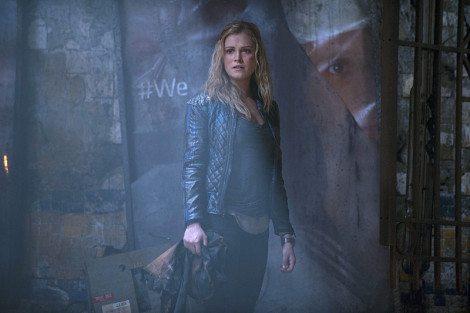 Perhaps I'm reading too much into it, perhaps Lexa really was seeing this as the one and only opportunity to get out of there, following her own belief that they had to concede the battle to win the war. But on the other hand, leaving all of those leaders behind could easily come back to bite them in the ass. If anyone were to find out that they knew about the attack and ran instead of warning people, would the grounders not be as suspicious as I am, of foul play?
Clarke will have to live with the decision she's made, and it's made clear through her interaction with Abby. I don't know if Clarke would have been able to do anything without showing a bit of her hand to the Mountain Men, but we know that this decision is going to haunt her for the rest of her life (also because it was confirmed by creator, Jason Rothenberg).
Abby, if you remember, went through a similar moral dilemma when she and Jaha sent 300 people to their death in the battle for oxygen, and when she sent the 100 to the ground, and when she killed her own husband. When she's talking about Clarke crossing a line, she's not merely speaking as a concerned mother, she's speaking from experience.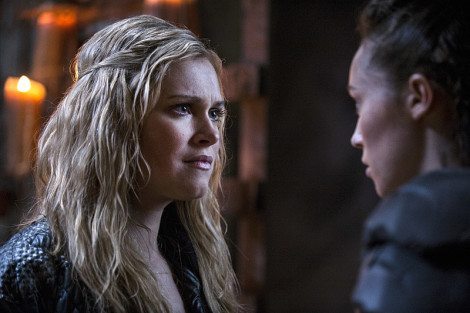 It's hard to compare our not-so-fearless princess, Clarke, to the newly minted President Cage Wallace, but in 'Rubicon' we get screaming parallels between the two and their parents. Both are children of leaders, both have come to rule through extremes, both are making wrong choices for their own (perceived) right reasons, both want to save their parents despite the weight of disapproval and disappointment. Cage is undoubtedly greedy and gives off a very "manifest destiny" vibe when it comes to the ground, but he clearly seeks his father's approval, even when he is usurping his throne.
War does funny things to us, and in war times, it's not hard to see two opposites, such as Clarke and Cage, become two sides of the same coin. Where the undearly-departed Dr. Tsing felt like the embodiment of true evil, Cage was always a man with a plan. He wasn't simply delighting in the torture of innocents, he wanted it for a higher cause. In his own dark twisted way, he wanted to save his people. It only came, as Dante pointed out, at the cost of ripping apart his own soul.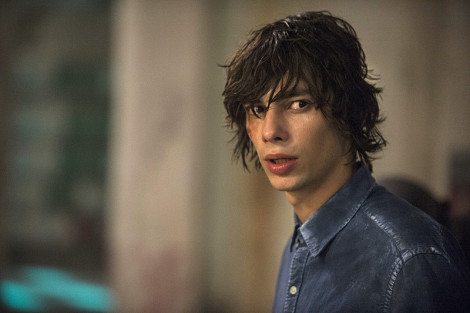 Speaking of Dr. Tsing, we saw the delinquents fight back in a poetic moment of justice as no only does the good doctor not escape the wrath of her subjects, but dies painfully as they watch in triumph. Her death, while satisfying, brings many things into question. Can they still perform the same procedures if the delinquents were to be captured again? Have they already tipped their hand with the radiation breach? How will Cage react, now that he's missing a crucial cog in his machine towards reaching the surface, and more importantly how will it reflect in his revenge with the 47?
Bellamy manages to complete a small part of his mission within Mount Weather, even with the knowledge that Clarke has lied to him about Octavia in order to keep him focused on the task at hand. Octavia narrowly manages to escape the missile when she finds Lincoln in the woods, having relapsed into the Red. She literally beats some grounder sense into him, revealing more of who she considers herself to be when she refers to the grounders as "we" and quotes grounder lessons to him in their language.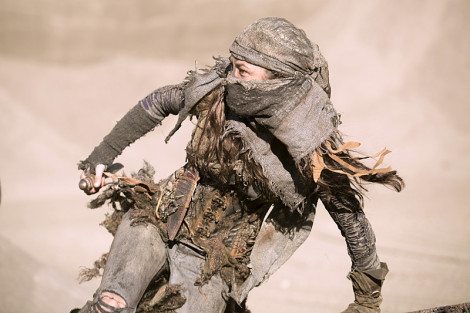 In less bloody news, we close in on Jaha and Murphy along with their little cult of Jaha journeying towards the City of Light. It's fitting that we've started to see a lighter side of Murphy with Jaha. If anyone was going to bring that out of him, it was going to be Jaha, who despite everything, seems to be inspiring some hope within murphy. They meet Emori, a grounder found in the No Man's Land with a deformity that reminds us of Jimmy Darling from American Horror Story.
Although initially she seems friendly, agreeing to take the travelers to the City of Light, she turns out to have tricked them and robs them of their supplies along with a bazooka-toting partner. However, before she betrays them, it seems she's struck up a rapport with Murphy. He tells her his reason for being an outcast, and she shows him hers. Neither seems phased by the other's story, and it seems despite the betrayal, Emori has been affected by Murphy. She tells him that they should travel north, before leaving him knocked out in the sand.
Basically… I ship it.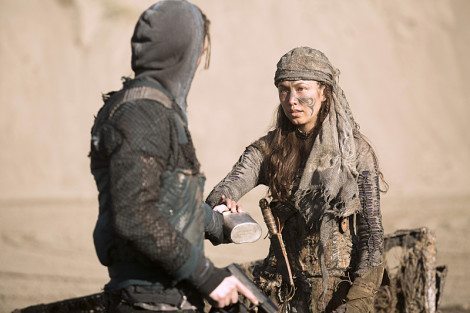 But more importantly, Emori's story serves as another interesting parallel to the one back in the woods near Mount Weather. The survivalist mentality that all the people take changes them. For Lexa and Indra, it's about winning the war not the casualties. For Emori, whose been rejected her entire life as an aberration, it's about gaining the upper hand on those who you might fool into helping you. It's not easy, when you're forced to stop living and merely survive. But it's better than dying in the wastelands or by a missile, and it'll get you out alive.
The grounders know this, but we'll see if the people from the Ark are able to see and understand this. After all, they're grounders now too.