World War X (Vol. 1)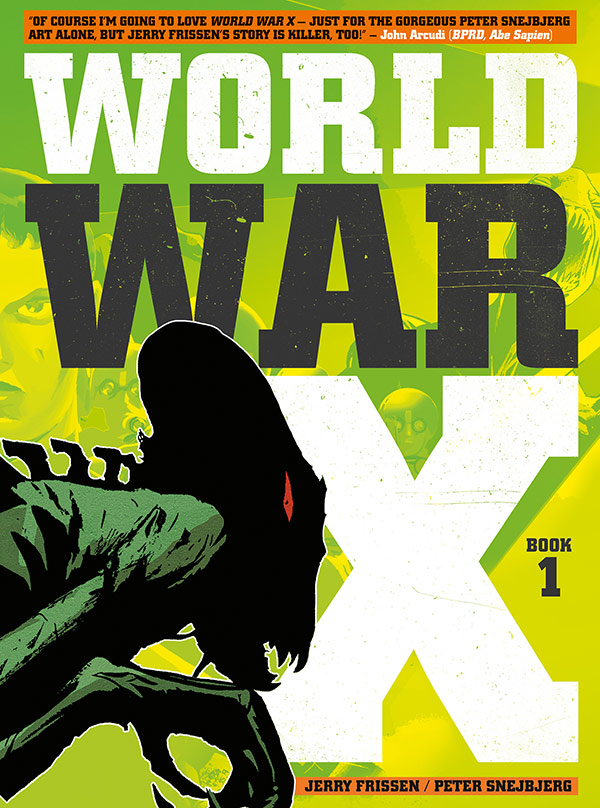 Author: Jerry Frissen
Artist: Peter Snejbjerg
Release Date: March 11, 2015
Publisher: Titan Comics
Genre(s): Science Fiction
GoodReads | Amazon | BN
World War X is an upcoming science fiction comic from Titan Comics that projects a very dark future for humanity after they run afoul of a species of deadly alien beings hellbent on our extinction.
That's really about all you have to tell me about this book to get me excited. I love science fiction, I love horror, and I love when humanity gets put on the spot and forced to defend itself against an overwhelming force.
That seems to be about what we're going to get with World War X and I couldn't be more excited.
This will be the first volume out of three planned, hardcover releases. Volume 1 will be fifty-five pages long and it stands to reason that the latter two will likely be similar. I'm really looking forward to seeing how the story plays out and how it's broken up between the three volumes.
For more information about this volume, here's a quick blurb provided by the publisher:
The year 2017… On the moon and across the Earth, warnings from a long forgotten civilization have been discovered deep underground…
These strange and ancient cubes awaken monstrous creatures in preparation to annihilate all life that stands in their way. It is clear that humanity is not ready for this new type of world war… 
This alien-apocalypse horror is by Jerry Frissen, writer of Lucha Libre, with stunning art by Peter Snejbjerg (Starman, The Light Brigade, The Books of Magic).
Have we piqued your interest?
Below we've included a handful of preview pages. It's going to be an amazing looking book if these four pages are anything to go by.
World War X Vol. 1 will release on March 11, 2015 which is waaaaay too far away. Check back later for more information. You can bet we'll pass it on and as soon as the book is out we'll get up a review. Because this is definitely a Titan Comics release to watch!